This Christmas, you can help make a real difference in your local community
We need your help to spread the festive community spirit far and wide to those in need this Christmas. Whether you donate an item or two to our Reverse Advent Calendar campaign, or pick up a gift tag from the Christmas Giving Tree, you can be part of the magic.
Reverse Advent Calendar
In the countdown to Christmas, many of us will be opening the doors on our advent calendars to reveal a treat. But this year, we're asking you to donate a little to make a big difference for those in need.
The idea is simple: instead of taking something out of an advent calendar each day, we are asking you to pop something in.
We have worked with our local charity partner, Guernsey Welfare Service, to come up with a list of items to donate that will make a real difference this Christmas.
There are always the basics, but our reverse advent calendar gives some suggestions that will add extra Christmas sparkle and joy to those who need it most.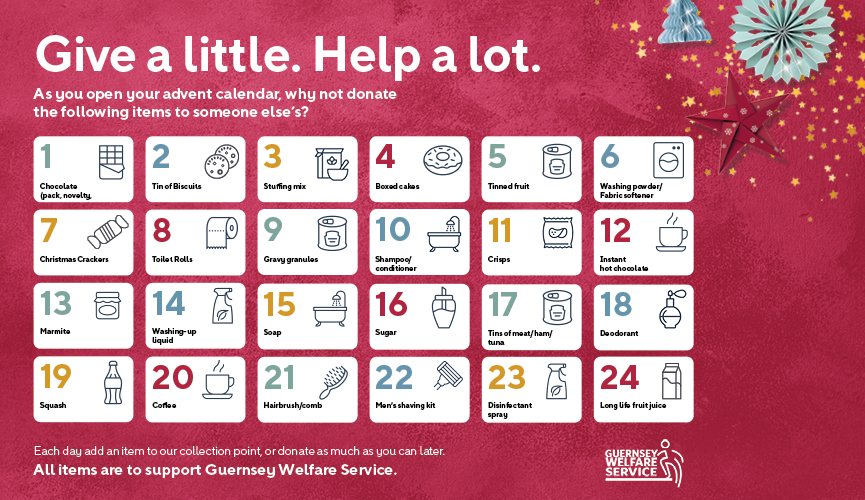 Download a PDF of the Reverse Advent Calendar.
How to take part
Check out our reverse advent calendar and look out for signage in store
Purchase any of the suggested items when you are shopping with us
Drop them into our usual food donation boxes, located on the way out of the store
We'll make sure the items reach the charity throughout December
Why not encourage your family and friends to join in too?
Do you want an extra challenge?
If you're feeling up for it, why not create your own collection point at home and try to collect all the items listed throughout December.
Please make sure you take your full box to Guernsey Welfare at The Caves, Upper Mansell Street, St Peter Port by Wednesday 15 December, so that they can distribute the boxes in time for Christmas.
Community is not just for Christmas 
We are here for our community every day of the year.
If you are a charity or community group, you can get involved with your Society in fundraising, selling raffle tickets, raising awareness or more.
Browse our community pages for more information, or get in touch with us at customer.relations@channelislands.coop