Jersey Gas retail showroom is now located in the Home section at Grand Marché St Helier. We have a great selection of Gas cookers and our team are always on hand to offer advice.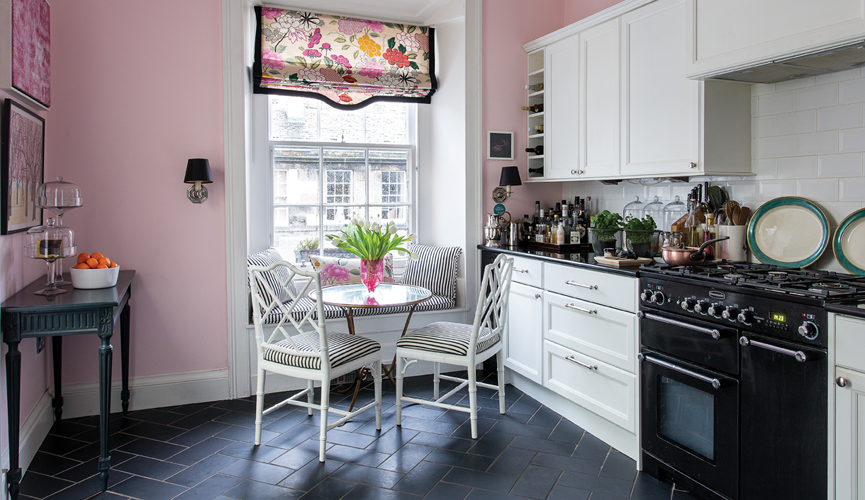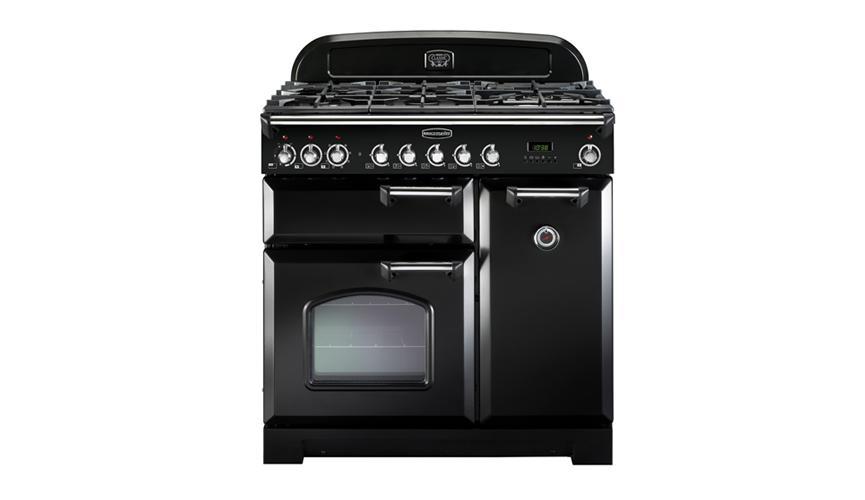 Rangemaster Classic Deluxe 90
Enjoy making your meals as much as you'll enjoy eating them with the Rangemaster Classic Deluxe 90 Electric Range Cooker. 

Expertise and excellence

With over 200 years of expertise to draw upon, Rangemaster are undisputed experts when it comes to providing quality cookers. Using the Classic Deluxe 90 Ceramic Range Cooker, you'll get to enjoy the full range of benefits their experience brings, with a cooker that's packed full of features that allow you to prepare meals with confidence and finesse.

Perfect if you like to practice cooking like a professional at home, at 90 cm wide this cooker is superb for smaller kitchens without sacrificing any functionality.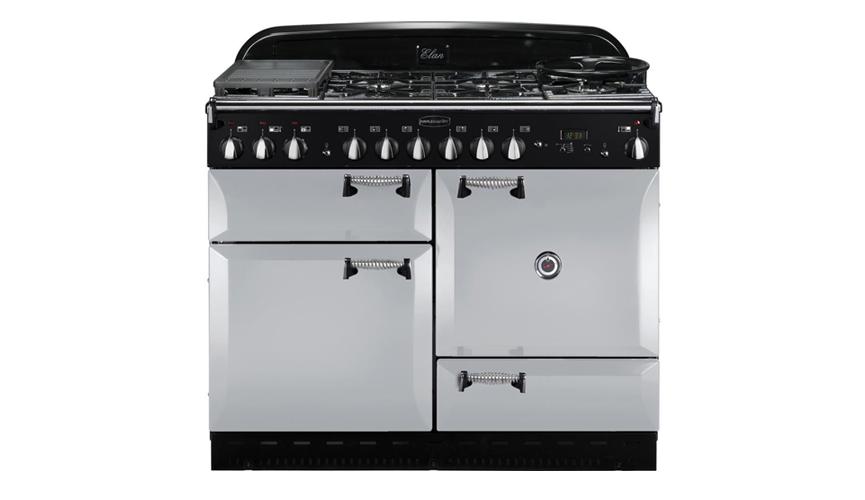 Rangemaster Elan 110
The Rangemaster Elan range is available in 90cm and 110cm widths, it's classically designed with a choice of five colours and chrome trim.
The Elan's fan oven and the multifunction oven ensures your food is cooked to perfection. You can choose from an induction, ceramic, or a dual fuel type. Features include a handy rack and a storage drawer, as well as a dual circuit slide out grill. Dual Fuel models also have a griddle and a wok rack.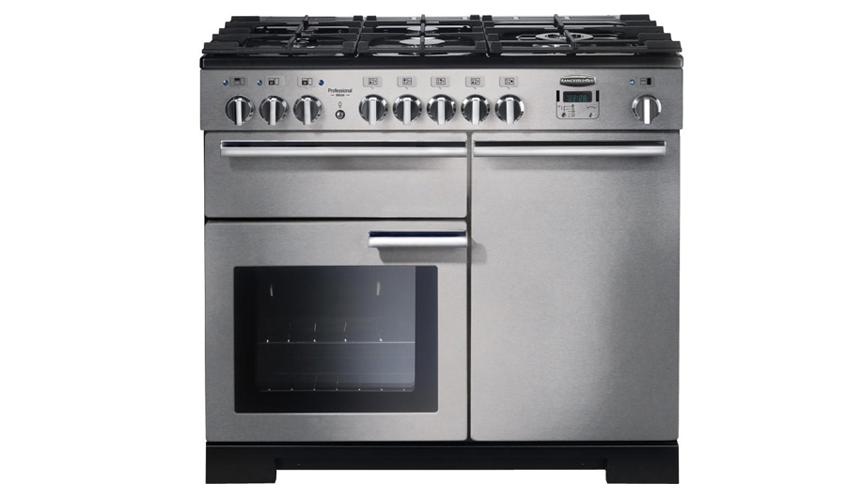 Rangemaster Toledo 90
Easy to use and sophisticated in its design, the Toldeo + offers so many options to suit your cooking style. In a choice of Stainless Steel, Black, Ivory or Slate finish.
Key features
All Toledo + range cookers come with two large capacity ovens, glide-out grill and programmable oven, with an A rating for energy efficiency.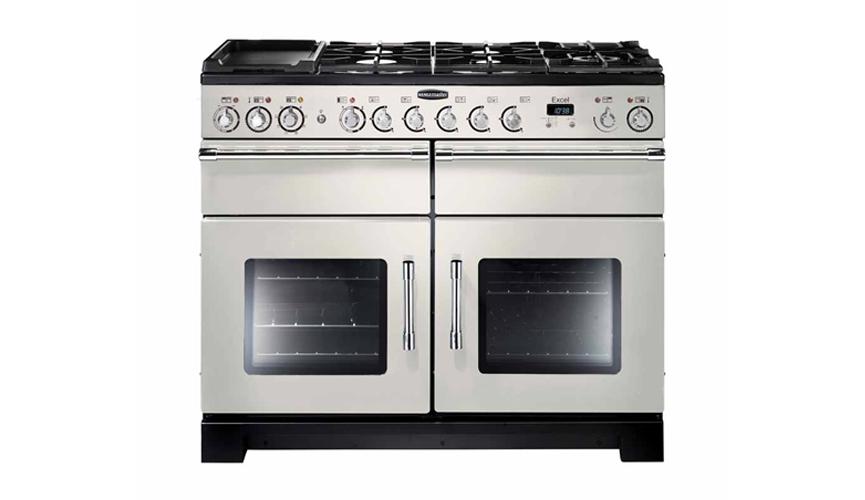 Rangemaster Excel 110
The Excel 110 is a range cooker that can cater for every occasion, offering, as well as its two massive ovens, a separate grill and a dedicated slow cook oven. Thermostatically controlled, this additional feature is ideal for hearty casseroles, keeping dishes warm, or simply warming plates.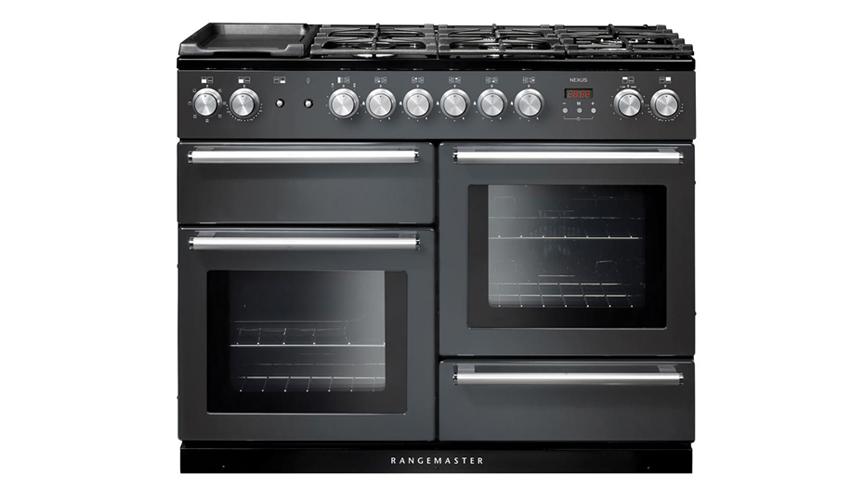 Rangemaster Nexus 110
Real style and complete control are the hallmarks of this Rangemaster Nexus 110 Dual Fuel Range Cooker in slate and chrome, sure to form the centrepiece of your kitchen.

Combines traditional and contemporary   Enjoy traditional-style cookery in a modern format with the Rangemaster Nexus 110. It's impeccably sleek and has all the features you need to tackle any recipe or cooking situation.

The deluxe hob offers five gas burners and two electric ceramic plates, so you can fit more pots and pans on the hob at once, whilst keeping food warm or cooking gently on the auxiliary surfaces. A wok cradle lets you use larger cookware for authentic Asian-style cooking, and there's a griddle that's great for meat and vegetables.

Multi zone cooking with the ceramic areas lets you choose between two ceramic 1.1 kW cooking zones, or place a durable non-stick griddle plate over the top to provide a healthy cooking surface. Cast iron pan supports offer excellent durability and keep your cookware stably in place. You can get cooking in no time with automatic ignition, and gas delivers fast heating and control.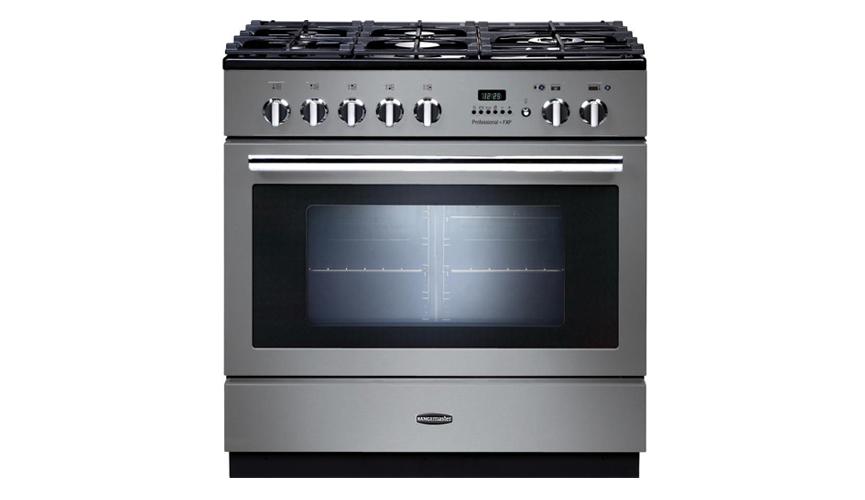 Rangemaster Professional+ FXP 90
Innovative, attractive and reliable, the Rangemaster Professional+ FXP 90 Dual Fuel Range Cooker will make a great difference to your home cooking.

Immense oven space

This cooker doesn't just look the part; it combines all the essentials of real home cooking centred round an enormous 108-litre multifunction oven.

Since the oven is multifunctional, it is easy to achieve great results no matter what culinary challenge you are taking on. Choose from top heat, bottom heat, fan, fanned grill and more to create roasts, casseroles and bakes you will be proud of.

The oven is fully programmable, making it easy to create delicious culinary delights that will impress family and friends.

The oven can be kept clean with the minimum of effort as its catalytic liners reduce residue and spillages to an oxidised material that can be easily wiped away.

Highly responsive cooking

With a five-burner gas hob, you'll enjoy faster heating up times and fantastic cooking control. There's plenty of space for all your different pots and pans, with cast-iron pan supports providing an extremely stable and robust base.

A large wok burner is on hand to accommodate larger cooking vessels, so you can cook up an authentic Asian-style feast or stir fry for large gatherings.

The heavy-duty cast-aluminium griddle plate provides a quick, easy and healthy way to cook meats.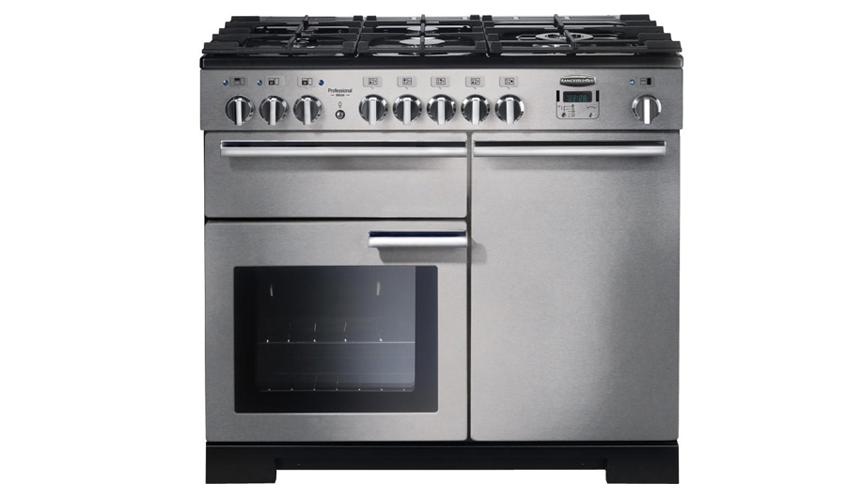 Rangemaster Professional Delux 100
The stunning Rangemaster Professional Deluxe 100 Dual Fuel Range Cooker brings style and real cooking panache to your kitchen in a stainless steel and chrome finish, expanding on the Professional+ series with powerful capabilities.

The benefits of gas hob cooking

With a five-burner gas hob, you'll enjoy faster heating up times and fantastic cooking control. There's plenty of space for all your different pots and pans, with cast-iron pan supports providing an extremely stable and robust base.

A large wok burner is on hand to accommodate larger cooking vessels, so you can cook up an authentic Asian-style feast or stir fry for large gatherings.

The heavy-duty cast-aluminium griddle plate provides a quick, easy and healthy way to cook meats and create the perfect breakfast.

Masses of oven and grill space

The Professional Deluxe 100 Range Cooker offers an incredible 150 litres of oven space to handle anything you want in the kitchen.

Enjoy a whopping 81 litres of space in the large multifunction main oven, and an impressive 69-litre capacity in the tall oven. Handle multiple roasts or prepare vegetables, bake breads and more simultaneously for total freedom, flexibility and control.

Since it's multifunctional, the main cavity offers truly versatile oven temperatures for all kinds of cooking, while the tall oven uses fanned heat to evenly distribute the temperature – particularly effective for batch baking.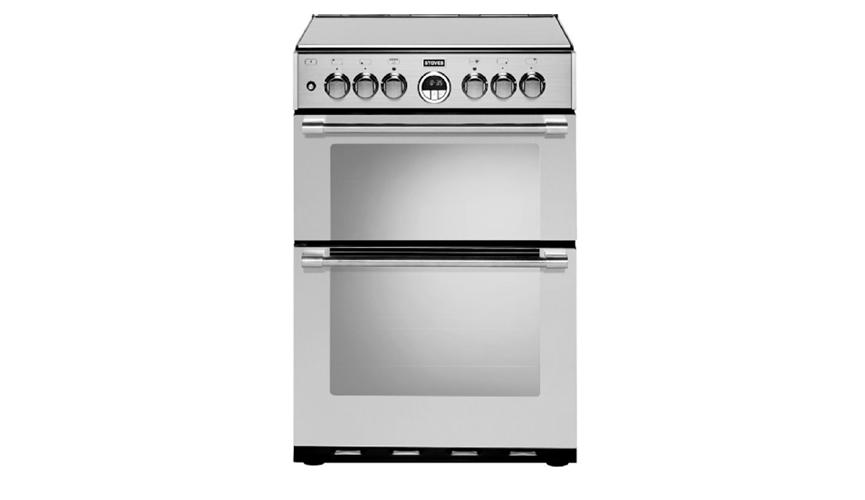 Stoves Sterling 600DF
The Stoves Sterling 600-DF Dual Fuel Cooker offers two electric oven cavities and four gas hobs, so you have complete flexibility when cooking your dinner.

Easy cooking

With a large 59 litre main oven capacity and a 35 litre secondary oven you have plenty of room for all your meat and vegetables. The secondary oven is also equipped with a variable grill, so you can grill a quick cheese and toast snack. The four gas hobs allow you to boil those potatoes and heat up the soup.

The fully programmable cooker is built with an LED display and timer for a complete ease of use. The digital clock can even be programmed to automatically start and stop, so you can plan your meals perfectly.

Just cooking

The 600D-F fan oven has a viewing window and interior light so you can keep a close eye on what's cooking.

Once you've enjoyed your delicious meal you can rest assured that you won't be scrubbing away the debris. The easy-clean enamel is designed to resist spills so any mess can be swiftly wiped away.

The flame safety device feature automatically cuts off the gas when it detects that the flame has been extinguished, keeping you safe.

The energy efficient A-rated Sterling 600-DF Dual Fuel Cooker has a sleek and modern design with a stylish stainless steel finish, a real statement in the kitchen.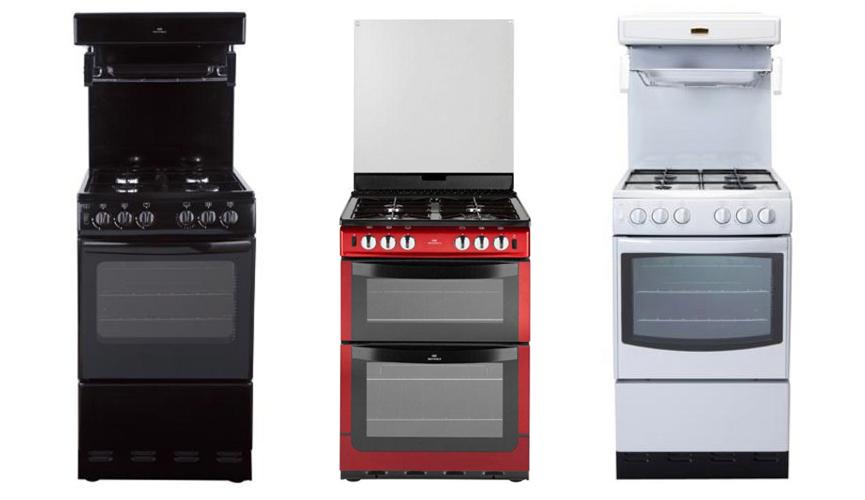 New World
New World 50THLG Black 
New World  601GDOL Red 
New World 50THLG White 
The New World 50THLG Gas Cooker offers a four-burner hob, roomy 42-litre oven and high-level Sola gas grill, perfect for preparing the family meals!

Safety first

At 50 cm wide, the white New World 50THLG Gas Cooker delivers compact but efficient functionality, with all the great features of gas cooking - rapid heat, precisely controlled - and none of the worries, thanks to flame safety devices (FSD) on every burner.

This attractive gas cooker includes a double-glazed oven door to keep heat in where it belongs, a grill-and-serve-captive grill pan, and easy-clean enamel interiors.

Perfect cooking

With over 40 litres of space on offer, you'll have plenty of room to cook the family meals, whatever you fancy to eat. Four gas hobs make it simple to boil and fry, providing plenty of cooking power.

An eye-level grill means you can warm your beans while toasting your bread on the grill, and makes it easy to keep an eye on it so it doesn't burn.

Keep an eye on your food and keep it delicious with the New World 50THLG Gas Cooker!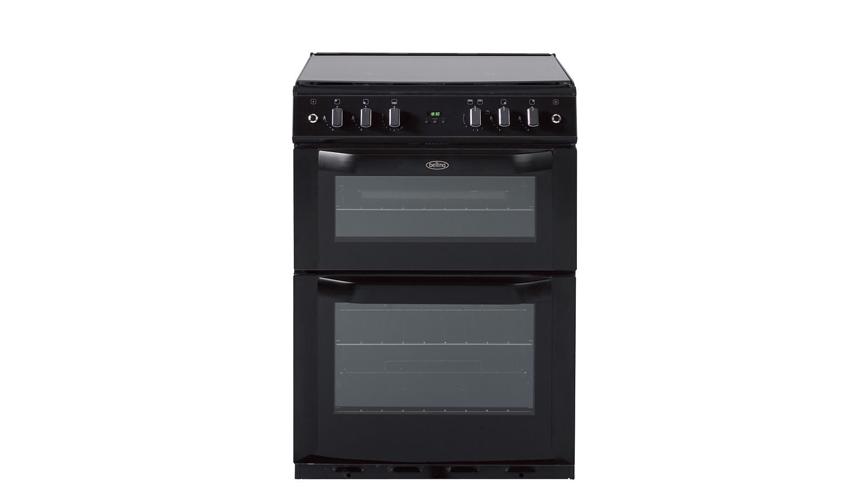 Belling FSG60DOP
Enjoy everyday cooking with the freestanding 60 cm wide black Belling
FSG60DOP Gas Cooker
.


Everyday cooking for all of the family
The Belling
FSG60DOP
caters for all your cooking needs with a 48-litre medium-capacity conventional main oven and a 27-litre conventional secondary oven which doubles as a grill with dual circuit electric. This grill is reliable and powerful, giving great grilled results for bread, meat, and cheese.
The cooker is topped with 4 gas burners – perfect for cooking for all of the family!


Safety first
The gas hob keeps you extra-safe, thanks to the Belling
FSG60DOP
's gas safety cut-out system - when you close the glass lid the gas rings automatically shut off. Additionally, should flame go out in the oven or on the hob, the gas supply is cut off, so you need not worry!


Easy control
Ideally positioned at the front of the hob, the rotary dial controls of the Belling
FSG60DOP

 
are easy to see and access, which means you don't need to bend or step away from the cooker to change the heat settings. Alternatively, use the cook-to-off programmable timer to preset when you would like the oven to turn off.
With easy-clean enamel oven linings, the Belling
FSG60DOP Gas Cooker
is easy to maintain and makes a great choice for the family kitchen.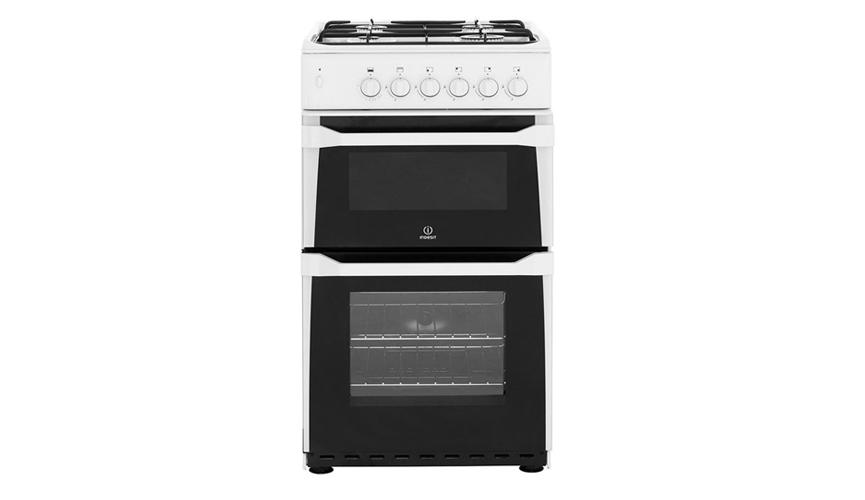 Indesit IT50GW
The Indesit IT50GW cooker ensures optimum results every time whether you're cooking a quick snack for one or a feast for friends!
Manufacturer:

 

Indesit
PerformanceEnergy efficiency class : A+
Unique Features
Flame supervision device - cuts the gas supply if a flame goes out
Compact size
Additional Features
Easy clean gas hob with 4 burners
Twin enamelled pan supports
Gas grill in top cavity
Grill pan & handle
Conventional main gas oven with 41 litres of space
LPG convertible, kit included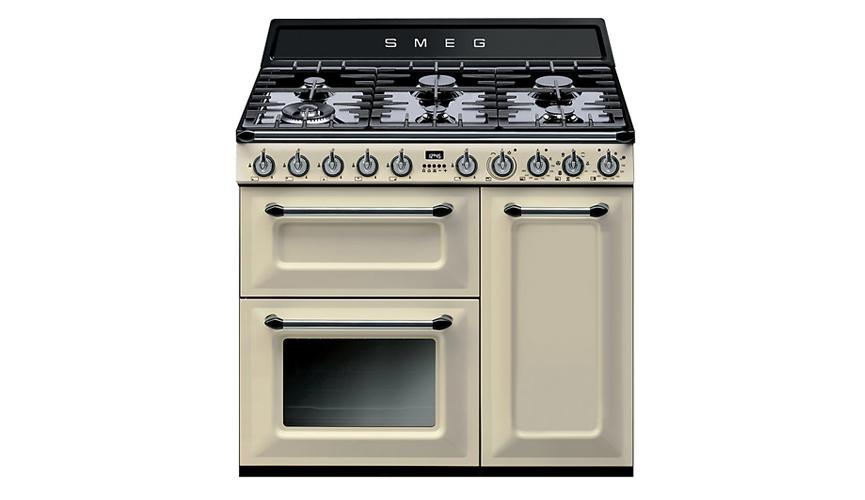 Smeg Victoria Aesthetic
Exclusive aesthetics, superb quality and unmistakable design are the ingredients that make any Smeg appliance unique. The Victoria range is simply no exception.
With two large ovens, grill and a spacious induction hob you can utilise the variety of functions to create a variety of dishes that will be cooked to perfection. Finished in sleek, glossy cream and making the creation of a family feast effortless, accomplished foodies and style conscious homemakers will be in their element with the Victoria range cooker.
Designed to the highest quality inside and out featuring evocative lines, chrome handles and controls alongside a smooth glossy finish the range cooker is a solid, versatile and reliable cooker you can depend on with leading edge technology and low energy consumption.
Flexibility with a choice of ovens
With a choice of ovens to prepare your master pieces in this Victoria range cooker is highly flexible. The oven doors are triple glazed to lock in that precious heat, maintaining temperature and delivering even cooking.
Grill to perfection with the 36L closed door grill, featuring telescopic guides for stable and safe access. The main oven has a capacity of 63L with 4 cooking levels including a chrome shelf and an extra deep 40mm tray. The tall auxiliary oven is highly impressive, boasting of flexibility with a capacity of 66L alongside 9 cooking levels with 4 chrome shelves and a plate rack. You can stack and cook multiple dishes at once, roast a joint, cook your veg and bake a pudding all at the same time as well as warming up your plates with the convenient plate rack at the base of the oven.
A function for everything
With 9 cooking functions to choose from you are able to select a function perfectly suited for each dish. Choose from a variety of functions such as Circulaire element with fan, conventional top and bottom heating, turbo (combining fan and conventional oven cooking), defrost, grill with or without fan assistance and pizza stone function. Utilise the fully programmable timer to never over cook a meal again.
Easy clean
When the cooking's finished and it's time to clean the oven don't despair! The interior of the range cooker has been coated with black enamel and each oven has a roof lining making cleaning simple.