How much can I save by swapping to Honest Value?
04 May 2021
In the current climate where every penny counts, value is at the forefront of many people's minds. We believe that everyone should have access to the food they love at a reasonable price.
That's why our Honest Value range launched earlier this year, featuring your favourite everyday products at everyday low prices.
Honest Value is proudly Co-op and true to our ethical sourcing standards. Just like our other products, you won't find any artificial colourings, flavourings, or preservatives in the range. The products are Fairtrade certified and Cruelty-Free International approved, maintaining the high ethical standards that you know and love.
Simply put, Honest Value offers you great prices with our great values, and the same quality of Co-op food you can trust.
But how much can you save by switching to Honest Value?
We have handpicked 10 products from an average weekly shop to show you how much you can save by making the switch. The numbers speak for themselves.
A simple switch could make you a saving of over £5 a shop. That's a total saving of £260 a year.
Honest Value
Honest Value Fairtrade Black Tea Bags 80's - 55p
Honest Value All Purpose Cloths 10 Pack - £1
Honest Value Sponge Scourer 6 Pack - 55p
Honest Value Baked Beans 400g - 30p
Honest Value Chopped Tomatoes 400g - 39p
Honest Value Soft White Toilet Roll 4 Pack - 65p
Honest Value 25% Fat Beef Mince 550g - £2.35
Honest Value Orange Cordial 1.5 Litre - £1
Honest Value Fairtrade Instant Coffee 100g - £1.45
Honest Value Free Range mixed Eggs 10 pack - £1.40

Total - £9.64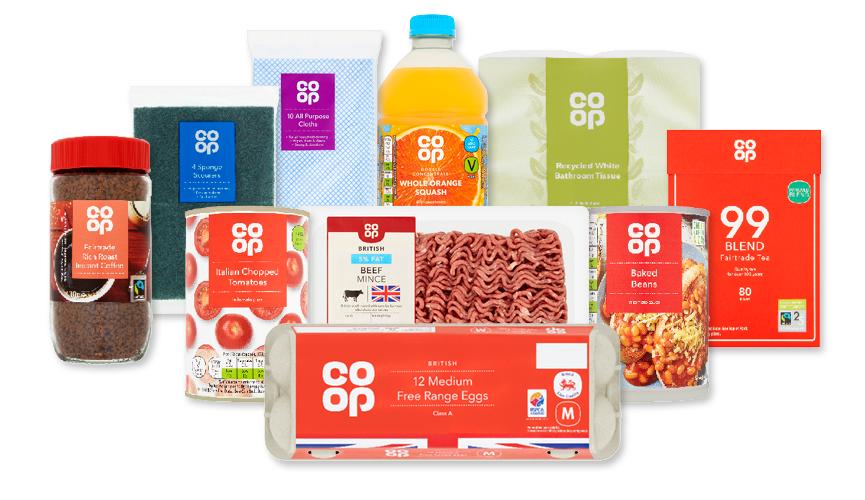 Own-Brand
Co-op Fairtrade 99 Tea Blend 80's - £1.45
Co-op All Purpose Cloths 10's - £1.39
Co-op Sponge Scouring Pads 4's - £1
Co-op Baked Beans in Tomato Sauce 400g - 59p
Co-op Chopped Tomatoes 400g - 79p
Co-op Recycled White Bathroom Tissue 4 Pack - £1.75
Co-op 5% Fat British Lean Beef Steak 500g - £4.45
Co-op Whole Orange No Added Sugar Double Concentrate 750ml - £1.19
Co-op Fairtrade Rich Roast Granules 100g - £2.05
Co-op Medium Free Range Eggs 12 pack - £2.80

Total - £17.46
TOTAL SAVINGS £7.82
By making a few switches to Honest Value in your weekly shop, you will notice a difference.
If you haven't already tried Honest Value, why not try it next time you shop? Discover for yourself how you can enjoy great savings with the same great quality you are used to.
Our Honest Value range joins our core own-brand, Irresistible, Gro and Free-From selections, all of which offer you variety with excellent value for money.
All the prices are correct as of 23/04/2021 and may be subject to change. We have found like for like where possible, but the sizes and quantities do vary. The Honest Value range is available at selected stores and subject to availability.