Hurry! The last batch of Jersey Eton Mess ice cream is in stores.
Earlier this year we teamed up with the wonderful folks at Jersey Dairy to give you the chance to create and dedicate a unique ice cream flavour of your own. After lots of tastings and hard decisions by the judges, the winning flavour was chosen and Jersey Eton mess came out on top.
The ice cream is now available in our Grand Marché and Locale stores across Jersey, but hurry, this limited edition flavour will run out soon!
A huge thank you to all the members and customers that took part in the competition.
The winning flavour...
The winning ice cream flavour was Jersey Eton Mess. This flavour was designed by Angela Jeanne and dedicated to her daughter, Tayla. The ice cream is fruity with pieces of meringue and swirls of strawberry sauce, plus Jersey Dairy ice cream of course!
Angela said she chose the flavour because Eton mess has always been a massive family favourite. She has three children and told us they all love ice cream.
Angela's ice cream was one of three selected by our panel of judges to go to a public vote. The other finalists were:
Apple Crunch designed by Naomi Tucker, dedicated to the National Trust for Jersey
Zesty Lemon designed by Angela Luce, dedicated to her daughter, Emily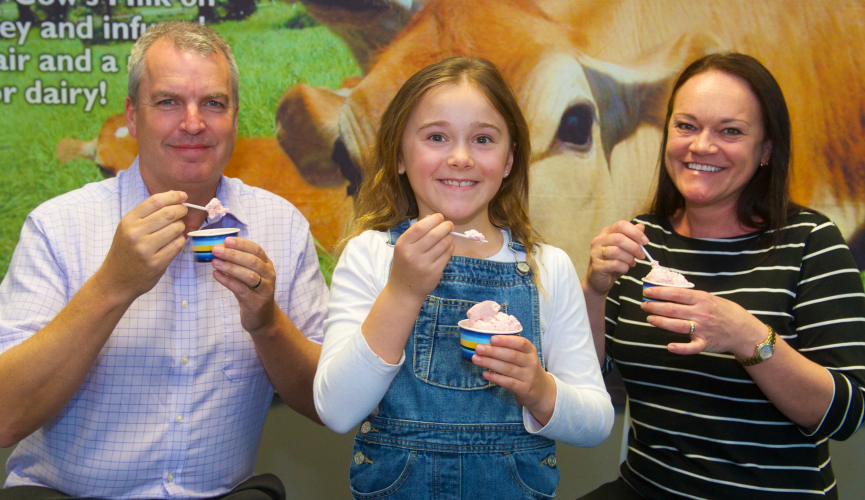 Our panel of judges was made up of:
Alan James – ice cream maker at Jersey Dairy
Colin Macleod – our CEO
Spencer Davies – presenter of Channel 103's morning show
Thomas Garnier – student at Highlands College, undertaking Advanced Technical Diploma in Culinary Arts
The prize…
Angela and Tayla won a tour of Jersey Dairy, where they were able to see the Jersey Eton mess ice cream being made and getting tubbed. They also had their own private tasting and were awarded a case of 12 tubs of the ice cream.
The ice cream is now on sale for £3.99 in all Jersey Grand Marché and Locale stores.