The festive season is upon us. Although there are many reasons to be jolly, the aftermath can leave you feeling a little less cheerful.
At Pharmacy Locale we have everything you need to stock up on festive essentials to help with feeling under the weather, overindulging and even a heavy night.
Feeling under the weather? We can help.
Keep warm and keep well this winter. If you are starting to feel unwell, our pharmacists are there to help.
Stocking up on supplies to get you through the cold and flu season is a great way to be prepared and protect your health.
At Pharmacy Locale we have everything you need to keep the dreaded winter germs at bay. If you're not sure or can't find what your looking for, our pharmacists are always there to help and give you the best advice.
Symptoms of the common cold are the same in adults and children, and include:
A blocked or runny nose
Sneezing
Coughing
A sore throat
Headaches
Muscle aches
Loss of taste and smell
Pressure in your ears and face
Raised temperature
Top tips for avoiding colds and keeping yourself well this season:
Stay hydrated. It is important to drink lots of fluids.

Make sure you wear lots of layers in the winter. Cotton, wool and fleecy fibres help maintain body heat.

Use hand sanitiser to fight germs.
Make time for relaxation and sleep.
Stay active.
Make sure you eat at least one hot meal a day.
Be prepared and stock up on cold and flu products.

Here are a few items which you can stock up on
Co-op brand products
Pain and fever reliever:
Co-op Paracetamol Capsules
Co-op Paracetamol Capulets
Co-op Extra Strength Pain Relief Paracetamol
Co-op Ibuprofen Capsules
Co-op Ibuprofen Caplets
Co-op Ibuprofen Tablets
Co-op Ibuprofen Liquid Capsules

Congestion or sinus pain reliever:
We have great own brand and branded medicines that will work a treat
Co-op Maximum Strength Flu Capsules
Co-op Maximum Strength Cold/Flu Sachets

Chest congestion reliever/mucus control/dry coughs:
Co-op Dry Tickly Cough Syrup
Co-op Adult Chesty Cough Syrup
Co-op Menthol Bronchial Balsam

Branded products
Day and Night Nurse
Otrivine Nasal Spray
Benylin Chesty Cough
Benylin Dry Cough
Benylin Mucus Cough
Centrum advance
Strepsils lozenges
Don't forget:
Hand sanitiser
Tissues
Thermometer
Heating pad (for muscle aches)
Over Indulged? We can help
We all know that the festive season involves a lot of delicious, mouth-watering food and we're all guilty of overindulging in these tasty treats and Christmas dinners.
But this can sometimes take its toll and leave you will one or more of the following symptoms:
Feeling bloated
Heartburn
Indigestion
Acid reflux
Stomach cramps and aches
Don't let this ruin your Christmas, at Pharmacy Locale we have a number of remedies to help you relieve your sore tummy. 
Top tips for avoiding negative effects of overindulgence:
Caution with your portions: Treat yourself this Christmas season but remember to try and not overindulge. By thinking twice before you heap your plate with delicious food, remember that you can always go back for second helpings.


Slow down: Festive food is very tasty which means it can be munched on very quickly. Remember to slow down with your food, leaving time for your stomach to digest properly.


Go for a walk: Going for a walk a little after your food is a great way to get your body moving and digesting properly. While also relieving any bloat.


Drink plenty of water: Remember to always drink plenty of water. This helps settle your stomach, especially when lots of food and alcohol are consumed.
Here are a few items which you can stock up on:
Gaviscon double action
Gaviscon tablets
Rennie deflatine tablets
Rennie tablets
Nexium control gastro-resistant tablets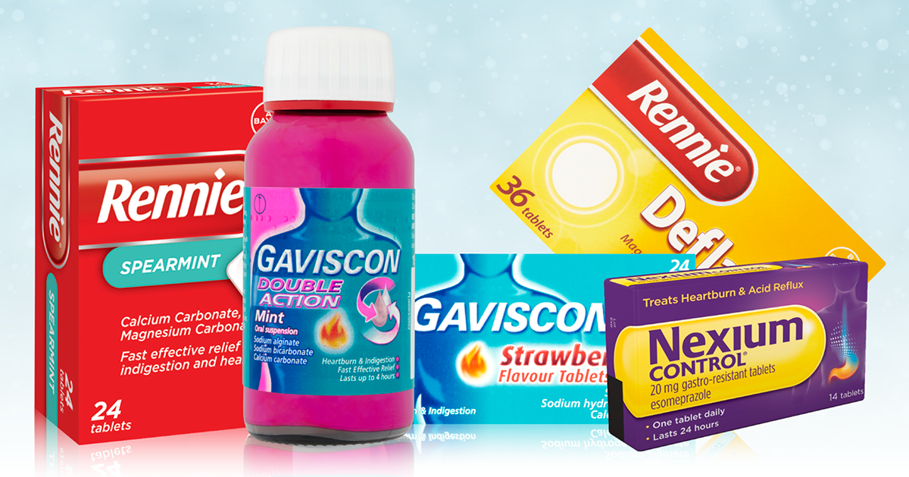 Heavy Night? We can help.
Are you ready for the festivities to begin? It's an excitable time, but the day after your Christmas party and seasonal celebrations might leave you feeling a little less fresh and cheery.
Prepare ahead of time with Pharmacy Locale. We can help you shake off the fuzzy heads and sickness with plenty of products to suit your needs.
Top tips to help prevent hangovers
Eat a good hearty meal before a night out to line your stomach.
Drink plenty of water to keep yourself hydrated.
Drink in moderation and try not to mix your alcohol.
Before bed, drink a pint of water.
Remember to stock up on essentials, so you are prepared for the morning after.
Here are a few items which you can stock up on:
Alka-Seltzer original effervescent tablets
Berocca effervescent tablets
Nurofen tablets
Panadol tablets
Livercare tablets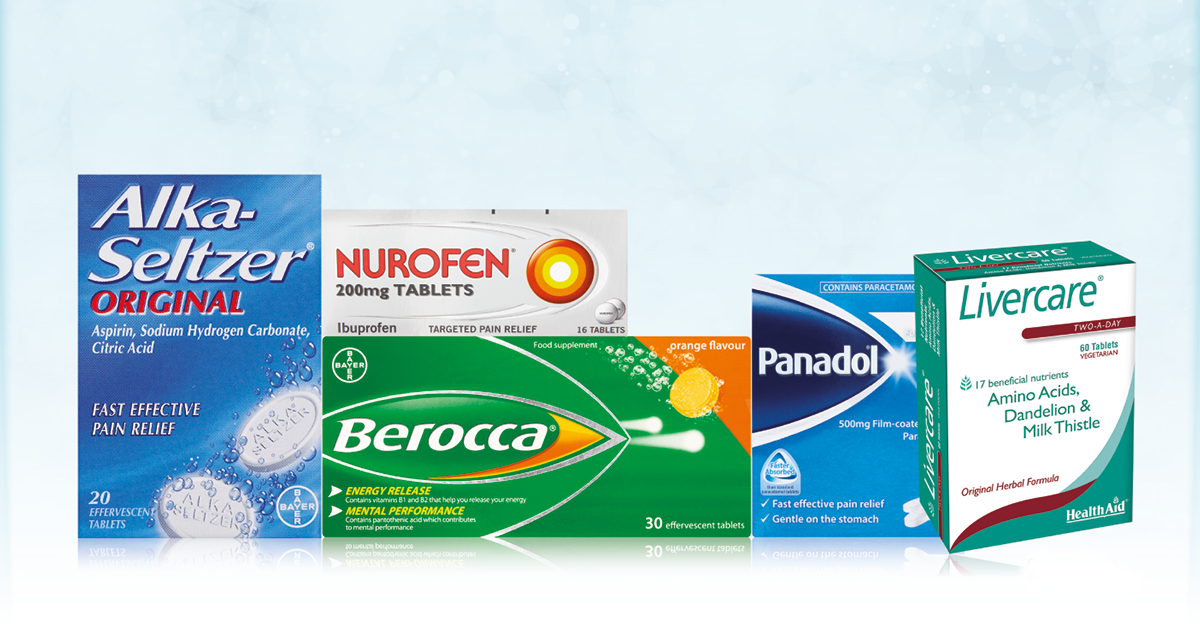 If you are not sure on what products are right for you or can't find what you are looking for, ask you Pharmacy Locale Pharmacist, we are always here to help and give advice.