This Christmas, you can help make a real difference in your local community
We need your help to spread the festive community spirit far and wide to those in need this Christmas. Whether you donate an item or two to our Reverse Advent Calendar campaign, or pick up a gift tag from our Christmas Wish Tree, you can be part of the magic.
Reverse Advent Calendar
In the countdown to Christmas, many of us will be opening the doors on our advent calendars to reveal a treat. But this year, we're asking you to donate a little to make a big difference for those in need.
The idea is simple: instead of taking something out of an advent calendar each day, we are asking you to pop something in.
We have worked with our local charity partners, Jersey Shelter Trust and Grace Trust, to come up with a list of items to donate that will make a real difference this Christmas.
There are always the basics, but our reverse advent calendar gives some suggestions that will add extra Christmas sparkle and joy to those who need it most.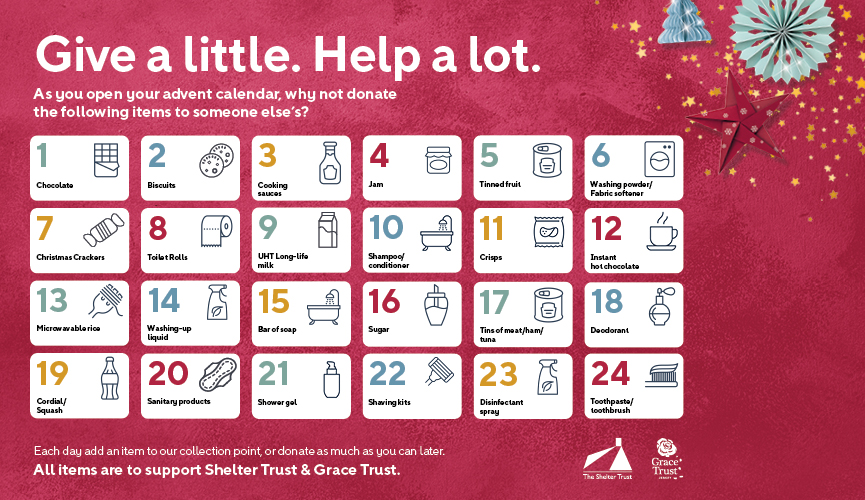 Download a PDF of the Reverse Advent Calendar.
How to take part
Check out our reverse advent calendar and look out for signage in store 
Purchase any of the suggested items when you are shopping with us
Drop them into our usual food donation boxes, located on the way out of the store
We'll make sure the items reach the charity throughout December
Why not encourage your family and friends to join in too?
Do you want an extra challenge?
If you're feeling up for it, why not create your own collection point at home and try to collect all the items listed throughout December.
Please make sure you take your full box to one of our charities by the dates listed below, so that they can distribute the boxes in time for Christmas.
Grace Trust – drop off to 3 Daisy Villas, Lewis Street by Tuesday 21 December
Shelter Trust – drop off to Aztec House, Kensington Place by Thursday 23 December
Christmas Wish Tree
Help make a wish come true for someone this Christmas.
Our magical and ever-popular Christmas Wish Tree is back. Once again, it is filled with the wishes of islanders who have had a difficult year or will find themselves alone this festive season.
We've reached out to our friends at Jersey's mental health service, Causeway Jersey, and Jersey Association for Youth and Friendship to gather the wishes of islanders in their care. We've placed each wish on gift tags on our tree in Grand Marché St Helier.
How to get involved:
Pick a tag from our tree which will be arriving in store soon
Purchase the gift shown, up to the suggested value of £25
Gift wrap it and attach the wish tag onto the outside of the present
Return it to St Helier Grand Marché by Sunday 12 December
You will be helping make Christmas a little brighter for less privileged islanders this year.
Find out more about the people the wish tree is helping this year:
Causeway Jersey: a local charity providing housing and support services for young single mothers who have found themselves homeless. The gifts will go to the mums and their young children residing in Causeway House.
Jersey Association for Youth and Friendship: providing safe and homely accommodation to young people aged between 18 and 25 years who might otherwise be homeless. This year the wishes are supporting young men in their care.
St Saviour's Hospital wards: gifts will go to islanders living with dementia or mental health conditions on residential wards.
Jersey Shelter Trust's Soup Kitchen
We're proud to once again support Jersey Shelter Trust's Soup Kitchen on Tuesday 7 December, between 8am-2pm. This well-loved annual fundraising event returns after a break in 2020, and we're delighted to send a group of enthusiastic Co-op volunteers along to help.
Our colleagues will be busy preparing bread (donated by us) and stirring and serving some of the 20 soups on offer. So pop down, grab yourself a cup of warming soup and say 'hi' to all the volunteers whilst supporting this amazing local charity.
Community is not just for Christmas 
We are here for our community every day of the year.
If you are a charity or community group, you can get involved with your Society in fundraising, selling raffle tickets, raising awareness or more.
Browse our community pages for more information, or get in touch with us at customer.relations@channelislands.coop