All of Jersey Dairy's products are made from milk produced exclusively by the finest pure-breed Jersey cows, which can trace the purity of lineage back to 1763. Every Jersey cow in Jersey is given a name and recorded in the Herd Book, which dates back to 1866. They know that happy cows produce more milk so ours have their own latex mattresses to sleep on and back scratchers to keep them relaxed! The average Jersey cow produces 144 servings of milk each day.
There are 20 farms in Jersey that supply your fresh milk, which never travels more than 15 miles from farm to supermarket! Dairy farming on Jersey has a positive impact on our countryside, important for our farmers and everyone who enjoys it as a place of beauty, recreation and culture.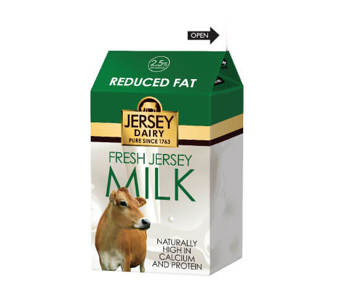 Because the dairy is owned by the same farmers who produce the milk, They have full control of the milk's journey from their cows to you. They place great emphasis on quality and food safety. The Quality Assurance Programme is designed to ensure that all products leaving Jersey Dairy are consistently of a high quality and that you always get the best, pure and tasty Jersey milk.