Classic Herd: Meet the producer
21 October 2019
There is something quite nostalgic about buying milk produced by Darren and Julia Quénault at Classic Herd. 
Instead of heading to a supermarket shelf and picking up a plastic container, many islanders are now choosing to swap plastic for glass. Then filling their bottles up at Classic Herd's milk vending machine at their dairy in St Peter.
 And now islanders are also able to buy milk in glass bottles from our very own Classic Herd vending machines at Grand Marché St Helier.
Where did the idea of the milk vending machine come from?
Julia first saw one of the machines when she was visiting one of her best friends in Aberdeen. 
She said: 'People were driving ten miles to go and use the machine. There was always a queue and it was really popular.
'I really liked the idea.'
The idea of selling milk in glass bottles was something the couple had thought about more than ten years earlier but they soon realised it would be too expensive to install a machine which would sterilise the bottles.
Darren explains: 'Having a milk dispenser where we ask our customers to bring back a clean bottle means we put that responsibility on them and not us. This makes the whole process much more logical and cost effective.
'The plastic we were using before we installed the dispenser was still recyclable but obviously a reusable glass bottle is a better option for everyone.
'A lot of people tell us the milk tastes much better from glass.'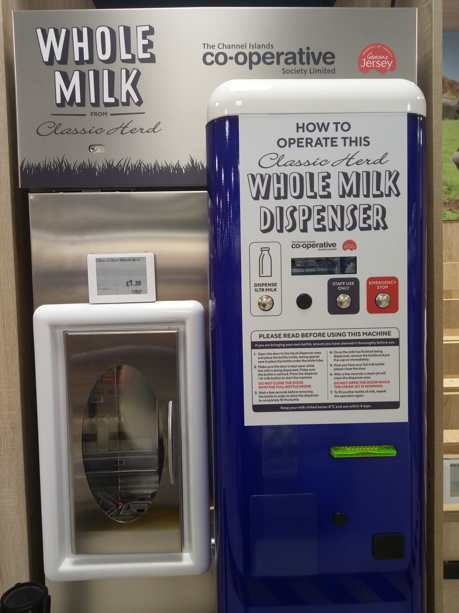 What's the feedback been like?
'It just took off overnight,' smiles Julia.
Initially hoping for a soft launch, the day after the couple installed the machine they had a queue of people waiting to try it out. News of the vending machine was shared on the Good Life Jersey Facebook page, which promotes sustainable and environmentally friendly initiatives in Jersey, and the buzz surrounding it 'hasn't stopped since.'
Darren said: 'We are selling between 90 and 100 litres of milk a day from the dispenser. It's just whole milk which means it's as pure as it can be without being straight from the cow.'
Although the vending machine will remain at the dairy in St Peter, islanders are now able to pick up their bottled milk from Grand Marché St Helier as well.
Julia said: 'Everyone has been asking us for some time to get more machines and have one on the other side of the island, so it's wonderful that the Co-op have been so supportive and agreed to a machine.'
She adds: 'For a lot of our customers it is the satisfaction of them being able to buy the milk in a glass bottle straight from the farm.
'A lot of people just like to buy the bottle – it's a nice commodity and it's what people used to do.'
What are your future plans? 
After farming for nearly 40 years, Darren and his wife are now scaling back and have sadly had to close their farm shop in St Peter's.
As the only independent dairy in Jersey, Classic Herd have gone from milking a herd of 80 cows to just 30 in recent months.
The Quénault's farm will continue to run but now they will only produce milk – whereas they used to produce cheese, yoghurt, ice cream and cream.
But despite scaling down, the couple still love what they do.
Darren said: 'I love this job because I love the cows. I need to have cows around me.
'We have a responsibility to look after the animals but as long as they are alright then we are alright.'