Maurice's summer favourites
25 August 2019
Everyone who works for your Society loves celebrating summer – whether they are having a picnic in an island park, a BBQ on one of Jersey's many beaches or celebrating with family and friends in their own back garden.
Your Society has everything you need for those summer occasions.
Here Maurice Nobrega, store manager at Grand Marché St Helier, shares what he loves about the summer months.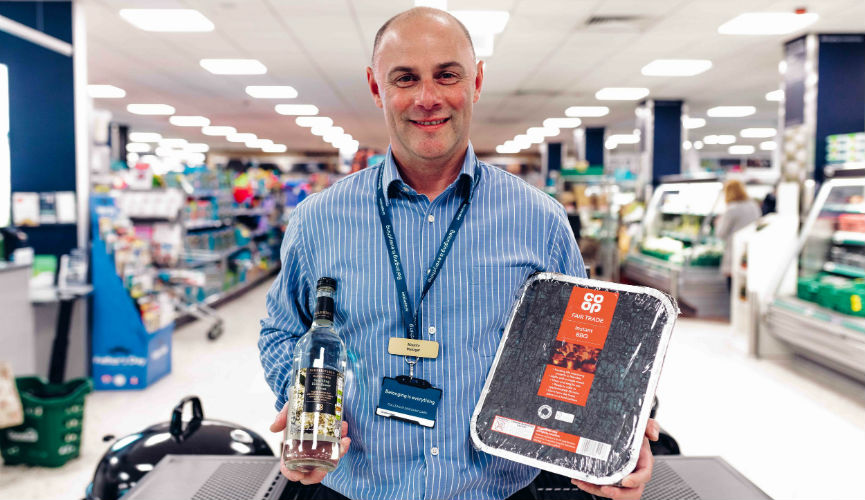 Sum up your perfect summer day …
During the summer I love going down to L'Etacq with my partner and the dog. We sit and have a BBQ while the dog runs around and digs holes. The Co-op burgers and sausages are really good. We will take these down to the beach with a bottle of Co-op Irresistible elderflower pressé.
What does summer mean to you? 
For me summer is all about happiness. It's fun in the sun, chilling out with friends and wearing shorts and a t-shirt. 
What's your best childhood summer memory? 
Fort Regent was an extremely popular place to meet my friends during my childhood. There was lots of stuff going on up there in those days. 
What's your favourite summer location? 
 My mobile home in Combourg, France.
Your favourite summer food and drink?
I love eating seafood during the summer, especially a fruits der mer with a crisp white wine. 
Do you prefer the sea or pool and why?
I don't mind both but if I had to pick a favourite then I would say pool. I'm not that fond of seaweed to be honest.
Would you choose a BBQ or picnic and why?
I would always choose a BBQ. For me, there is a better choice of food and it's much tastier.
Ice cream or cold drink and why? 
Always Jersey ice cream from an ice cream van because it's delicious!
What's your favourite thing to do in the summer months?  
I love walking, cycling and taking my dog, Max, out and about around the island.