Wayne Billien: Meet the producer
19 August 2019
Not everyone would enjoy spending long days in dark tunnels surrounded by fungi but that's exactly what Guernsey producer Wayne Billien does on a daily basis.
Wayne has been in charge of growing, picking and supplying Guernsey mushrooms to local businesses for more than ten years.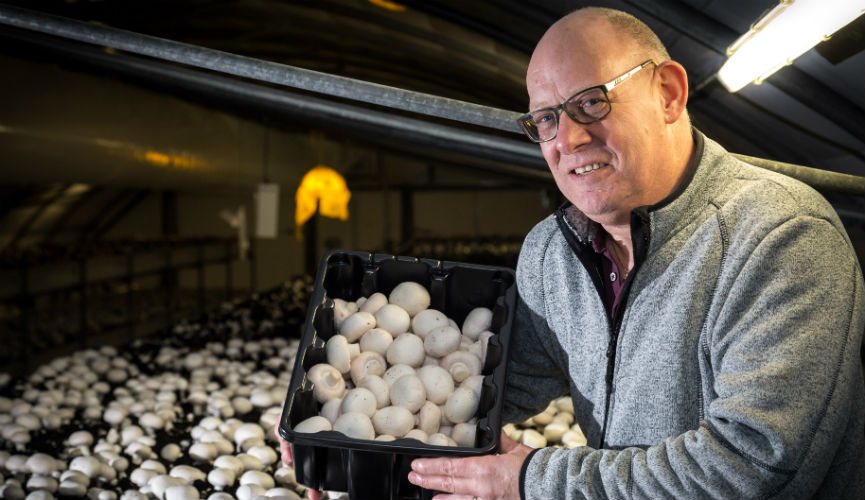 But don't ask Wayne what he thinks of the product he spends so many hours tending to because he doesn't like the taste. However that doesn't mean that he doesn't make sure every mushroom is as delicious as the next.
'I don't like mushrooms – I think they are disgusting!' he laughs. 'I do always try them though to make sure the texture is right.'
He adds: 'My wife likes to eat the flat ones and have them with bacon, cheese and tomatoes.
'It's not because I grow mushrooms that I don't like them – I have never liked them. I cook them if we have a BBQ and have friends around, or I will boil them in a bit of butter and garlic.'
So how did someone who doesn't like mushrooms end up running a mushroom business? 
Wayne has always been clued up about local produce. When he left school he went in to producing tomatoes and slowly moved into freesias. It wasn't long before Les Valles Farm in Castel, the home of Guernsey mushrooms, was looking for a farm manager. Wayne grabbed the opportunity and has been managing the farm since 1991.
'When I left school the main industry in Guernsey was growing produce, picking and supplying,' he said.
'From school I went straight in to picking tomatoes. It's all I have ever known.'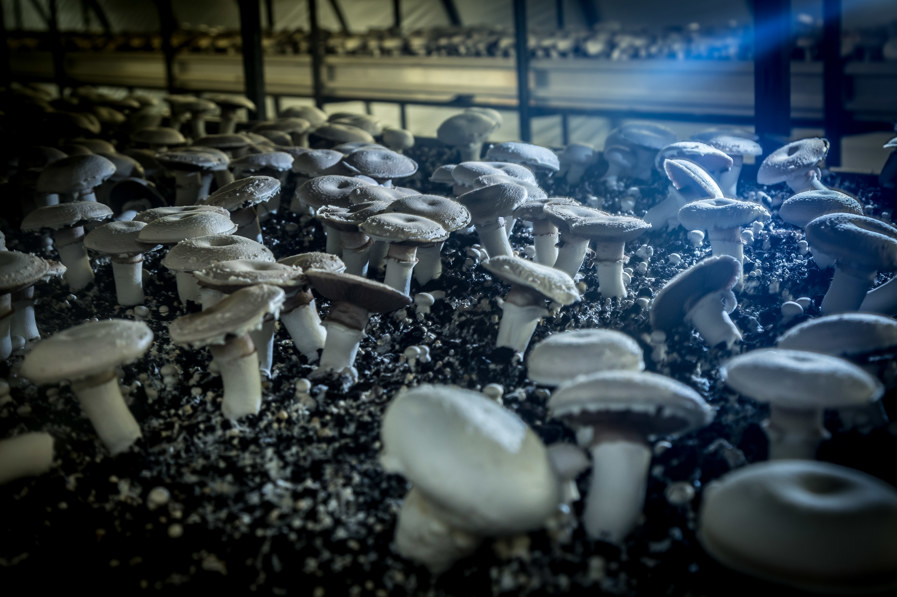 What's the process of growing a mushroom? 
Wayne said: 'We grow the mushrooms all year round. It's a bit harder in the summer months because we need to keep the mushrooms cool.
'We get the spores in from England in big blocks. Then we use a special machine that goes over the top of the block and ruffles the soil. We put a special peat on top to help the mushrooms grow. It takes about eight weeks from the time we have them delivered until the time we pick them.
'We grow them in tunnels which are kept in darkness unless we are working in them and then we use fluorescent lights. We need to make sure the temperature is correct and it's not too hot or too cold.
'Most days I will be up and in the tunnels by 5.45am. We normally finish between 12pm and 1pm if everything is running smoothly.'
Best and worst parts of your job?
After more than ten years growing mushrooms, Wayne knows exactly how long it takes a mushroom to grow but he says it still amazes him how fast the process is.
He said: 'It still surprises me how quickly the mushrooms grow. They become twice the size within 24 hours but sometimes they grow even more than that and that still amazes me.
'I also love being a local producer and I think it's really important. People seem to be more worried about their food miles now and if people can buy local then that's a good thing.
'I always prefer to buy local Guernsey milk and cream for my own home.'
And the worst part of running a business …?
'I think the worst parts of the job are the stress levels,' Wayne said.
'I need to try and get mushrooms to everyone when they want them and that's quite stressful. Sometimes people will order 20 pallets at once and expect them the same day and unfortunately that just doesn't happen.'
How we support local producers
Your Society actively look to stock our store shelves with as many local products as we can. We are proud to work in partnership with producers across the Channel Islands and in some cases these relationships go back years.
Every year we purchase around £11 million worth of products from more than 40 local producers. Wayne Billien is just one of those producers we have supported for a number of years.