Applications are now open for Helping Hands fund 2020
06 January 2020
Local charities, community groups and schools are invited to apply for one of your Society's longest running funds, which offers a helping hand to local good causes.
The Helping Hands fund has donated more than £300,000 to worthwhile causes since it was launched by the Society over 20 years ago.
Last year the Society received more than 109 applications and donated over £17,000 to 33 local charities and organisations.
Applications are once again open for those good causes that may need money to launch an idea, funds to support the group, or extra cash to try something different. Applications opened on Monday 6 January and close on Wednesday 5 February. All applications must be completed online at www.channelislands.coop/helpinghands.
One of the projects to benefit in Jersey in 2019 was Generations, which is an initiative run by Ebenezer Methodist Church that aims to bring young and elderly people together. The Generations project was awarded £400 from the Helping Hands fund, which was used to buy the craft supplies needed to initially set up the group. More than 40 children and elderly people now regularly join the sessions.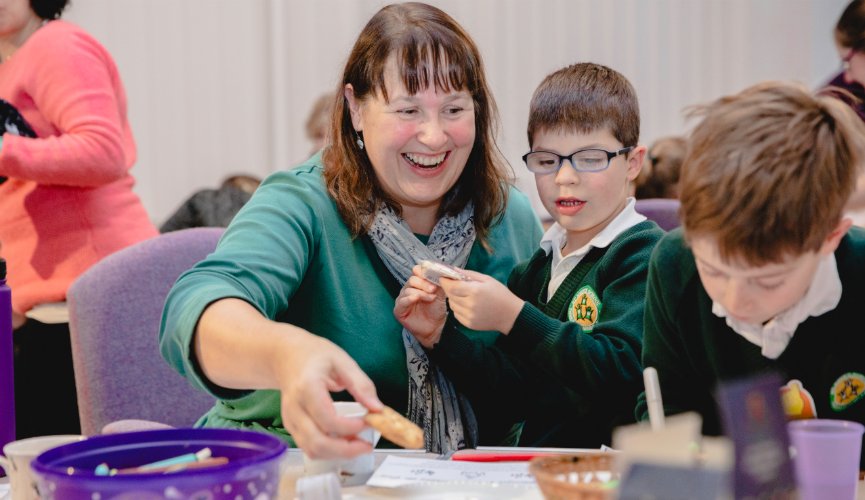 Amy Britton, children and community worker for Generations, said: 'Generations is about young children and elderly people spending time together and doing crafts. There are a number of benefits for both age groups spending time together. The children learn empathy, to care and be polite. The elderly people enjoy listening to the children at the sessions and are uplifted by their company.
'The Helping Hands money was used to buy all our craft materials to start the group and will allow the group to continue without us having to charge for the sessions.
'I was delighted to receive the money from Helping Hands. It was a weight off our shoulders that our group could carry on. Community initiatives such as Generations often don't get much lime light in the media because we are here to help a small amount of people. The Helping Hands fund recognises that and supports those smaller ideas and that's really special.'
Other projects to benefit last year included Jersey Cheshire Home, that bought gardening materials, Jersey Sport Limited, that provided a summer holiday camp for disabled children, the Jersey Women's Refuge, who used the funds to buy toys for children in their safe house and The Red Box Project, that support young people throughout their periods by providing red boxes filled with free sanitary products to local schools.
Katey White, membership manager for the Society, said: 'We are delighted to once again open our Helping Hands fund and would invite applications from charities and community groups who have a good idea but need funds to make it happen.
'As a community retailer our vision is to make a real difference, which is what Helping Hands has done for more than 20 years. We are proud that Helping Hands makes a real difference to the vital work that so many local groups do.
'We aim to make the fund as accessible as possible, especially to those groups where a few hundred pounds can make all the difference to the work they are doing across the Channel Islands.'