Applications for this year's Eco fund are now open
01 September 2020
Charities, community groups, schools and individuals who actively work to protect and nurture our local environment are encouraged to apply for a donation from your Society's annual Eco fund.
Now in its 12th year, our Eco fund has distributed more than £320,000 to projects that have an environmental focus, including planting hundreds of trees, helping save hedgehogs in Jersey and allowing children at Les Landes Primary School to look after their own chickens and sell eggs.
We were due to launch the Eco fund in July this year but was delayed due to the Covid-19 pandemic. Instead good causes will be able to apply for funds from Tuesday 1 September and applications will close on Wednesday 30 September.
Last year the Eco fund provided more than £11,000 to 11 Channel Island based projects, including Durrell Wildlife Conservation Trust, Samares School Sanctuary Garden, Jersey Trees for Life and Save our Shoreline.
The fund was initially launched when your Society introduced a levy on its one-trip carrier bags. In July this year, we increased the price of a Bag for Life from 10p per bag to 15p per bag. This move was made in an effort to reduce the number of Bags for Life being used as one-trip carrier bags by customers. The initiative means the Society can now dedicate more funds to environmental causes across the Islands.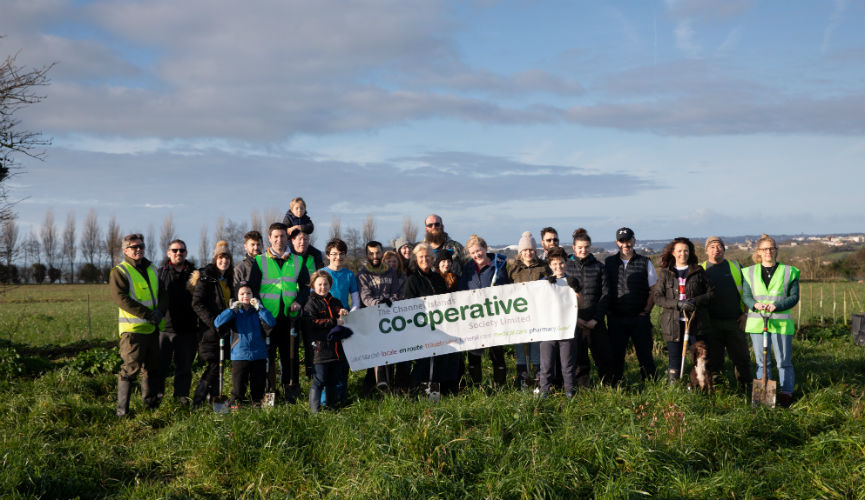 Last year, Jersey Trees for Life were awarded £1,000 which they used to plant 5,000 small hedgerows across the island.
Beverley Dallas-Chapman, senior community fundraiser for the charity, said: 'We were delighted to receive money from the Eco fund. The money allowed us to continue our work around the island with our Hedgerow Campaign. We are trying to create a living corridor in Jersey so that the wildlife is able to travel freely about Jersey, away from the busy roads. These corridors are also habitats for many of the island's wildlife and insects.
'We are the only charity entirely devoted to protecting the island's trees and hedgerows and we rely on membership, sponsorship and donations for funding, campaign support and practical help.'
One of the key factors the judges look for when choosing successful applicants is the wide-reaching impact the project will have on the Channel Island's sustainable heritage – whether that be through education, the marine environment or simply in an islander's own back garden.
Mark Cox, chief executive officer for the Society, said: 'Although we have had to delay our Eco fund this year due to issues out of our control, we felt it was important that we continued with the campaign to give all those good causes protecting our local environment the opportunity to apply for some funding.
'Since we launched the Eco fund we have supported hundreds of projects which have benefitted people of all ages across the Bailiwick and helped improve the local environment we live in. We know that issues around litter have been heightened during recent months and we are committed to tackling issues like this through our fund.
'As a responsible retailer we are always looking at ways to reduce our impact on the environment around us and it's fantastic to be able to run our Eco fund, which helps support other projects across the Channel Islands.
I would encourage anyone who has an idea to make our islands more environmentally friendly to apply for the fund, whether you are school, charity, community organisation, or an individual.'
Those wishing to apply for this year's Eco fund can do so online until Wednesday 30 September at channelislands.coop/ecofund.