Award-winning Perelle Butchery opens counter at Grand Marché store
05 February 2018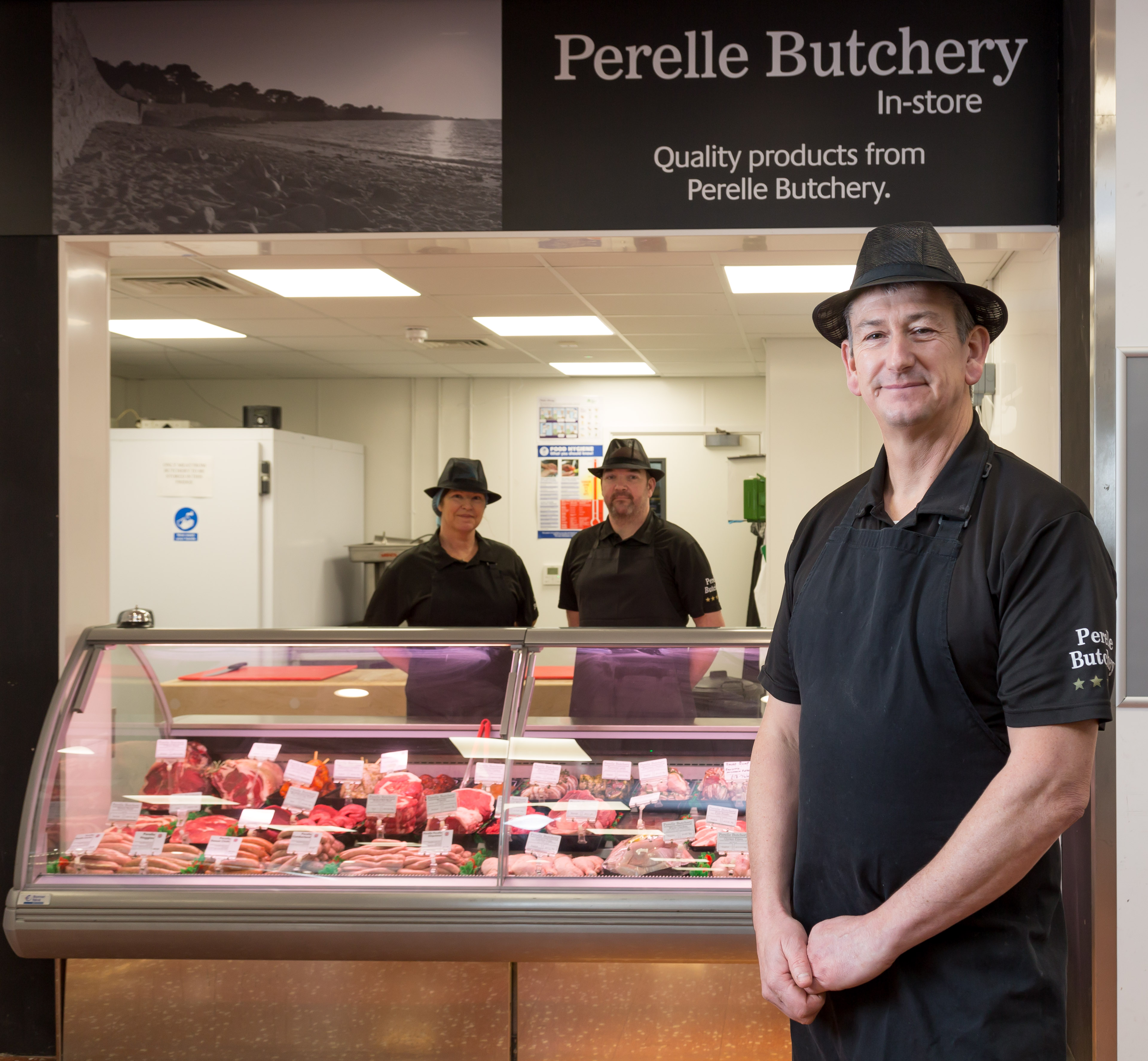 GUERNSEY'S award-winning Perelle Butchery has taken over the fresh meat counter at The Channel Islands Co-operative Society's Grand Marché store in St Martin. The partnership is part of the Society's commitment to supporting local food suppliers and providing the finest quality produce to customers.
The counter officially opened on 22nd January and is in addition to the butchery's original shop at Perelle, will sell aged beef, free-range pork, scotch lamb and a wide range of poultry.
'We are mirroring our award-winning shop at Perelle, selling a full range of high-quality fresh meats. We enjoy selling the finest ingredients so customers can go home and make amazing dishes. We also love finding, creating and tasting new ideas,' said Tony Fiore who founded Perelle Butchery with his wife and business partner Sarah.
The Society has been working with Mr Fiore, a qualified licensed butcher, for some time. Perelle Butchery has supplied The Channel Islands Co-operative Society with its well-known pre-packed sausages since March 2012 - less than a year after the business launched. Since then the company has seen its range of packaged sausages and ready meals expand in Society stores.
As part of the strategic partnership, the St Martin store's fresh meat counter is now run by Perelle Butchery and has been rebranded, with existing supermarket staff being trained by Mr Fiore's team. The butchery, which has won several Customer Service Awards, will remain an independent and founder-run business.
Mr Fiore added: 'As far as I'm aware, this is the first time a professional butchery has moved into a supermarket in Guernsey, which is a unique selling point for the Society. Our Grand Marché counter gives customers the chance to shop with us more regularly, helping us expand our business.'
'Following customer feedback, we recognised that with Tony's expertise, knowledge and focus on quality we could improve our fresh meat offering,' said Kenny McDonald, the Society's Head of Retail Operations.
'Perelle Butchery has a long-standing reputation as one of the best-quality butchers on the island. I'm sure our customers will be delighted to see Tony and his range of products available at our Grand Marché St Martin's store. As part of our commitment to the community, The Channel Islands Co-operative Society is proud to support local suppliers and provide Tony with the opportunity to develop the new meat counter as a complement to his well-established store.'
(Photo: Sarah Fiore, Nick Hawke and Tony Fiore from Perelle Butchery)