Shoppers donate food to vulnerable islanders for The Channel Islands Co-operative Society Easter campaign
03 April 2018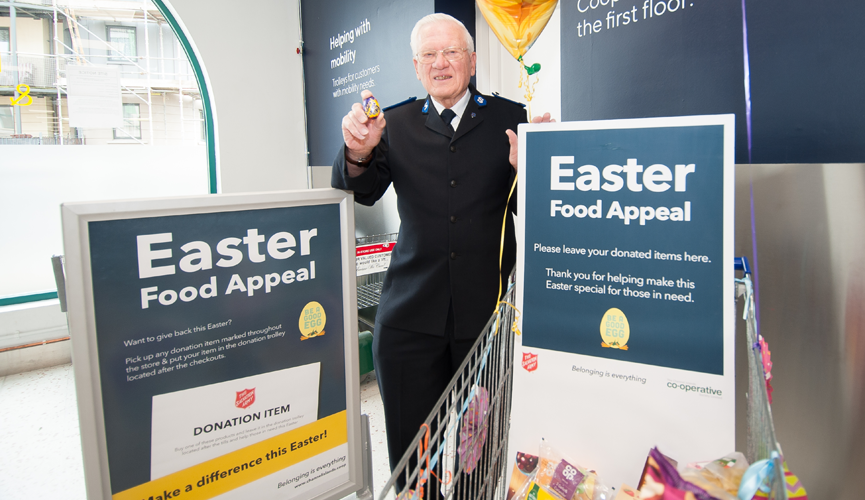 AS part of The Channel Islands Co-operative Society's 'Be A Good Egg' Easter campaign, two charities have been able to distribute food items to vulnerable families in the Channel Islands.
Shoppers donated food items such as cereal, tinned food and pasta, as well as Easter treats, which Guernsey Welfare and The Salvation Army in Jersey have been able to distribute to people in need over the Easter holiday.
Richard Nunn, Lieutenant from The Salvation Army, Jersey, said: 'We've had a very positive response from the Society's campaign this Easter. Islanders have really gone the extra mile in buying and donating a variety of good quality food items, which will ensure more than ten families in Jersey have nutritious meals for approximately four days. It's wonderful to see the community coming together to help those people in need this Easter. We really appreciate the Co-op's support for The Salvation Army by running these campaigns.'
'The Society is one of the Channel Islands' largest community retailers, and so we view it as our responsibility to give back to the communities we call home,' added Katey White, The Channel Islands Co-operative Society's Community and Membership Manager.
'We're pleased the campaign was a success and would like to thank islanders for their generosity, which has made sure a number of vulnerable families were able to enjoy the Easter period.'
The Be A Good Egg campaign ran from 19th-24th March in Jersey and from 19th-25th March in Guernsey. The same food donation appeal campaign is run at Christmas time.
Pictured: Dennis Short, Soldier and long-standing Member of The Salvation Army.