Wellbeing of patients will be improved thanks to enhanced garden areas at St Saviour's Hospital
08 November 2017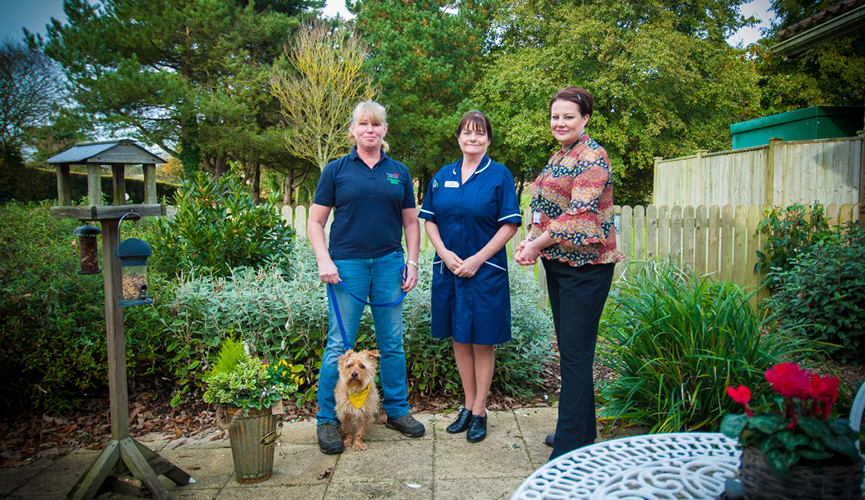 Residents at Rosewood House, St Saviour's Hospital, will be able to enjoy three, newly enhanced garden areas, which will improve their wellbeing, thanks to a donation by The Channel Islands Co-operative Society.
The Oak Ward Gardens project has received £1,000 from the Society's Eco-Fund. The Society led the way in recycling in 2008 by levying a 5p charge on one-trip carrier bags. The proceeds from those sales go into The Co-operative Eco-Fund and are then distributed to environmental projects across the islands.
'I hope the new gardens will be of great benefit to all the residents, carers and staff at the home. We can all appreciate how having pleasant surroundings can improve our mental wellbeing, and I'm sure this project will do exactly that. I look forward to seeing the finished results,' said the Society's Membership and Community Manager, Katey White
The donation from the Eco-Fund will allow Oak Ward Gardens to buy water features, various wall art and planters containing sensory plants and grasses, all displayed at a height which will enable non ambulant patients and wheelchair users to enjoy. The sensory equipment will enhance the outside experience for residents and their families.
'All patients, carers, relatives and staff will have access to these gardens. The donation has really lifted the spirits of residents and their families and also had a really positive effect on staff morale. It's extremely important that our residents feel safe, happy and comfortable in their surroundings. The extra colours, movement and smells of the enhanced gardens will have a calming impact on the wellbeing of our residents. They will also encourage talking points for carers to engage with our residents in a meaningful way,' said Helen Cowham, senior ward sister at Rosewood House.
The gardens will provide a safe environment for the needs of wheelchair users and residents with Alzheimer's, dementia, mental health issues and end of life care.
One garden area will be completed at a time using environmentally friendly practices, which will require low maintenance all year round. Work will consist of adding and replacing existing plants for scent, sight and movement to attract insects. Accessories such as bird tables and baths, and squirrel feeders will be included to encourage other wildlife in to the gardens. The areas will be safe to use, accessible and provide shade during warmer days. A raised herb garden will also be constructed.
The gardens will hopefully be finished before the end of the month when there will be an official opening which all the residents, their relatives and staff will be invited to.
(Photo: From left to right - Karen Langlois, Horticultural therapist, Overdale Horticultural Group, Helen Cowham, senior ward sister at Rosewood House and Katey White, the Society's Membership and Community manager).
.