Bring in your container, pick your loose produce and buy as much as you need without the plastic.
Our flagship Jersey store, Grand Marché St Helier, has a loose produce refill station.
As a responsible retailer, we are committed to reducing our impact on the environment and limiting the amount of plastic in our stores. By introducing a refill station, we are allowing you the opportunity to buy what you need in your own reusable container.
The products in the refill station will rotate and will include items such as pasta, rice, porridge oats, nuts, seeds and cereals.
Grand Marché St Helier is the only supermarket in Jersey which has a refill produce station. The station is one of a number of measures your Society has taken to reduce plastic packaging in stores.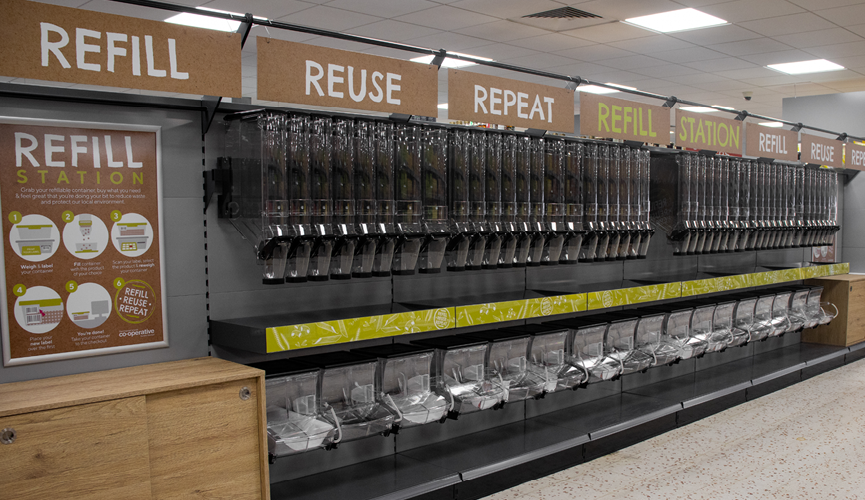 How does the refill station work?
Bring your reusable container into store.
Weigh your empty container on the scales at the station.
A label will be printed. Place this on the container.
Fill your container with the product of your choice.
Place container on the scales, select the product then scan the container label.
A new label will be printed. Place this over the existing label.
You're done! Take your container to the checkout when you have finished your shopping and pay.
Why are we doing this?
We have listened to you, our members and customers, to find out what it is you want in our stores. We know you want less plastic so we are offering you the option to buy a whole range of cupboard staples without the packaging.
Your Society have set ourselves the target of making sure all our own brand packaging will be easily recyclable or reusable by 2023. We are also working closely with local suppliers in both islands to reduce the amount of packaging on our local products, and are proud to offer a range of local, seasonal fruit, veg and salad unwrapped.
Got feedback, or questions? Let us know what you think by emailing sustainability@channelislands.coop.