Buzzing with the bees: Life as a Beekeeper
02 June 2021
Think of bees and the first thing that probably comes to mind are the honeybees (Apis mellifera) that many of us associate with hot summer days and hovering busily around flowers.
Yet, there's so much more to these extraordinary creatures than you might realise. Although they may be small in stature, bees are a vital part of our ecosystem.
We spoke to local beekeeper and local supplier of honey for your Co-op, Bernie Morel, to find out more.
At home with a hive
Being a beekeeper could be considered an unusual pastime, but for Bernie, his venture into beekeeping began out of curiosity.
'Many years ago, a local professional beekeeper, Sam Renouf along with Maurice Gautier, kept a number of hives just behind my home,' explained Bernie. 'I took a peek at these veiled figures visiting the hives, got chatting and then began working with them for a number of years.
'I learnt so much from them. Mr Renouf, in my opinion, was one of the most knowledgeable and one of the island's best beekeepers. Maurice was also an expert in the field, later becoming President of our local beekeepers as well as a recognised Master Beekeeper with the British Association of Beekeepers.'
He added: 'It was a great experience to learn so much, and one which started a career lasting more than 50 years, as well as being one of the longest suppliers to the Co-op!'
We're proud to say that Bernie has been exclusively supplying us with local honey since the early 1970's, and it's a partnership we hope to keep as strong and as sweet as the honey itself.
But there's much more to beekeeping than honey, as Bernie describes.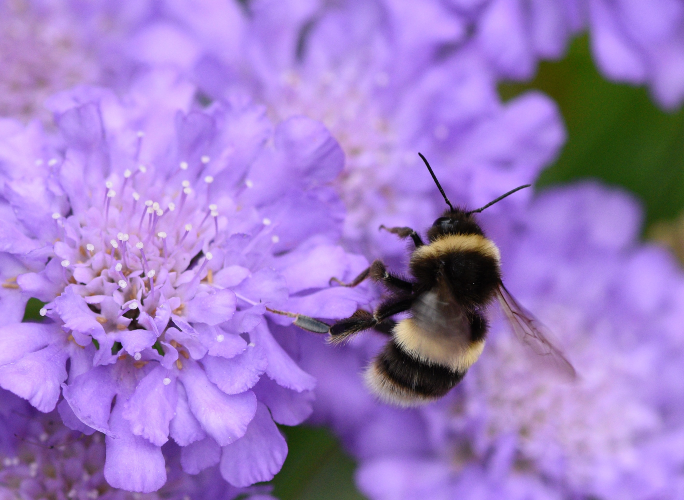 PICTURE: Venkata Suresh
Keeping a natural balance
It could be said that beekeeping is a science, a delicate balance of nature and nurture. As Bernie puts it poetically: 'You can be a beekeeper or a keeper of bees.'
As a beekeeper, Bernie sees his role as maintaining and helping the hive to function as naturally as it can. He said: 'When I visit the hive, I'm checking to see that the balance is right. I'm checking to see the amount of pollen or honey coming in and maintaining that fine balance to keep everything functioning.'
If you're lucky enough to be able to peer inside a live hive, you'll see that the term 'busy bees' is very appropriate.
Bernie said: 'You open a hive and each time you can feel and see the vibrancy. I inspect the hive to make sure everything is healthy, that is, no mites or unhealthy bees and [that] there's enough food.'
'It's always changing. You may open the hive one day and see that the Queen bee has produced 2,000 more eggs than the day before, or there's more pollen in from the worker bees - it sounds clichéd but it is always a hive of activity.'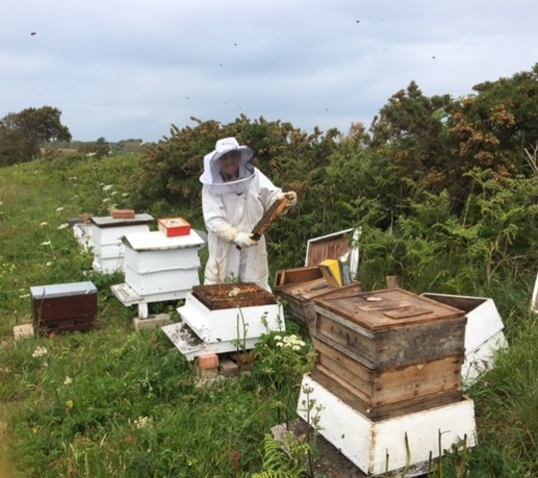 Bernie Morel with his bee colonies in St Ouen. PICTURE: Kingsley Pallot
Caring for the colony
To some extent, we can all be beekeepers and help in the care of our local bee species. With changing environments, climates and landscapes, there are more challenges for our bee population than ever before.
'We can all play a part in conservation for bees,' said Bernie. 'Whether it's farmers sowing mustard seed or blue phacelia flowers in fallow fields, or gardeners planting wallflowers, sycamore, wild trees, May blossom – everyone can play a part.'
In fact, for many gardeners there's no greater joy than seeing bees busily flitting around flowerbeds. 'One of the best things you can plant for bees are poppies - bumblebees absolutely love poppies,' explains Bernie. 'With each flower the bees visit, they're pollinating and helping plants to thrive.'
'The interaction between bees and flowers and the enjoyment of hearing them buzzing around is amazing – it's nature doing what it does best and just fascinating to watch.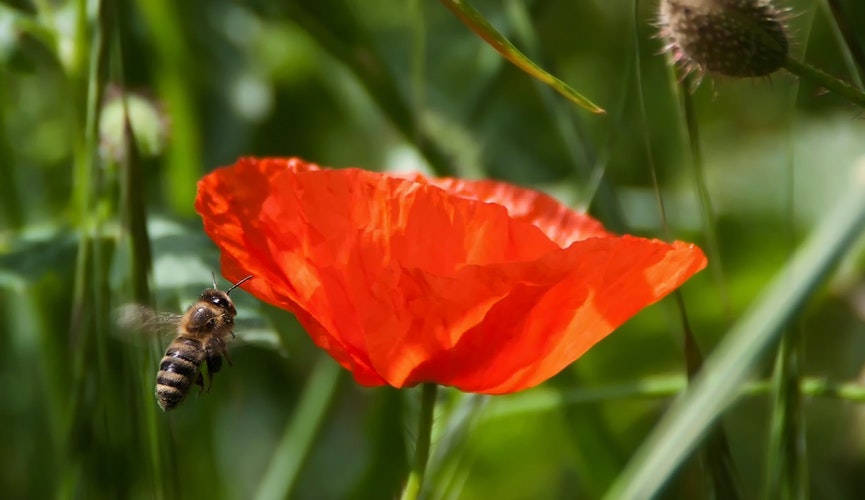 One of the best things you can plant for bees are poppies. PICTURE: Manuela Kohl
A future for our bees
In recent years, the topics of conservation and sustainability have rightly been brought into the spotlight as issues surrounding the environment and climate change become a greater focus.
As a result, it seems many people now have a greater understanding and appreciation of bees than before. This is promising for beekeepers like Bernie.
'It is certainly good to see conservation of bees on the rise. We need to continue the interest and the education and hopefully inspire more beekeepers of the future.'
He adds: 'As they say: Beekeepers never die, we just buzz off!'
Here's to the future of our bees and the beekeepers that keep them happily buzzing.
Find out more about our local bees and how you can help them, with the UnBEElievables.