Co-op Community Fund donates £33,496 this year to over 30 charities and causes in Guernsey
23 November 2022
£33,496 has been donated to 33 charities and causes in Guernsey this year, thanks to the Co-op Community Fund. Now in its second year, the Community Fund is available to environmental and community initiatives making a positive difference on our islands. 
Community is at the heart of everything we do and by shopping at your local Co-op, you are contributing to a wealth of fantastic community causes. The latest round of grants cover a diverse range of areas, from £1,920 for running music therapy courses, to £2,000 for purchasing interactive smart boards for emergency briefings. 
One recipient of this year's Spring round of funding, Liberate, a local charity which campaigns for equality and diversity across the Channel Islands, were delighted to receive a grant from the Community Fund of £1,500. The money helped purchase new materials for their Art Club and essentials needed to keep the club open to all. 
Joni Nettleship, local artist, and co-founder of the Liberate Art Club said: 'The club was formed when Sophie, Liberate volunteers, art teachers and myself, recognised a need for somewhere for the LGBTQ+ community and allies, to get together in a quiet space. 
With help from the Community Fund, we have been able to contribute to reducing loneliness and improving mental health through art.'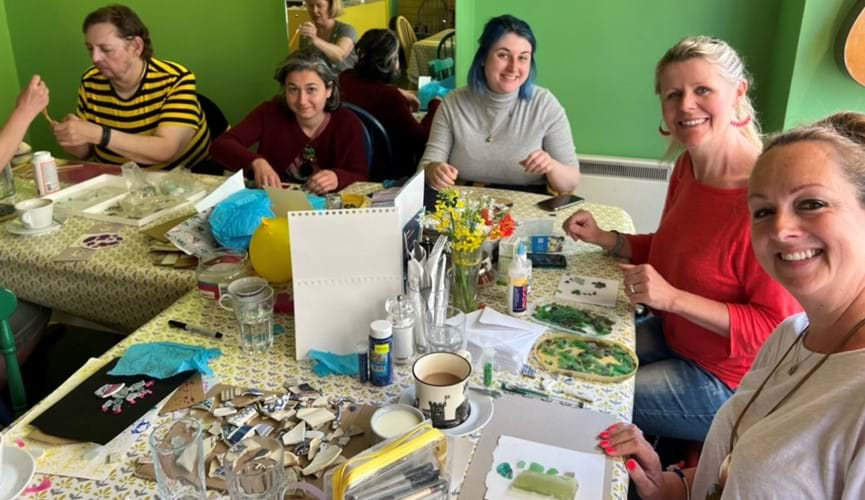 Pictured: Liberate Art club
Recipients from our latest Autumn round of funding include Guernsey Foster Care and Adoption Association for welcome boxes given to children entering foster care, GirlGuiding Guernsey for purchasing resuscitation manikins, and Channel Islands Air Search, for purchasing Interactive Smart Boards for Emergency Briefings. 
Channel Islands Air Search are a search and rescue organisation that is called out for emergency searches in the Channel Islands. The interactive boards will enable the organisation to deliver a relevant and detailed briefing to the crew, and assist in completing pre-flight checklists in a more efficient manner. 
After a second successful year of Community Fund donations, Carl Winn, head of community and sustainability, said: 'We know that there are so many community groups, clubs and charities in our islands doing incredible work and supporting our islanders every day. It's in the DNA as a Cooperative to make a real difference in the community, and our Community Fund is in place to support charities and not-for-profit groups who share our vision.
'It's our way of recognising the positive things that are happening right here in Guernsey, and giving local causes that little bit of financial support to help them to continue the truly amazing things they do daily.'
Donations were also made to charities and causes in Jersey, with £46,890 donated to 41 charities and causes.
Applications for the Co-op Community Fund remain open all year-round with pay-outs being made to successful projects in spring and autumn. Full details on the Co-op Community Fund can be found at: www.channelislands.coop/communityfund