Community Beach Clean Boxes available to all in Jersey
15 February 2023
Community Beach Clean Boxes will soon be available to islanders in Jersey, with one being given to every parish. The 12 boxes have been created by Plastic Free Jersey, with funding from our Community Fund, and introduced to provide tools needed to help keep Jersey free of litter.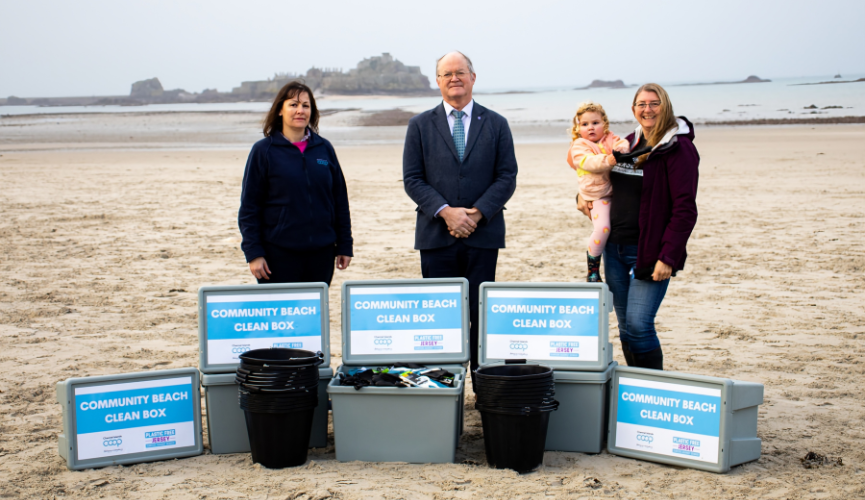 Pictured: Louise Read, Chief Financial Officer at Channel Islands Co-op; Simon Crowcroft, St Helier Constable; and Sheen Brockie, founding member of Plastic Free Jersey
The Beach Clean Boxes contain essentials needed for litter picking, including gloves, bags, buckets, first aid kit, hand sanitiser, sharp objects box and guidance on carrying out a clean. The boxes are suited to beach cleans, but also ideal for cleans in other locations such as schools, parks and country paths.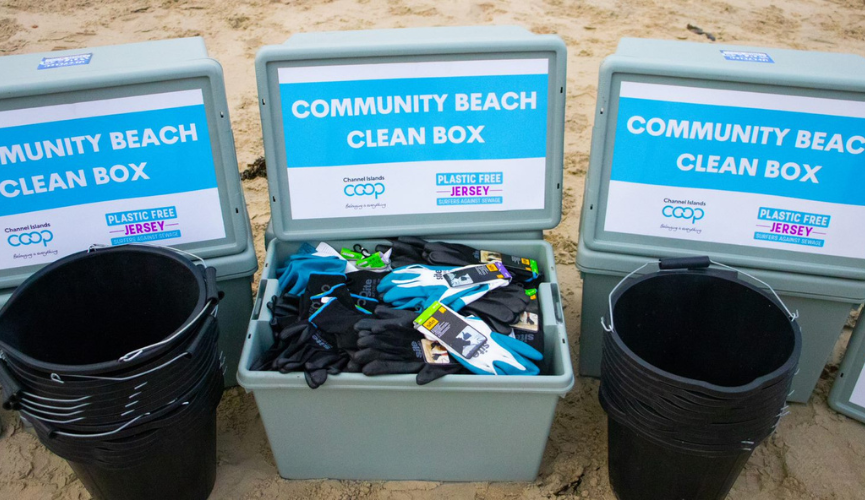 Community Beach Clean Boxes: Providing islanders with all the tools needed for a clean in their parish
Carl Winn, head of community and sustainability at Channel Islands Co-op, said: 'This community beach clean box scheme aligned so much with our passion for protecting our island's environment; plus, it is such an accessible and ingenious way of allowing us all to play our part in caring for our beaches.
'We are proud to be supporting this brilliant initiative from Plastic Free Jersey.'
How do I access the Community Beach Clean Boxes?
If you'd like to make use of a Community Beach Clean Box, please contact your local parish hall and request to borrow the equipment to help with your clean.
Join us for a launch event
To celebrate the launch of the Community Beach Clean Boxes, we've partnered with Plastic Free Jersey to host a beach clean as part of the 5th Big Channel Islands Beach Clean. Join us at Le Mare Slip on Sunday 19 February, from 10am to clean part of the island's coastline.
The Big Channel Islands Beach Clean has a number events taking place in Jersey and Guernsey. Find your nearest event
The Co-op Community Fund
If you're part of a local charity or cause looking for funding to help continue making a real difference in our community, why not consider applying to the Co-op Community Fund today?