Eco-friendly Mootilda cups to raise money for vulnerable islanders
09 December 2019
There is no doubt the Jersey cow is famous around the world but now the Rotary Club de la Manche want to introduce Mootilda - the Jersey cow helping raise money for vulnerable islanders.
The Rotary Club de la Manche has teamed up with your Society, which is now stocking the eco-friendly bamboo cups featuring a Jersey cow called Mootilda.
The idea was one born by Wendy Riley and Trevor Lister, members of the club, who were thinking about ways to raise funds. They decided they needed to do something which would also benefit the environment.
The pair enlisted the help of Trevor's niece, who designed Mootilda within 24 hours of being told about the idea. The club hope the cups will promote Jersey as a tourist destination, as well as raising much needed funds.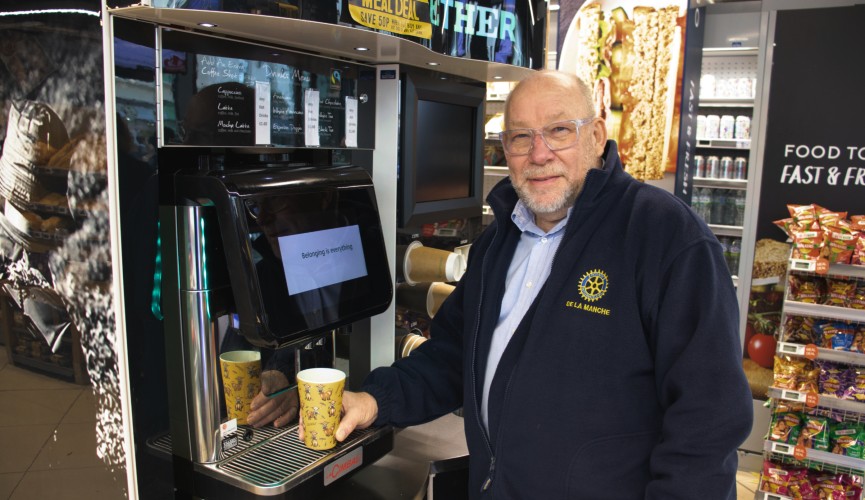 Mr Lister said: 'We raise a lot of money for various projects throughout the year, such as the Jersey Christmas Appeal, Jersey's biggest car boot sale at Fort Regent and by providing manpower for the annual Island Walk - but it is hard for us to raise additional funds for those vulnerable islanders and families who might just need a supporting hand.
'The money we raise through the sale of the Mootilda cups will do exactly that. Recent donations have been given to Beresford Street Kitchen to help with staff training and homelessness charity, Sanctuary Trust.'
The cups are now on sale in Grand Marché St Helier, Grand Marché St Peter, Locale Charing Cross and Locale Grouville. They come in either green or yellow and cost £8 each.
The club has also designed a cotton shopping bag and car stickers featuring Mootilda, and will be adding further items to the collection in the new year.
Ell Hopton, community manager for the Society, said: 'We are delighted to stock these reusable cups and help the Rotary Club de la Manche raise much needed funds for those in need. It's fantastic that the cups are eco-friendly and will encourage our members and customers to use a reusable coffee cup.'
The cups are also sold in Bean Around the World, Lookout Café at First Tower, Colleens Café at Grève de Lecq, Charrien Stores in St Brelade's Bay and will be available at many other island-wide outlets in early 2020.