Feeling good from inside, out: Tips from a Nutritionist on how to be good this year
21 January 2022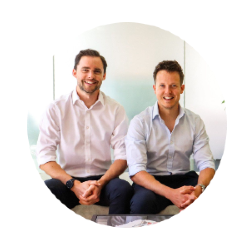 How's the January health goals going?
If you're finding yourself needing some inspiration or advice, we're here to help.
We've caught up with Kit Chamier and Paul Garrod from True Food to ask a few questions that may help you in achieving your health goals in 2022.
How can I lose weight while not going on a diet?
Losing weight is probably one of the top topics of conversation this time of year. But, it's more than just watching your food choices, it's looking at your lifestyle holistically. A nutritionist or GP can help you explore all areas and make suggestions.
We recommend focussing on real, whole foods that are high in nutrients and fibre and low in total calories. Combine this with good sleep hygiene and regular exercise or activity, then you should start to notice changes.
Slow and steady wins the race with fat loss, so be patient and consistent. 
Can cheat meals be part of a healthy diet? 
Yes, but they are better not described as or thought as 'cheat meals'.
A healthy lifestyle is key. There is room for everything in moderation and we encourage all foods to be high quality, and whole where possible, but who can't  resist a brownie and ice cream now and then! 
What if I want to gain weight and muscle, can I do this in a healthy way?
Again, just like when you're looking to lose weight, to gain weight you need to review what lifestyle choices you are making at the moment.
The focus should be on real, whole foods first, rather than junk food or foods that are high in fat/calories. So, by increasing your total caloric intake by a small amount each day, you should be in a surplus.
Muscle growth is a slow and steady development and requires rigorous weights training plan combined with a detailed nutrition plan which a nutritionist or GP can help you with.
Should I see a nutritionist? 
As nutritionists, we see and counsel many clients on nutrition issues and healthy eating habits. Essentially, nutritionists are qualified to give you evidence-based advice on what to eat and when, with a focus on food and nutrition to promote health and manage disease.
At True Food we offer factual, research-based advice on all thing's nutrition. We customise food plans for anyone from general health to athlete, to optimise performance in your life, training or races. We can help all ages, abilities, goals, and sports.
For those trying Veganuary or the dairy free lifestyle, what are the best sources of protein?
Thanks to the increase in popularity for a plant-based lifestyle, there are now lots of products available which are soy based. Soya beans or soya-based products are best as this is a complete protein. 
You can also look to combine different carbohydrate foods that contain some protein to make a meal complete, for example, mixed beans with lentils and broccoli. 
Will my health be affected with not eating dairy? What supplements can I take to help? 
We all need Vitamin D to aid absorption of calcium. We can get vitamin D from high calcium foods such as: 
Green 

leafy vegetables – such as curly kale, okra, spinach

 

Soy 

products

 

Soya 

drinks with added calcium

Breads 

and anything made with fortified flour
We also get vitamin D from being outdoors and in the sunshine. It's why guidelines recommend people in the United Kingdom to take a Vitamin D supplement (particularly in the darker, winter months) when we're not getting sufficient amounts of Vitamin D from the sun. 
I've recently found out I am intolerant to Gluten, what are the best food replacements to start with?
It can be easy to fall into the mindset of 'what can I not eat' when you are recently diagnosed as a coeliac. But it is far from the truth. There are lots of foods that are naturally gluten free like: 
Fruits and vegetables

Beans, seeds, legumes and nuts in their natural, unprocessed forms.

Eggs

Lean, non-processed meats, fish and poultry

Most low-fat dairy products

Quinoa

Oats (be sure to buy 'gluten-free oats' as there can be some wheat contamination from production in the fields)

Rice
There are also a whole host of gluten free specific products like breads, sauces, bars, and snacks which are also great to include. 
True Food 
Since 2013, Kit and Paul at True Food have been working with people of all ages and abilities to customise their food to suit their goals and needs. True Food offer factual, research-based advice on all things nutrition - from general health to athletes, True Food can help to optimise performance in life, training or races.
Both Kit (BSc Hons, MSc, SENr, ISAK) and Paul (BA Hons, IOPN Dip SEN, ISAK) are specialised and qualified in Sport and Exercise Nutrition.
---
Enter our giveaway
We're hosting a giveaway with True Food, one lucky winner will receive a nutritional consultation with the health experts at True Food, and a hamper filled with a handpicked selection of products from the Co-op approved by the True Food experts (prize worth £200). Find out how to enter our Health Giveaway.