Finding calm for Jersey's pupils at The Cove
15 November 2021
Think of a cove and you may imagine a small, sheltered inlet with soft sand and calming, gentle waves.  It brings connotations of peace and safety. 
The Cove, run by the nurture provision team at Le Rocquier School in Jersey, is a place for its pupils very much like its namesake: a welcoming place of calm and comfort. 
A space for stillness and support 
Although 'The Cove' is a relatively new space for the pupils, the nurture provision team have been a part of school life for several years. 
This small yet important team are responsible for supporting pupils with complex emotional, social and mental health challenges. They provide individual, bespoke one-to-one interventions giving essential time and space to pupils and their needs. 
We were lucky enough to visit The Cove after school hours and speak to Katherine McAllister, the Nurture Group Co-ordinator. Katherine recognises the importance of having this dedicated space of calm. 
'This space is primarily for our students and for them to use in whatever way works for them. Students have timetabled sessions through the school day or can come for support in times of crisis, they will always have this space for stillness or support.'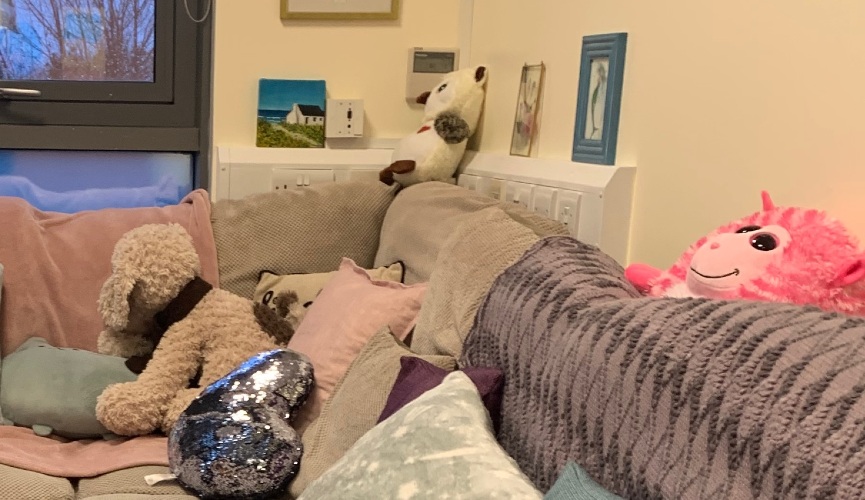 Image: A calming and welcoming environment for pupils
Attention to detail makes all the difference
Being a new provision for the school, the team wanted to ensure that The Cove was ready to support students from day one. They chose to use their donation from the Co-op Community Fund to buy cushions, throws, and decorations to make the room as calm and inviting as possible. 
It was a donation which helped make a real difference, shown by the feeling of relaxation and peace that greets you as you step into The Cove. 
Katherine explained to us that for the 30+ students who found sanctuary in The Cove, it was the attention to detail that helped them to connect to the students. 
'For some students, the school environment can seem very stressful or triggering - especially since Covid-19 and the isolation which followed. They may be teenagers, but they are, at times, vulnerable and it is creating safe, happy environments for them – like The Cove – which speaks volumes.'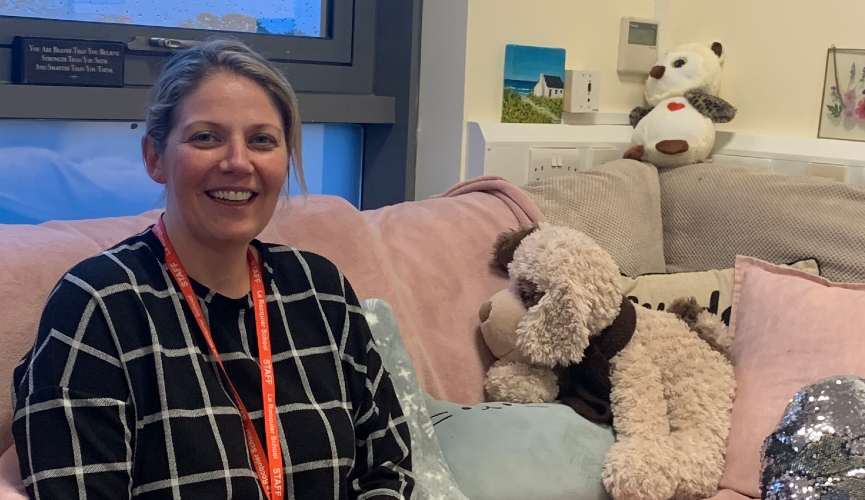 Image: Katherine McAllister, Nurture Group Co-ordinator in The Cove
It is only now, as Katherine and her team step back and look at the result of their efforts, they can see what they have achieved. 
'I'm really proud of the space we have created here for our students, I hope that in the future we can grow to allow us to support more students and provide more holistic and calming facilities.'  
The ultimate result for the school's nurture provision group is the effect The Cove has on its students. 
Katherine said: 'The Cove is changing the lives of pupils who pass through its doors. When a pupil feels that they have the independence and resilience to achieve anything they aspire to, that's when we know we have reached our goal.'  
Are you part of a project which helps make a real difference to our islands' communities?
Apply to the Co-op Community Fund today.