Keeping your health in good check
13 June 2022
AS any car enthusiast would know, to keep your vehicle in the best possible form takes effort. From regular monitoring of oils, frequent checks to screws and bolts, to repeated tests on the car and safety features, it takes dedication and care to keep a car roadworthy and running smoothly.
The same can be said for your health too. Whether it is regular visits to the dentist, routine appointment visits to the hospital, or frequent health check-ins with your GP, we all know that it is important to look after your health and to take care of ourselves.
But like any piece of sophisticated machinery, things can fall out of sync and problems can sometimes be ignored or unnoticed. It is why your Coop Pharmacy Locale are here for you, to provide help and advice to you keep on a good track – especially when it comes to diabetes.
It is estimated that around 4,500 islanders in Jersey have diabetes, that is around one person in every 25 of our population. Yet further to this, it is believed that there are still a significant number of islanders that may be living with undiagnosed diabetes.

Free diabetes screenings at Jersey Grand Marchés
For National Diabetes Week, which runs from 13 to 19 June 2022, your Coop Pharmacy Locale are inviting islanders to be screened for Diabetes. The quick and simple tests, taking between just 5 to 10 minutes, will be completed by trained staff within the pharmacy's consultation rooms. This service, which usually costs just £5, is available for free to help raise awareness locally in Jersey for Diabetes Week. There is no need to book an appointment. Simply visit us on Tuesday 14 June at Grand Marché St Helier or Thursday 16 June at Grand Marché St Peter.
'We have hosted several of these events in previous years and have always been impressed with the level of interest and attendance by islanders of all ages,' explained superintendent pharmacist and head of care at Coop, Sara Kynicos. 'It is always really positive to see and speak to so many islanders who are becoming more aware of diabetes and its symptoms and understanding the importance of managing the condition.'
The events which were also supported by local charities, Diabetes Jersey and the Lion's Club of Jersey, helped to highlight the simplicity of getting checked for diabetes. Results are usually available immediately and can help to aid further discussion with your GP about treatment of diabetes.
A simple test of blood sugar levels
The screening for diabetes could not be easier or simpler. To help dispel any apprehension or myths, we asked Sara to briefly explain what to expect of the test.
'We usually begin by asking the individual to fill out a short form. This will ask simple questions about your age, weight, lifestyle and diet which can help identify any initial factors which can help diagnose diabetes.'
'If the person is deemed to be a moderate or high risk of developing Type 2 diabetes, we ask if they would be happy to have a blood glucose level test' explains Sara. 'This is nothing more than a small needle prick on a fingertip to draw a small amount of blood which goes into our monitoring device.'
'If it is showing a reading which suggests higher than average levels of sugar levels (glucose) in your blood, we'll take the time to discuss the test results with you and suggest the next steps.
Above all, it is a short consultation with absolutely nothing to be nervous about.'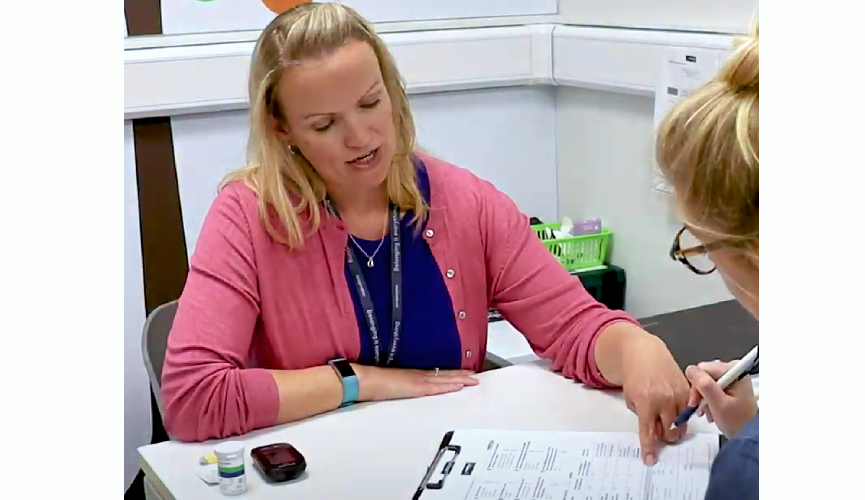 Get checked for Diabetes today
Now is always a good time to be checked for diabetes. If you miss any of the screening events at your Coop Pharmacy Locale, don't panic – we have a number of colleagues and pharmacists able to provide a diabetes screening check for the small fee of just £5.
Your Coop Pharmacy Locale can also provide a free collection service for diabetes supplies from all our pharmacies for those living with diabetes.
To find out more, pop into any of our Pharmacy Locale branches and speak to one of our pharmacy team.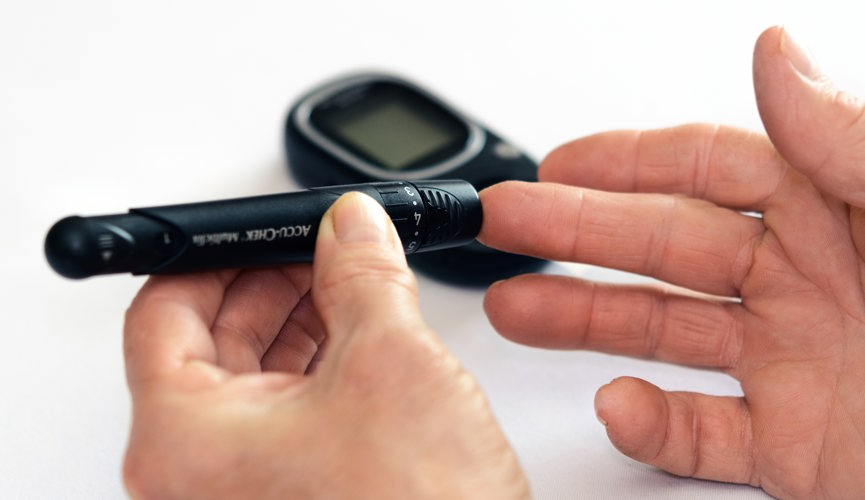 Seeing the signs for Diabetes
It is always good to look out for symptoms common to diabetes.
You could be considered in the 'high-risk' category if you or a family member are diabetic or have a history of diabetes.
You could also be considered in the 'high-risk' category if:
You are aged 45 years or older
Are medically diagnosed as being overweight
However, not every single person who is diabetic necessarily falls into the above categories. Other potential signs of diabetes include:
Feeling thirsty
More frequent trips to the loo
Feeling tired and lethargic
Losing weight for no reason