KTea: Meet the producer
05 June 2020
Kombucha is a drink many may not have heard of but it's fast becoming a firm favourite with islanders in Guernsey, thanks to self-confessed kombucha addict Kate Attieh.
'I try and stop myself from drinking more than two a day. It has a distinctive flavour profile unlike anything I have tasted before,' Kate smiles.
Kate first tasted kombucha in South Africa when she was out enjoying a meal with her partner but was the designated driver.
When did your journey begin?
Kate has spent her whole life travelling after growing up in South Africa with Lebanese and Greek heritage. She moved to London in the 80s and met her partner, a Londoner, who moved to Guernsey in 1996.
She explains: 'My passion has always been food and travelling. My mum was an amazing cook and we used to have these big lunch parties when I was growing up. We would spend every Saturday prepping and cooking. There would have between 30 and 40 people around the table every Sunday lunch.'
Kate has also always had a keen interest in healthy food and says she 'always reads the labels before buying'. It is her love of good food and drink which led her on the path of brewing kombucha and wanting to share the experience. Later founding KTea.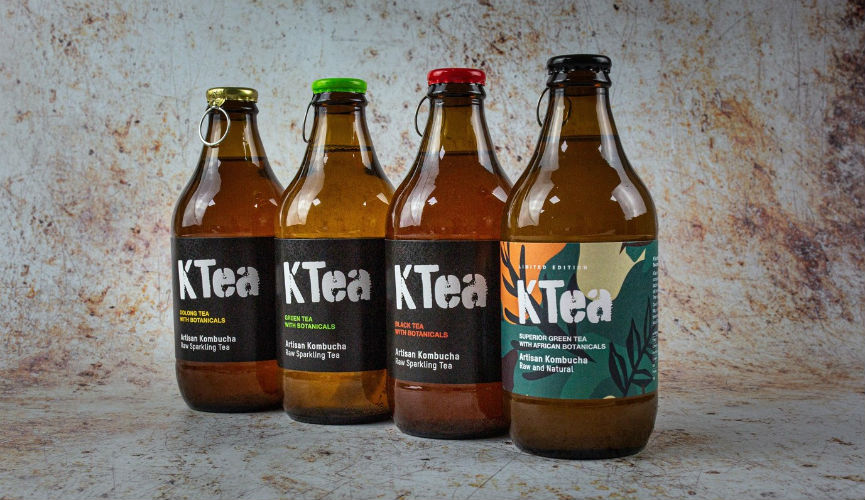 What is kombucha?
Kombucha is a soft drink which is brewed using tea and botanicals, water and raw cane sugar. You then add a SCOBY – a symbiotic culture of bacteria and yeast – which feeds on the caffeine and sugar facilitating fermentation, imbuing the drink with healthy organic acids and probiotics. 
Kate uses ethically sourced, high quality teas and allows the drink to ferment long and slow. Once the KTea is bottled she allows it to complete a second ferment, producing a natural sparkle. Nothing is added after fermentation, making it low in sugar.  All KTea is authentically brewed in a cellar turned brewery at Kate's home in Guernsey and she can have up to 1,400 litres brewing at one time. The whole process takes 6-8 weeks. Kate is the only commercial brewer in the Channel Islands producing kombucha.
She said: 'I first discovered kombucha in South Africa about four years ago. My partner is really into wine and in South Africa it's not unheard of to drive a long distance for lunch, or dinner. I ended up driving a lot of the time and I got fed up with always drinking sparkling water, never having been a fan of sweet pop drinks or juices. Then in one restaurant I was offered kombucha and I thought it was the best thing I had ever tasted.
'When we came back from South Africa I did a lot of research, bought a SCOBY and it literally grew from there. It was definitely a eureka moment!'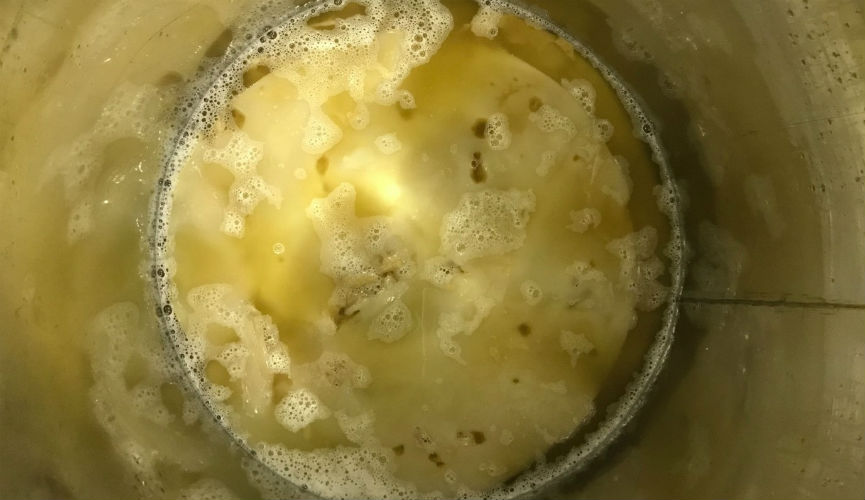 Why is kombucha so good for us?
Kate explains: 'Kombucha has many health benefits because it is a fermented food. It's probiotic, like yoghurt, but kombucha has so many strains, some say even millions. There are also all the health benefits of tea as well.
'The diversity of the strains is really good for the digestive system. It can help to boost your immune system which is why it's so good for everyone in this current situation.' 
What is the future of KTea? 
'We have just launched a brand new flavour which is really exciting,' Kate smiles.
'It uses a base of green tea and a secret blend of African botanicals. The botanicals have been used for centuries by ancient African tribes. It's quite citrusy with a very distinctive flavour. I tasted the botanical in the Cape and I thought 'I have to use this.''
Flavours include KTea BLACK, which has a distinctive citrusy aroma, KTea RED, which evokes subtle rum notes, KTea GOLD, which has a floral flavour and KTea GREEN, which is light bodied, fresh and dry.
To find out more about KTea check out their website. Or try it for yourself by buying a bottle next time you shop with us.