Meet the man picking up thousands of cigarette butts in Guernsey
30 August 2019
Changing Guernsey one cigarette butt at a time is Andrew Munro, the founder of Pick It Up Guernsey, who is challenging the world to pick up 4.5 trillion butts.
It may sound like an unreachable goal but this year alone the islander challenged the whole Bailiwick to collect 60,000 cigarette butts - proving the power of people who care.
Andrew says: 'Many may say I am a dreamer but I say dreamers change reality.'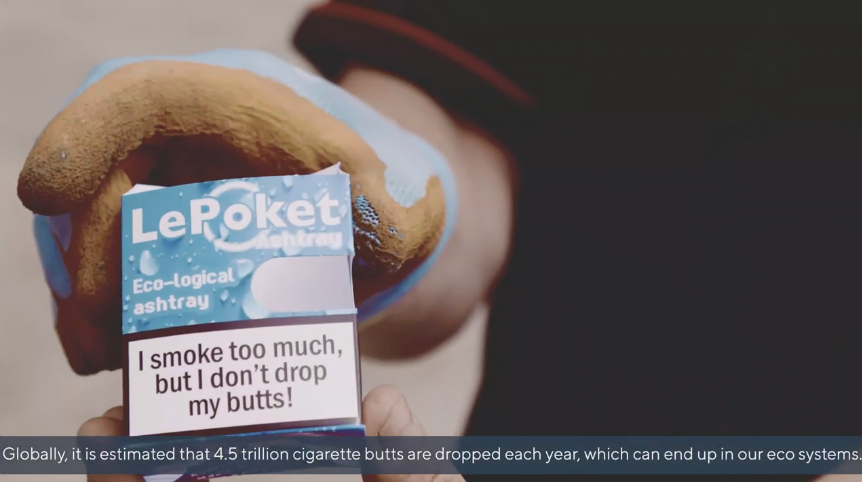 How your Society have supported the islander
Last year the father-of-three received funding from our Eco fund, which allowed him to import pocket ashtrays from a French company called Le Poket to Guernsey. Andrew purchased 7,500 ashtrays, which he is selling at cost to local businesses.
The Le Poket ashtrays are now being sold across all Guernsey's Co-op stores.
Andrew was also awarded a further sum of £600 from the Eco fund which enabled him to expand the litter picking scheme into libraries. Islanders can go into a number of libraries and borrow litter pickers like they would a book.
Andrew adds: 'Pick It Up Guernsey isn't about being anti-tobacco. People smoking are adults and they know the risks to their body – it's about thinking what effect their cigarette butts have on the environment.
'The more I started looking into cigarette butts the more I started to understand what was in them. They are a single-use plastic, they contain thousands of toxic chemicals and they are radioactive.'
Why is Andrew determined for the world to pick up 4.5 trillion butts?
Despite juggling a full-time job and family commitments, Andrew is determined to continue on his mission to make the world as cigarette butt free as possible, as well as making people understand the impact butts have on the environment.
An estimated 4.5 trillion cigarette butts are littered around the planet every year and it takes up to 15 years to break down just one butt into tiny micro-plastics.
Andrew said: 'I want to get the message out there that there is an awful lot of cigarette butts being dropped on a daily basis. I want to get people thinking about the impact cigarette butts are having on the environment and how many are being produced daily across the world.
'I'm fascinated by this idea that ants can move trees. People respond to big problems by putting money towards it and big machinery but I want to show that just by lots of people doing a little thing, we can all make a big difference.'
Andrew is hoping to launch the project next year and have ambassadors in different countries who are able to organise their own clean-up. A website is due to be launched soon with further details.
He adds: 'Lots of people want to do something but they just don't know what to do because the issue seems too big. This project gives them an avenue where to start and we would encourage anyone to get involved.'
Find out more about our Eco fund and how it has supported a number of local charities.