Our plastic free produce trial unwrapped
06 August 2019
We're always looking at ways to reduce our impact on the environment and reduce the amount of plastic wrapped produce in our stores.
We also know that you, our members, care about the environment, so we took your comments on board and launched our plastic free produce initiative in all our Grand Marché stores.
Throughout the trial we are offering a number of local produce items free from plastic, as well as some of our Co-op own brand produce where a plastic free alternative is currently available.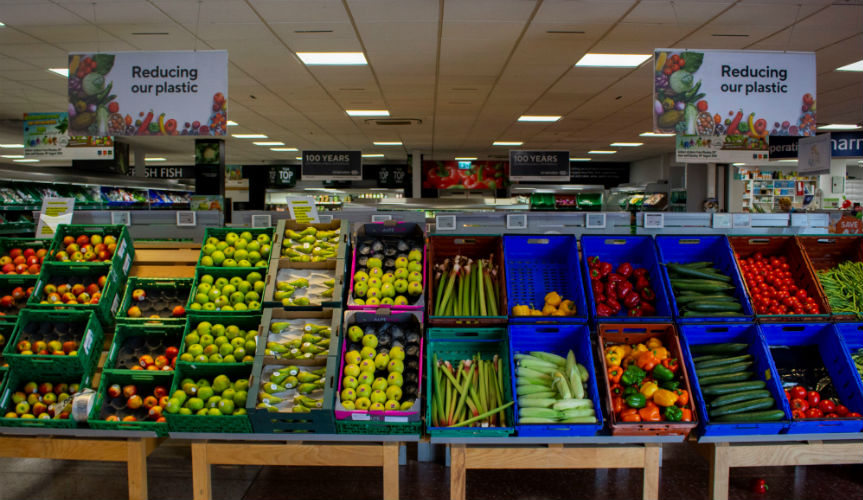 What have you been saying about our trial?
The trial has been running for just over two weeks now, and many of our members have contacted us to welcome the trial. Here's what you've been saying:
'I am hoping this continues. I will shop at the Co-op for all my vegetables and fruit in the future. My broccoli and carrots seem fresher than usual too.'
'I have really enjoyed being able to buy more loose produce and sincerely hope this will become permanent.'
'People, as well as myself, too easily reach for the provided plastic bags for loose fruit and veg, but it just needs a bit of thought to remember to bring your own.'
'We are delighted to be able to buy green beans and corn on the cob loose. We have not bought these items fresh in over a year since going plastic free. Even better that much of the loose produce is local thus reducing our food miles.'
'I thank you sincerely and the planet does too.'
Your questions answered.
We've also received a few questions from members relating to the trial and our wider sustainability initiatives. Here are the most frequently asked ones (for more, see our FAQs page)
Why are you still supplying plastic produce bags?
We are in the process of bringing in a sustainable and re-usable produce bag which will be available to purchase in stores.
We have considered a number of alternatives to single-use plastic produce bags including paper, biodegradable and reusable options. Sadly our research shows that the production of paper bags is not as environmentally friendly as we hoped.
Many biodegradable options cannot be composted at home and there are currently no commercial facilities on the island for this.
For this reason, we believe that a reusable option is the most sustainable alternative. Due to supplier lead times, this isn't available yet, but we'll let you know as soon as it is.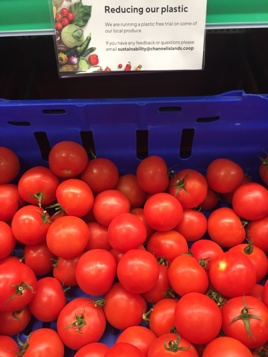 Why is only some produce unwrapped?
The trial is only on local fruit and veg because we have a direct relationship with our suppliers, making it easier to make the switch. Some of our local produce will remain wrapped, like strawberries, to ensure the product arrives in store in the best condition.
For more information on the plastic free produce trial read our FAQs.
Packaging still has its place sometimes.
Whilst we have removed packaging from a number of items in store we also need to be mindful that plastic packaging does have its place. Packaging can keep produce fresher for longer as it makes its journey from the supplier to our stores.
Packaging can also help you reduce your food waste. Research from WRAP shows that storing fresh produce in packaging in the fridge can extend the shelf life by several days.
In Jersey, one third of the rubbish that ends up in the bin is food waste. And an estimated 14,000 tonnes of food waste is produced by households each year. In Guernsey 50 tonnes of food waste is being collected from households each week.
The longer an item stays fresh, the greater chance it has of being eaten.
For those members who are taking advantage of buying loose fruit and veg, we want to help you save food waste at home. So we've produced a handy guide to storing your food, which you can download and print at home to stick to your fridge.