Perelle Butchery: Meet the producer
18 March 2020
Life as a butcher is not easy. You need to be able to work long hours, lift huge weights and know what makes a good product when thinking of new recipes and ideas.
But one of Guernsey's most well-known butchers, Tony Fiore has been doing the job since he was 16 years old and wouldn't change a thing.
What made you want to be a butcher?
Tony's family had been in the butchery industry for years when he was growing up. Then when Tony turned 16 he trained as a butcher too. He worked for his family until his wife and himself founded Perelle Butchery in 2011.
He said: 'I had always been interested in the profession and all my family had been either a butcher or a farmer.
'We don't own any of our own animals now but just butcher the meat that comes to us from a small, responsible farms in the south of England and Scotland.'
Tony has a degree in butchery to his name and believes he is one of few who has a licence issued to him by the Royal Court.
He said: 'When I trained you had to go to court and stand in front of the judge and get a licence but you don't need to do that anymore. I think it's quite a rare thing now. It was quite scary stood in front of the judge as a young lad asking for a licence!'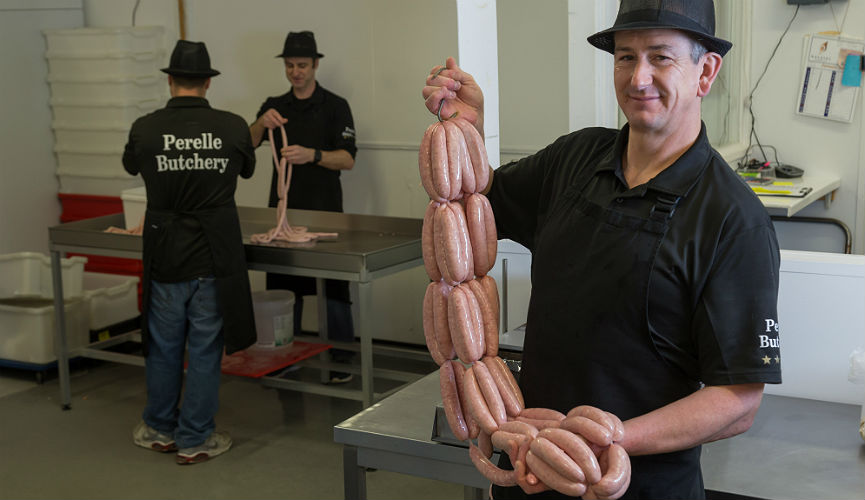 What's an average day for you? 
Perelle Butchery makes everything they sell from scratch – whether it be their famous Perelle Sizzlers, aged beef, free-range pork or lamb.
'It's a really nice job and it's really nice to be able to make something for someone,' he said.
'It's like a carpenter or an artist. We make want the customer wants. We produce something that we are then able to go on and sell.
'We have at least a dozen different flavours of sausages – including dairy and gluten free options, we make fresh ready meals, aged beef, free range pork, chicken and lamb. We have our own counter in Grand Marché St Martin and stock 11 Co-op stores in Guernsey.'
And what does a normal day look like for you?
Tony said: 'We spend Tuesday producing the meat, Wednesday packing it and by Thursday we are delivering it to stores. We do a three day rota and because the meat doesn't need to travel it's really fresh and hasn't been processed in any way to preserve it.'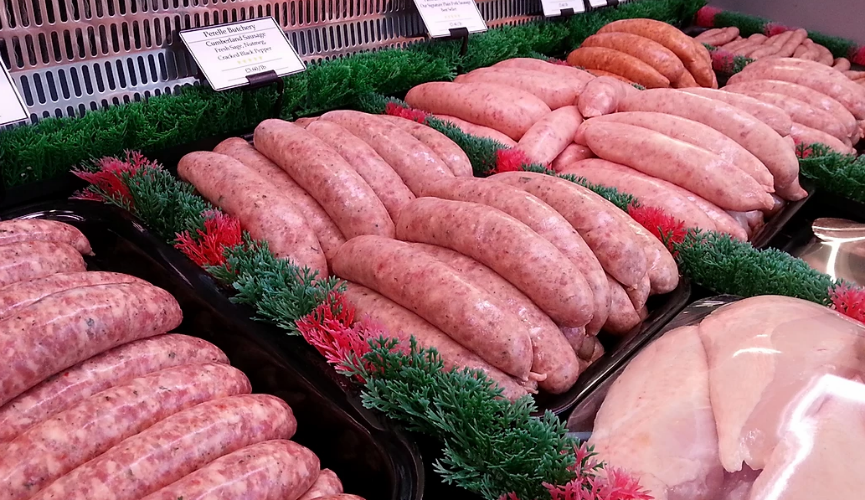 What's the hardest part of being a butcher? 
Tony said: 'It can be really challenging when we start developing new products as it can take some time to get everything in place and get it right. A lot of research has to go into a new product.' 
Why is it important for islanders to buy local? 
Your Society is a huge supporter of local producers. We work closely with them to make sure we pay them a fair price and offer a good range of local products to our customers.
'Nowadays, people choosing to eat meat should eat responsibly sourced meat. It is the most important thing they can do in terms of being better for the environment and more sustainable,' Tony explains.
'People should know everything about their meat – from where it was reared, how it got to the butcher, what process it has been through and finally how it arrives on supermarket shelves. We can supply all of that information to our customers.'
He ends: 'The support we get from the Co-op is fantastic and that relationship is really important for us. We look after them and they look after us.'