Proudly going full circle with Helping Hands
05 September 2018
By Laura Symes, Marketing Assistant
As the main sponsor of CI Pride, we're proud to be part of an event which is about bringing people together and celebrating uniqueness and individuality. Showing that belonging is everything in our island communities, no matter who you are. As Liberate so rightly put it, we are #StrongerTogether.
Our Pride t-shirts and badges shine out our message of belonging brilliantly. But how did we bring the designs to life from paper? Step in our fabulous friends at the local Jersey charity, Aspire!
Our connection with Aspire
We were lucky to meet Aspire (better known as the wonderful people behind the successful Beresford Street Kitchen) earlier this year.
Already running a successful St Helier café that employs people with learning disabilities, Aspire applied for a grant from our Helping Hands charitable fund to support training and employment of people with learning disabilities, giving them a sense of purpose, responsibility and more importantly, employment.
Aspire have since started a small business in logo and clothing printing. They are producing a range of high quality printed items, from cups to hats, hoodies to bags.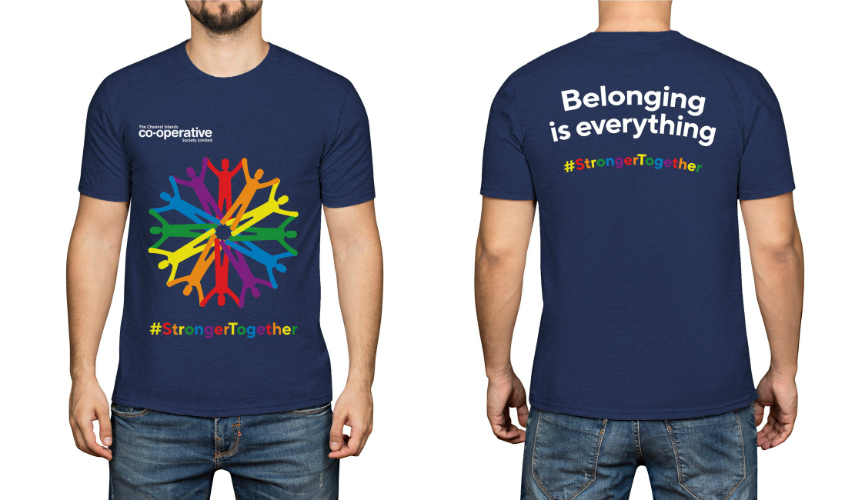 The challenge of printing our Pride t-shirts
So how did they feel about taking on a new challenge? Printing our Pride t-shirts for Co-op colleagues. 250 of them, to be exact!
"It's our biggest order to date," smiled Christina Molloy, Aspire's team Support Worker, "But we'd be delighted to take up the challenge!"
So the spectacular printing team from Aspire set to work printing our Pride t-shirts and invited us around to check on progress.
Stepping in to the brightly-lit printing room, we were met with the team's smiling, welcoming faces and a fun, relaxed atmosphere.
Christina welcomed us in and introduced us to the team. Heidi was looking over designs on the PC, Grace was using her great skills in carefully 'threading' out the logos and shapes, Matt was an expert on the ironing transfer machine whilst Ben was busily folding and prepping the t-shirts for dispatch.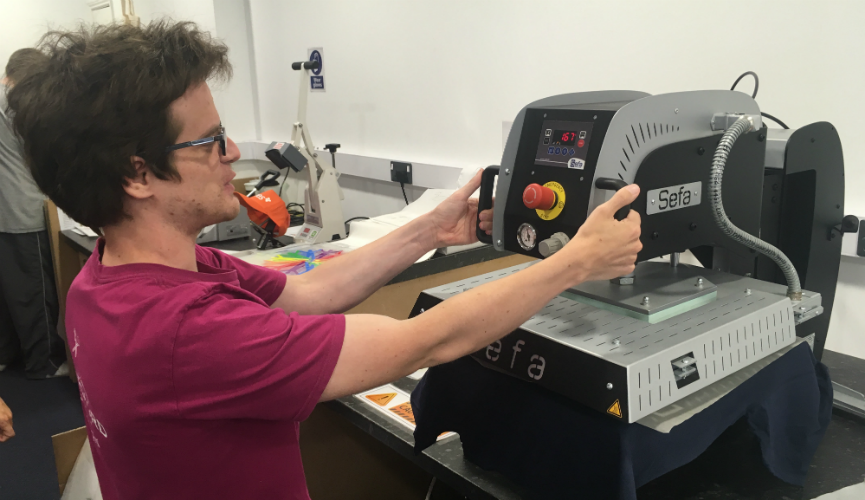 It was such a brilliant and professional set-up, yet felt so relaxed and welcoming in a family atmosphere. The team were working hard, but seeing the smiles and hearing the chatter and laughter in the room, it certainly was a happy environment to be in, and it was clear to see the team loved what they do.
It was hard not to join in the infectiously fun atmosphere!
"Do you want to try?" Matt asked.
My colleagues and I looked nervously at one another. It looked a bit too technical for us!
"It's simple!" He continued, and then expertly showed us the process of applying the graphics to the t-shirt material "Easy!" he exclaimed as he held up a completed t-shirt for us to see.
Why we're extra proud to wear our Pride t-shirts
We were so impressed with the skill and effort of the team from Aspire and we can't wait to wear our t-shirts for the Pride parade.
We'll be proudly wearing them, not just because of the diversity and equality that they stand for, but also for the fact that they were proudly made by our friends at Aspire who are being given the opportunity to have independence and develop their skills and confidence.
And that's something we truly are proud about.
> Learn more about the Helping Hands fund