Society stalwart retires after more than 45 years working in the Co-operative movement
07 January 2022
Chief Developments Officer for The Channel Islands Co-operative Society, Jim Plumley begins his retirement today after nearly 24 years working for the Society.
Mr Plumley had previously worked in the UK for the Co-operative movement for 20 years before moving to Jersey to join the Channel Islands branch of the organisation. It brings his overall time of employment with the Co-operative movement to an incredible 45 years of service.
Reflecting on his career with the Co-op, Mr Plumley said: 'Working for a Cooperative is very different as we have a clear set of values and principles. The profits we make are shared with our members through dividend, shared with our communities or retained for future investment within the Society.  Unlike many other businesses we are driven by values not-for-profit and that is what makes us unique.'
During his time with The Channel Islands Co-operative Society, Mr Plumley has witnessed many changes, from building the local Co-op marketing and brand during the 1990's, through to guiding the commercial element of the local business, and more recently, overseeing the developments, sustainability and evolution of the Society's properties.
For Mr Plumley, one of the outstanding memories that he will take with him into a well-deserved retirement is the colleagues he has worked alongside. He said: 'I have had the pleasure of working many people over the years and am proud to have been a part of such an exceptional business.' 
'The Society has been operating for over 100 years and is a very successful business. Part of that success is our loyal and valued members and colleagues, who have a vital role to play in the way the Society is operated.'
In recognition of his long and dedicated service, a plaque has been placed during the official opening of the Society's newest store, En Route Trinity, to which Mr Plumley also had the privilege of opening.
Speaking of his appreciation of Mr Plumley, Chief Executive Officer, Mark Cox said: 'The Society has grown in the 24 years he has been with us, and Jim has played a huge part in how the business is today. We owe Jim a huge debt of gratitude for his amazing years of service and wish him a happy and healthy retirement.'
Mr Plumley added: ' I would like to thank everybody I have had the pleasure of working with for their support over the years. I believe that we have one of the best Society's in the Co-operative movement and that is something to be proud of.'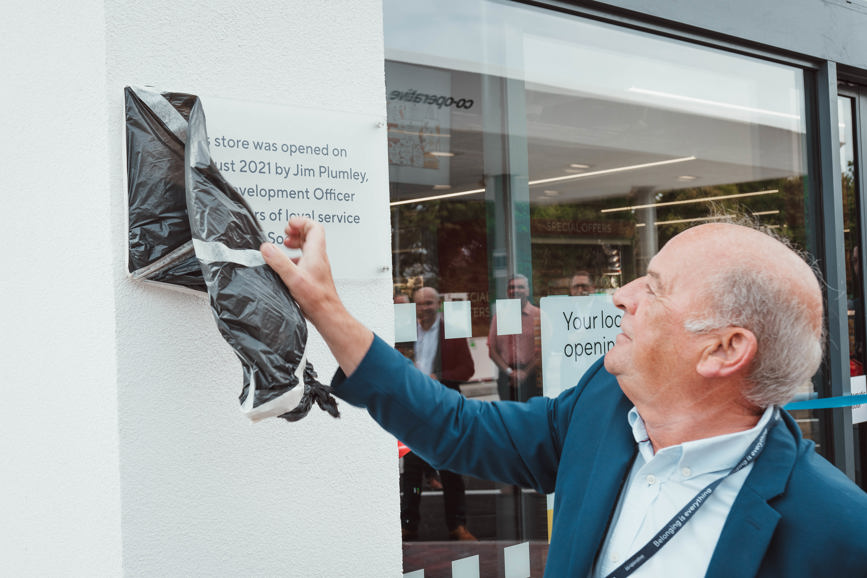 Photo: Jim Plumley unveils the plaque placed in appreciation of his loyal service to the Society at En Route Trinity  [Credit: Callum Thorne Photography]