Spreading joy with random acts of kindness
12 July 2019
From giving water to dogs on hot days, raising money for local charities, offering free ice creams when the sun was out and supplying tea and cake to a residential home – our teams went above and beyond during this year's Co-op Fortnight.
Why did we do all this?
We were taking part in Co-op Fortnight, which this year was themed around 'acts of cooperation.'
Since launching in 2010, Co-op Fortnight has taken place every year. During the two weeks co-ops across the UK get together and highlight what it is they do and what being a co-op means for local communities.
Your Society chose to carry out random acts of kindness, co-operation and making a real difference.
Who did what?
It was up to each store to decide what it was they wanted to do during the two weeks and their efforts were amazing.
Here are just some of the random acts of kindness your Society took part in:
The Bridge Locale, Guernsey
Colleagues gave out flowers with inspirational quotes to customers. The quotes were all based around the company's values.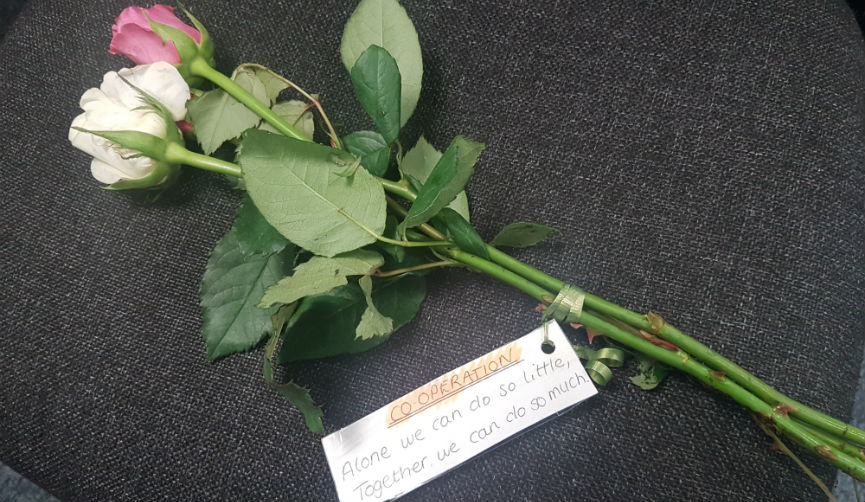 Grand Marché St Helier, Jersey
The team at Grand Marché did a number of things over the two weeks including welcoming some furry friends from the JSPCA into the store. Bear, a rescue dog, welcomed shoppers whilst the JSPCA raised much needed funds. The store gifted the charity with more than £300 donated by our shoppers. Thank you!
Store staff also served tea and cake to some of the 21 female residents at Glanville Residential Home. Every resident and staff member was gifted a box of chocolates and two hampers were donated to the home.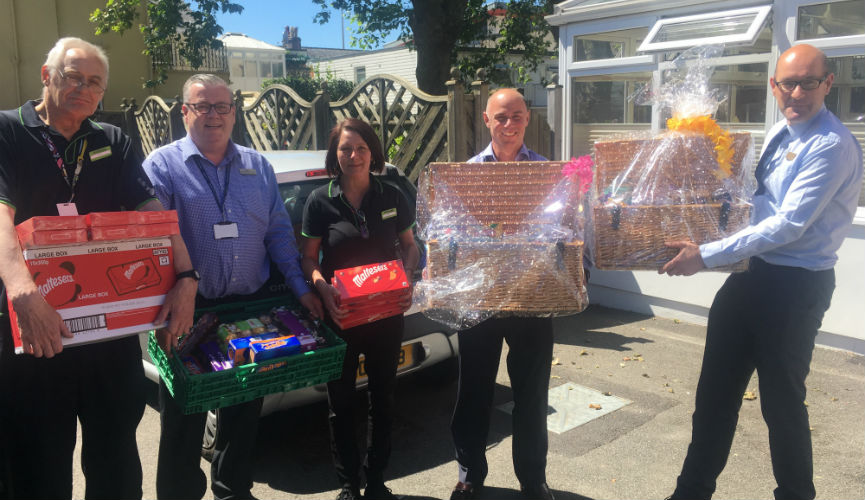 Maufant Locale, Jersey 
The weather hit peak sunshine during Co-op Fortnight so our team at Maufant took the opportunity to give out free ice creams to the children at Maufant Youth Project. We were told the children were 'very happy!'
The store team also delivered healthy snacks to Grand Vaux School and the children were said to have been 'delighted.'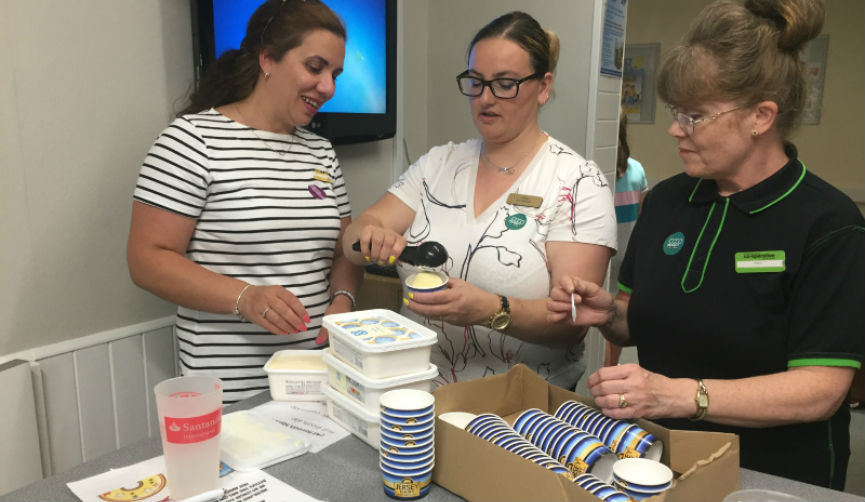 St Martin En Route, Guernsey
Senior supervisor, Caroline Gibson, made 100 cakes to celebrate your Society's 100th birthday and shared them with customers and colleagues. Caroline made the cupcakes with passion and commitment – two of our values.
Grand Marché, St Peter, Jersey 
Over the two weeks colleagues took part in four bake sales to raise money for their two chosen charities. An amazing £333 was donated to both St Peter's Senior Citizens Group and The Friendly Club.
Everything from lemon cake, rocky road, banana loaf and cupcakes were sold over the four days. Marie, service team leader at the store, helped organise the bake sales.
She said: 'I used my grandmother's recipes and so many people came in and were asking for the cakes – but they were sold out. We just asked people for a donation but a lot of people were happy to give us money even if they didn't want a cake. A lot of the people who attend The Friendly Club and St Peter's Senior Citizens Group are our shoppers anyway and we wanted to give something back to them.'
Rosemary Vibert chairman of St Peter's Senior Citizens Group 
L'Aumone En Route, Guernsey
A Jersey cricket team benefitted from a random act of kindness while popping in to L'Aumone En Route. The students were in the store grabbing some snacks and drinks after playing a cricket match against an Australian team in Guernsey. 
Store manager, Sarah Packham said: 'I thought what a great time to offer a random act of kindness to refuel all these students and their two coaches after their hard work in the hot sun.
'We paid for all their drinks and snacks. They were very appreciative, shocked and very happy students.'