The Channel Islands Co-operative Society donate £1,000 to a local charity which supports those in need
11 June 2019
AN Island charity which delivers hot meals to people who are often elderly, lonely or disabled has been awarded £1,000 by a Channel Island Co-operative colleague.
Sergio Marcelino, manager of En Route in both St Mary and St Peter, has been a dedicated Meals on Wheels volunteer for six years. Mr Marcelino was presented with £1,000 by the Society after winning the Society's Ambassador of the Year Award.
The Islander received the award at the annual Co-op Training and Recognition Awards for his commitment to the charity. The annual event celebrates the Society's teams and individuals and their contribution to the local community.
Hilary Grant, chairman of Meals on Wheels, said the money will be put towards the general running cost of the charity, which has been operating in Jersey since 1962 and delivers between 80 and 90 meals a day four days a week. All the food is cooked at Jersey General Hospital by hospital staff and is then bought at cost by Meals on Wheels.
Mrs Grant, who has been involved with the charity for 35 years, said: 'I am really touched that the Co-op have decided to give us a donation ­– that was very moving.
'I can remember taking Sergio out on his first round and I knew from that day he was going to be fine. Most of us who volunteer either have a part time job or have retired from work. I admire people who can juggle delivering for us with their full-time job.'
Last year Mr Marcelino delivered 435 meals in his own time, often covering 17 miles of the Island on each delivery. He uses his own car to make his deliveries, covering the cost of his travel as well as offering to undertake extra shifts to cover volunteer shortages and holidays.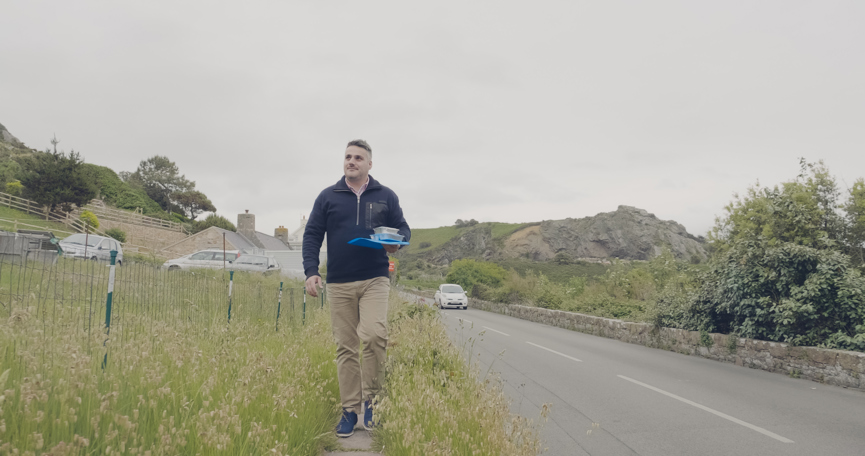 Mr Marcelino said: 'A lot of the people who rely on Meals on Wheels are elderly and similar ages to those I serve in En Route. I lived with my grandparents for a long time and know how important it is to look after your elders.
'People write it on their calendars when they know I am coming. They see someone who is younger than them and for many it's something they look forward to.
'I was overwhelmed to be able to present Meals on Wheels with £1,000. I wasn't expecting that from the Co-op and I am totally surprised.'
Chief operating officer for the Co-op, Mark Cox, said: 'It is an honour to both recognise Sergio for bringing the Society's values to life by serving the community and awarding Meals on Wheels with £1,000. At the Co-op we are always eager to support charities but what makes this extra special is that it's a charity so close to one of our colleague's hearts.
'Sergio not only dedicates his own time to Meals on Wheels but he knows all those he delivers to by name and takes a genuine interest in their lives.'
To find out more about Meals on Wheels email mowjersey@gmail.com, or telephone 01534 853737.