Cooper & Co: Meet the producer
28 February 2022
As a much-loved and well- established local business, it would be difficult to find anyone in the island who hasn't enjoyed a cup of Cooper's finest tea or coffee. It is a brand that is associated with excellent quality, strong ethical values, and for filling the streets around Halkett Place with the tempting aroma of roasted coffee beans.
But other than producing the finest coffee beans for 'Jersey beans', there is a great deal of history and pride behind one of Jersey's oldest businesses. We chatted over a cup or two of Cooper's best blends with Marketing Manager of Cooper & Co, Chris Couriard, and relived how Co-op and Cooper's have become a perfect blend!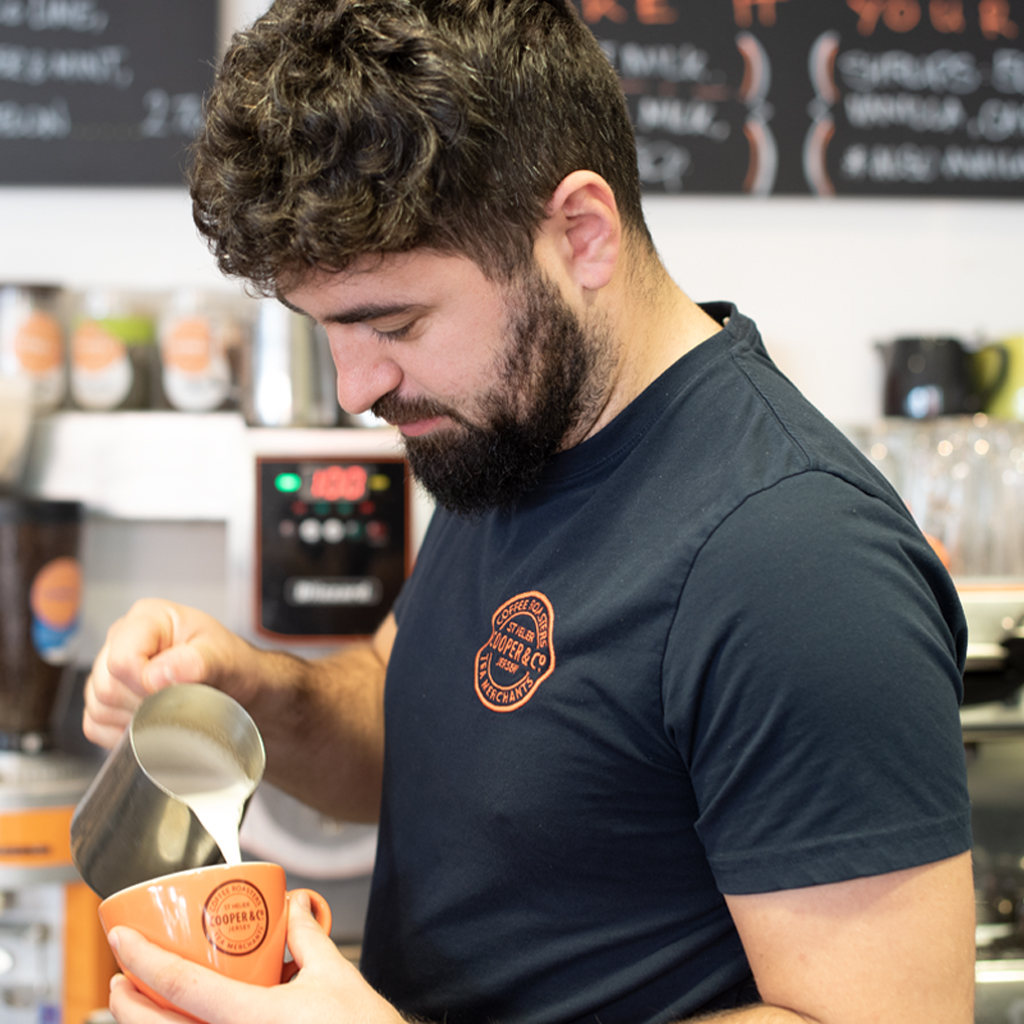 The Town's 'Tea men'
Although today's Cooper & Co. is a forward-thinking, modern organisation, its roots stretch back to the early 1800's with mentions of the company forming a new venture in June 1834. 'The true origins of Cooper & Co. have been lost in the annals of history,' explains Chris, 'However, what is known is that on 24th June 1834, Thomas Cooper, Richard Cooper and John Stringer formed a new venture as Thomas Cooper and Co.'
Popularity for tea and coffee seemed as fashionable in 19th Century Jersey as much as it is now in our modern times. A front-page advertisement in an 1890 edition of the Jersey Evening Post shows Cooper & Co. traded in St Helier's King Street, known affectionately as 'The Tea Men' crafting blends from their own shop in town.
It was a local business which grew from strength to strength as records from mid-1800's showed national and international trade to various British colonies across the globe.
Proud of their local roots
Despite its widespan trading status, recognising and appreciating their local heritage is of huge importance to the team at Cooper & Co.
'Cooper's one of the oldest remaining locally owned Jersey companies,' explains Chris, a fact of which we they are hugely proud. 'As such, we endeavour to become a hub for the community and not just another place to grab a quick cup of coffee.'
'We like to give back to the community we serve by supporting local charities, raising awareness of environmental issues, supporting local causes and providing the local community with coffee that's traceable to the source.'
Bringing together a blend of familiar values
It is because of such values mirroring so many of The Channel Islands Co-operative Society, Cooper & Co. has worked with the Co-op for more than 20 years.
It is also why Co-op chose to be home to of one of Cooper & Co.'s most popular coffee shops at Grand Marché St Helier, and why we supply locally-roasted coffee on our shelves. Furthermore, both Co-op and Cooper & Co. are proud supporters of Fairtrade.
'Cooper & Co. are long-standing members of the Fairtrade Foundation which entitles us to use their logo on any Fairtrade certified coffee we roast and pack,' says Chris. 'Many of the coffees we roast and sell at the Co-op are directly linked to the places we have visited.'
It is one of the many reasons why we are proud to sell Cooper & Co. coffee at your Co-op. Not only can you be assured of the finest taste and quality from a cup of Cooper's coffee, but there is also the added assurance of knowing the coffee is sourced fairly and ethically with growers receiving a fair wage for their produce.
'We want to give local people confidence that, when sipping on one of our coffees, they have had some involvement in making a difference in this world,' smiles Chris.
We couldn't agree more.
Make sure you pick up and enjoy coffee or tea from Cooper & Co. this Fairtrade Fortnight, and help play a small but significant part in making a world of difference.