How the Co-op supported Jersey's Red Box Project
13 February 2020
Plan International UK, a charity which fights for rights and equality for girls, states that 1 in 10 girls aged between 14 and 21 are missing school because of their period.
Although figures in Jersey may not be this high, there are girls in our island that are not able to go to school because they don't have the right sanitary protection or are struggling with period pain.
Thanks to our members, who help us run the Helping Hands fund, we have enabled the Jersey Red Box Project to support young women in 28 island primary and secondary schools, one youth club and Brook Jersey with period products.
What is the Red Box Project?
The Red Box Project was launched in the UK in March 2017 by three friends who wanted to give young people access to menstrual products for free. Since then, these friends have lobbied for menstrual products to become free in all schools across the UK.
In February 2019, an islander decided she would help fight the cause for girls in Jersey and took over running the Jersey Red Box Project.
Now volunteers Steffy and Sarah fight hard to make sure no girl in Jersey misses school because of their period.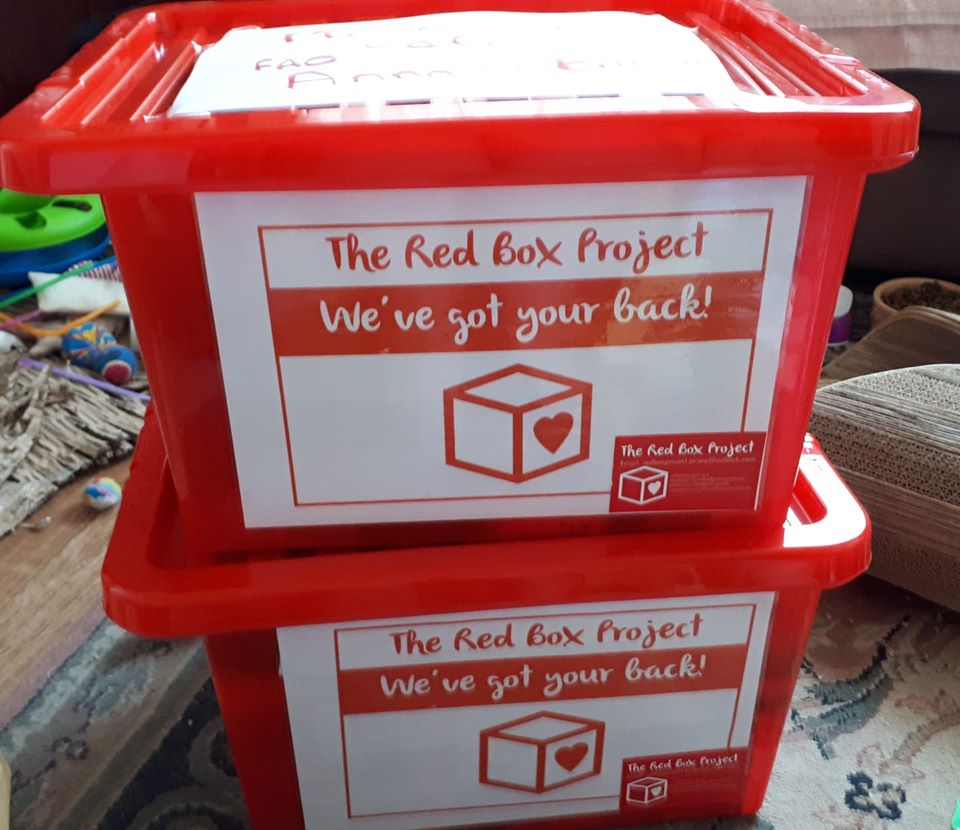 How has the Co-op helped the project?
To kickstart the project, Steffy and Sarah decided they would hold a flag day in our Grand Marché St Helier store to raise both awareness and funds.
Steffy said: 'We raised about £150 at the flag day in March 2019 which was fantastic. We then set up a JustGiving page and raised a further £300.
'The initial reaction we got was quite mixed. We had a lot more positive reaction than negative but still people asked us why we were doing it and why we were talking about periods.'
Last year, your Society awarded the project with £350 from the Helping Hands fund, which has allowed the not-for-profit organisation to keep money aside for future plans.
In recent weeks both donation bins in Grand Marché St Helier and Grand Marché St Peter have been removed because the charity has received enough donations to have supplies for the next six months.
Steffy said: 'We were going to the stores every week emptying the bins because there were so many donations. The generosity of people on island has been amazing.
'The support from the Co-op has been a game-changer. We couldn't have done it without the support from their shoppers.'
Why is the project so important?
Steffy said: 'The project is all about the community coming together and no girl missing school because of their period. This is something which is really vital and urgent, even in Jersey.
'Most people are very privileged in Jersey but there are still quite a lot of people who struggle to pay bills, buy food etc. We want to make sure all girls are staying in education for as long as possible and not missing school because of something biological and unavoidable.'
Participating primary and secondary schools are given a standard red box. This includes a mixture of multi-pack pads, tampons, some grab packs [which are red and white paper bags the students can grab as and when they need them] which contain two pads and one tampon, a mixture of underwear all different sizes and different size tights.
Steffy is now reaching out to more youth clubs to get them on-board with the scheme. She is also hoping to begin talks with members of the Government of Jersey to try and get free period products available to all girls in island schools.