Introducing our plastic-free commitments
24 October 2018
By Tanya Dorrity, Community Officer
No one can shy away from the constant barrage of disturbing findings on the damage that plastics are causing our marine environment.
In spring of this year, we formed a 'plastic working group' at the Channel Islands Co-op. This was not as a knee jerk reaction to the current media frenzy, but more in line with the work that is going on at Co-op Group in the UK.  
We are an independent Co-operative, but we are part of a buying group that enables us to secure a better price on the range we stock. This means that, although we do have representation within this group, we are tied into the range that is sourced. This is an essential part of our Co-operative business model.
We care about the environment we work in, and you can see from this timeline that changes to our Co-op own brand product range are being made all the time.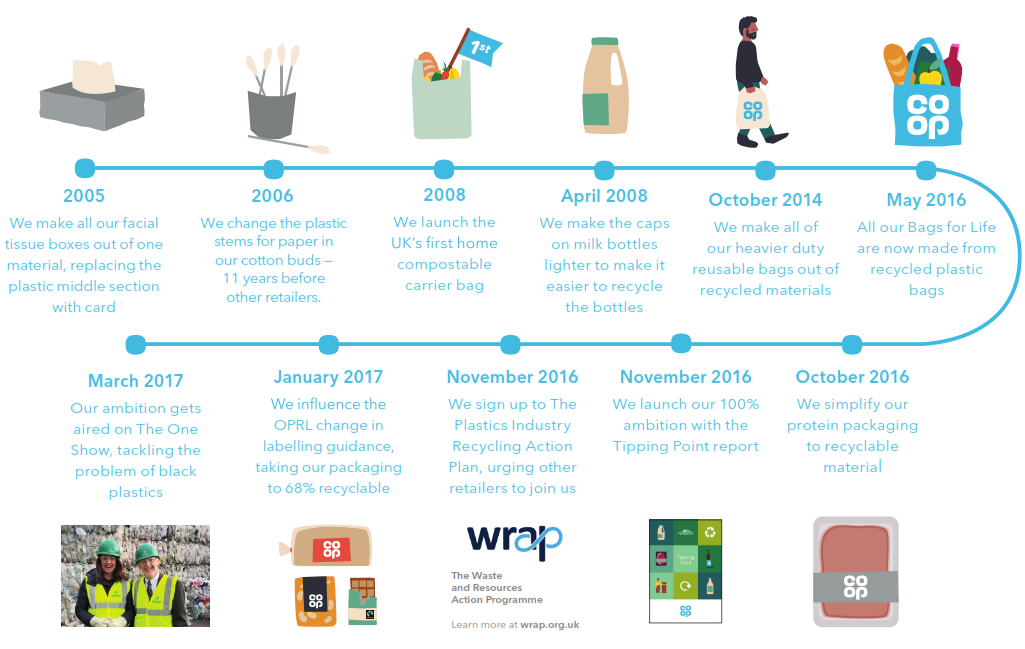 Only last month, Co-op Group released their Future of Food strategy which shows (amongst many pledges) a commitment to all own brand products being easy to recycle by 2023.
Our commitments closer to home
In the Channel Islands, the issue of single-use plastic has been on our agenda for several years now.
As a locally owned community retailer we feel a real sense of responsibility to protect and preserve the islands that we operate in. We were the first retailer to charge for plastic bags back in 2008 - leading the way in asking our customers to think about the environment.
Recently, we furthered this commitment through our announcement to remove single use plastic bags from our stores by the end of the year.
This announcement is a direct result of some of the work that has come out of our plastic working group. We consulted our membership, who told us that they thought this was the right thing to do. 71% of our members agreed.
Since making the announcement, another stock take suggests this will come into effect rather sooner than 31st December 2018, and more likely in 4–6 weeks' time.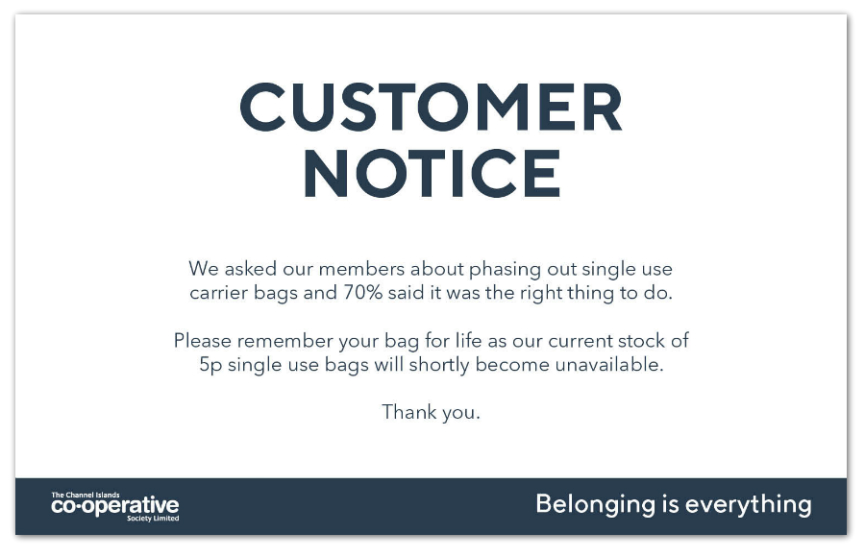 Plastic Free Jersey and Plastic Free Guernsey
Our commitment to phase out single-use plastic bags came in line with our signing up to Plastic Free Jersey's Business Toolkit. 
Plastic Free Jersey is an initiative that brings together individuals, groups, businesses and organisations to reduce the amount of plastic we use. UK charity Surfers Against Sewage developed the scheme to tackle the plastic problem specifically in coastal areas.
Signing up to the campaign means we are committing to removing three single-use items from our business. The three commitments we have made are:
Single use plastic bags to be phased out by 31st December 2018
Own brand plastic earbuds to be replaced with paper ones
Own brand water bottles to be 50% recycled plastic and 100% recyclable
Referring to the water bottles, a spokesperson from Co-op Group in the UK said:
"The water bottles wear a greyish colour, which I see as a 'badge of honour' – we are part of the market for recycled products and we are proud of that. Suppliers are working hard to make the bottle clearer – and they already have."
Over the coming weeks you will see more changes in our stores. For example:
Our 'food to go' coffee machines will have biodegradable and compostable coffee cups and lids.
Our produce bags used for loose fruit and vegetables will be biodegradable and compostable.*
The coffee machine in our new Guernsey store on the Bridge will have a water filter attachment so you can fill up your re-usable water bottle in store.
*Since publishing this blog post, our research has shown that the most sustainable alternative to single-use produce bags is to provide a reusable option. We have looked at compostable/biodegradable produce bags, as well as paper bags, and unfortunately neither is as environmentally friendly as we had hoped. To find out more see our plastic free produce trial FAQs.
We have plenty we are working on, and will keep updating you on our progress. Check back to www.channelislands.coop/plastics to stay up to date.