Strengthening our roots in the community
08 May 2019
It's not just schools, the media and parish constables that take part in the Genuine Jersey Royal Competition. As we found out, the roots of the campaign run far deeper than that.
It may be a fun, educational activity. It also helps develop a sense of healthy competition, as well as accomplishment and wellbeing for a small group of individuals in our community.
Helping patients grow a sense of ownership and accomplishment
Karen Langlois from Jersey's Health and Social Services Department described how the nature of the Genuine Jersey Royal Potato Competition, sponsored by your Co-op, has grown to be an enjoyable and beneficial project to individuals needing specialist care.
 Karen works as a horticultural therapist at Overdale Hospital and uses the competition as an activity for patients. It  provides them with a sense of ownership and accomplishment by helping to work towards a personal goal.
 "As a group we love a project and a bit of healthy competition. By entering, we have the opportunity to work as part of a team, competing against nine other daycentres and hospital wards.
 "Over the years the interest has grown, and so have our community links. The final weigh-in is now a much-anticipated social occasion with the bonus of the winning department having their name engraved on our perpetual trophy."
More than green-fingered fun – it's a hands-on lesson in wellbeing
It may seem like a light-hearted and fun competition for the teams. But beneath the surface, there is a much more meaningful purpose behind these amateur growers getting their hands dirty.
 "Research has shown that gardening is good for our physical and mental wellbeing," Karen explains, "Just having access to a green space can have positive effects and from this one activity alone the therapeutic benefits are vast." 
 Through the competition, patients get a hands-on lesson in our famous local produce. They learn about the history of the Jersey Royal, how a potato plant grows and how to keep it healthy.
 This also plants the seeds for more social interaction and discussion, with patients being encouraged to chat about memories of favourite dishes or recipes. These conversations might trigger fond memories and stories which could be hugely beneficial to the recovery and wellbeing of individuals.
All in good nature!
Of course, a little competition is always healthy(!) and the focus, self-motivation and inventiveness that individuals put into their little crop of potatoes is always admired by the staff at Overdale.
"Over the last four years we have had additions to buckets: secret soil from the West of the Island, this year buckets have been bubble wrapped, topped up with vraic, and one has the addition of banana skins! We have yet to see if someone has found the winning formula for quantity or taste."
 And, even if their Royals aren't crowned as winners, it seems that the best reward for their growing efforts is seeing the success of their care and attention to their crop… and not to mention a delicious bowl of freshly grown Jersey Royals!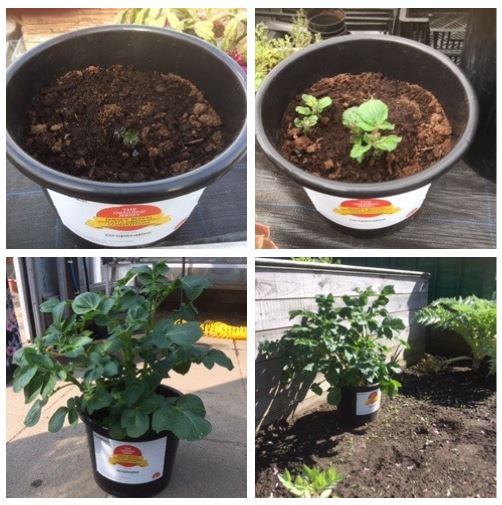 Above: The Overdale Team's potato making good progress.