Your Society launches first Channel Island's supermarket refill produce station
28 July 2020
Islanders will now be able to buy a range of cupboard staples including pasta, rice, cereal and nuts without the plastic packaging in Grand Marché St Helier.
Your Society has become the first island supermarket to introduce a refill produce station in our flagship store, in a bid to reduce plastic waste.
Shoppers can take their own reusable containers into the store to purchase loose goods such as pasta, rice, nuts, seeds and flour. It is down to the customer how much they wish to buy and scales at the machine will tell the shopper how much their item will cost.
The move is one of many the Society has introduced in the past year in a bid to reduce its impact on the environment. In October 2019 the Society worked with local milk producers Julia and Darren Quénault, owners of Classic Herd, to introduce a milk vending machine to both Grand Marché St Helier and Locale Charing Cross. The business has also removed plastic packaging from a number of local products including cucumbers, onions, radishes and courgettes.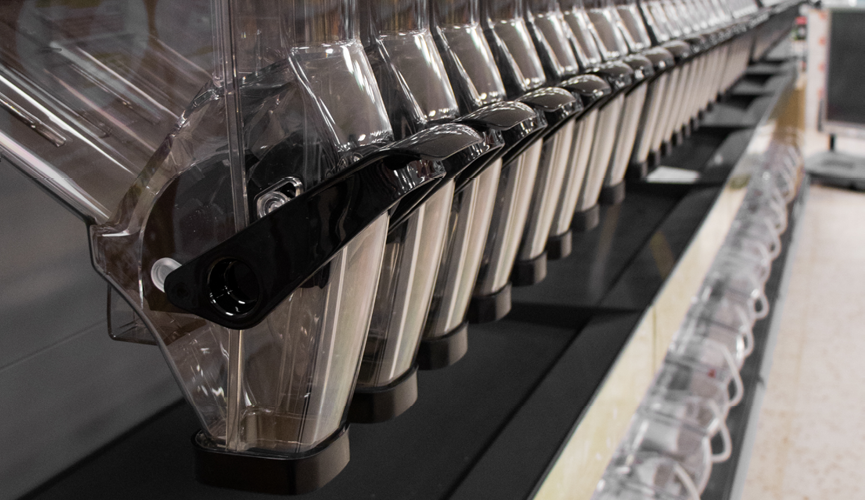 In total the refill station will sell more than 30 loose products, which will change on a regular basis. There will always be a range of cereal, nuts and seeds, beans and pulses, rice and flour and pasta. The customer will take their reusable container into the store, weigh it, fill it with the product of their choice, weigh it again and place a label with the price onto their own container.
Mark Cox, chief executive officer for the Co-op, said: 'As an ethical and responsible retailer with sustainability at our heart, we are always looking at ways in which we can reduce the amount of plastic in our stores.
'We also know that our members care about the environment, so we took their comments on-board and we have committed to reducing plastics in our stores wherever we can.
'It's hard for a supermarket to eliminate plastic packaging entirely but we can bring in fantastic initiatives, like our new unpackaged refill station, which helps to reduce the impact that plastics have on our environment.'