We made a real difference to your local environment by planting 100 trees and shrubs.
Thanks to everyone who volunteered on Saturday 29 February and helped us plant 100 trees and shrubs. The trees and hedgerow whips were planted to help mark your Society's 100th birthday.  
We partnered with Guernsey Water to make a lasting impact on our local environment. 
We planted the trees and shrubs at Millennium Walk, St Saviour's Reservoir.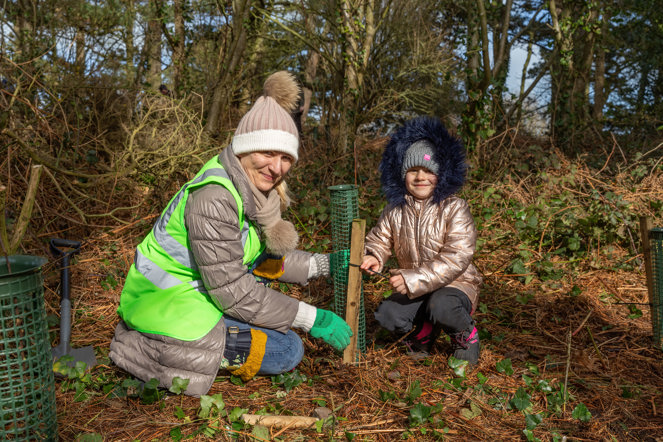 Why did we plant trees?
As an ethical and responsible retailer we are always looking at ways to protect our local environment, which is why we celebrated 100 years of business by planting 100 trees and hedgerow whips in Guernsey.
We have joined forces with Guernsey Water, who are already doing a number of measures to protect the local environment. Guernsey Water have launched seven business outcomes, which they have titled 'Protect our environment.'  
Following the formation of a biodiversity and recreation delivery group at Guernsey Water in early 2019, they have introduced changes to how their sites are managed in order to promote biodiversity. Providing the space for your Society to plant 100 trees at the Millennium Walk is another way in which Guernsey Water can encourage a wider range of flora and fauna on island. Along with the environmental benefits, the Millennium Walk is enjoyed by many visitors every year. By your Society and Guernsey Water using this space will not only benefit the site's biodiversity, but also enhance the walk for generations of the community to come.
The project was also supported by Floral St Saviour's group.