The Co-op's Christmas Wish Tree is launched in Grand Marché St Peter and Grand Marché St Helier
25 November 2019
MOST islanders will wake up on Christmas Day surrounded by wrapped gifts and family members.
But others will not be as fortunate.
Some will wake up in hospital, in island shelters or alone, which is why The Channel Islands Co-operative Society is running the Christmas Wish Tree initiative for the second year running.
The initiative aims to make Christmas that little bit more special for local women and children who are currently residing at Causeway Association, after finding themselves homeless, and residents of Rosewood House and Clinique Pinel, who are living with dementia and mental health conditions.
From 25 November Christmas trees will be displayed in both Grand Marché St Helier and Grand Marché St Peter featuring gift tags with information about the recipient and a suggested gift. Islanders will then be able to take a gift tag, buy and wrap a gift and drop it back to the relevant store by Saturday 14 December. The store will then deliver the gifts to the recipients.
The Christmas wish tree in Grand Marché St Peter will display gift tags for the women and children at Causeway. Each recipient was asked what they would like for Christmas, and now the Society is inviting islanders to help make their wishes come true.
Orla Nugent, manager of the Causeway Association, which is currently housing ten families, said: 'The women we house are not as fortunate as others and they don't have the ability to buy Christmas presents for their children. The women and children's home lives have been disrupted and being in a house with people they don't know can be unsettling for them.
'Christmas can be a hard time for those we house and islanders supporting this campaign and buying gifts for them makes the women and their families realise they are not alone and people are thinking of them.'
Gift tags displayed in Grand Marché St Helier will be for those residents spending Christmas at Rosewood House and Clinique Pinel. Gift ideas include socks, pictures for their rooms, a lava lamp, an Elvis CD, perfume and chocolates.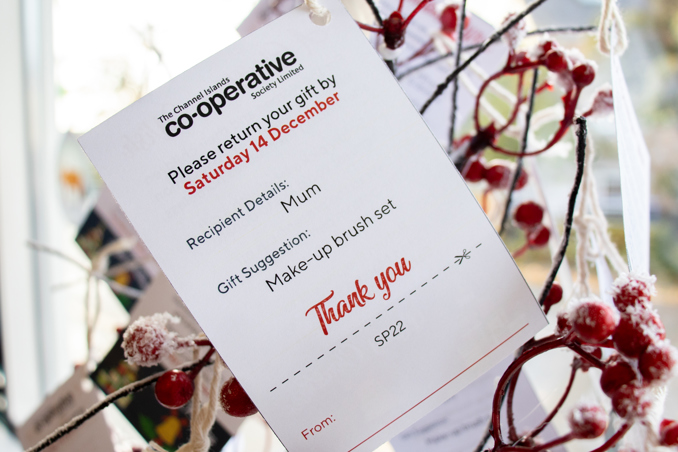 Graham Ogilvie, an occupational therapist for the Health Department, said: 'Over the festive period the patients and residents on our wards at Clinique Pinel and Rosewood House, situated at St Saviours Hospital, may have their loved ones visiting them. But some do not have this privilege, which means they will not have a gift to open on Christmas morning.
'Thanks to the Co-op and their Christmas Wish Tree campaign these residents and patients will have something to open on Christmas Day – making them have a day to remember.'
The Christmas Wish Tree campaign is one of a number of community initiatives the Co-operative Society is running during the festive period, including supporting the annual Soup Kitchen in aid of Shelter Trust, inviting school choirs in to selected stores, surprising shoppers with random acts of kindness and running the Christmas card recycling scheme.
Ell Hopton, community manager for the Society, said: 'As a community retailer, local good causes are at the heart of what we do every day of the year. But Christmas is a time when many islanders can feel lonely or isolated, so we're delighted to be adding a few extra initiatives over the festive period to support those islanders who are less fortunate, and to help spread Christmas cheer to all our customers and members. Last year we had a fantastic response to the Christmas Wish Tree campaign, so we've expanded the scheme this year to include two groups of deserving local people.'