Co-operative Medical Care recognised by national body for providing 'gold standard' support in end of life care
04 October 2019
The Channel Islands Co-operative Society Medical Care has become the first island medical practice to be recognised by a national body for providing 'gold standard' end of life care to patients with life limiting illnesses.
The Co-operative medical practice has achieved the Gold Standards Framework (GSF) accreditation, by the UK's leading provider of training in end of life care for GP's and frontline staff.
Co-operative Medical Care supports patients with life limiting illnesses and their families by working in collaboration with Jersey Hospice Care to make their wishes known, so they may spend their final days in dignity and peace.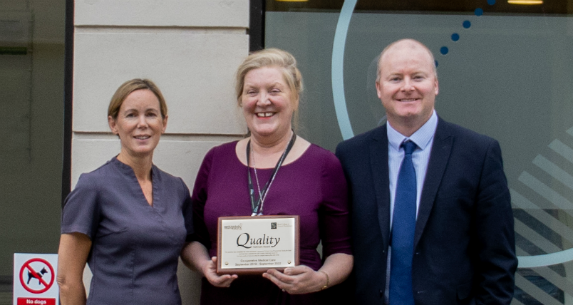 Since 2000, GSF programmes have aimed to improve quality of care, coordination of care and also help to enable patients at the end of life to choose their preferred place to die. The programme supports medical teams to work towards better care solutions, which result in the reduction of patients needing to be hospitalised and provides emotional support to the patient, as well as their carer and family.
Co-operative Medical Care's Dr Brendan Loane, lead GP for palliative care, said: 'We are delighted that the Co-operative medical practice has been recognised along with our partners at Jersey Hospice Care for leading the way in ensuring patients with a life limiting illness receive the best possible medical care in their last years of life.  
'As the first medical practice in Jersey to be awarded the national gold standards framework accreditation, recognising excellence in the care provided to patients with a life limiting illness, we are proud to be leaders in a field of care that is so important to our patients and families at a period in their lives when dignified access to care is so important.'
To be accredited with the GSF, practitioners must undergo six one-hour modules over six months as well as attend a GSF in-house workshop and be externally evaluated on processes in place with evidence of clinical improvement.  The GSF Centre CIC is a not-for-profit social enterprise community interest company.
Pictured above (L-R): 
Co-operative Medical Care's Charlotte Liddiard, practice manager Carol Hunt and Dr. Brendan Loane with GSF accreditation