The Channel Islands Co-operative Society donates almost £30,000 to Jersey charities and causes in its first year
12 November 2021
The Channel Islands Co-operative Society has donated £29,563 to local charities and causes in Jersey through its 2021 Community Fund grants.
Since its launch in March 2021, the Co-op Community Fund has supported a total of 34 projects in the island. The grants, which ranged between £223 and £2,000, were given to initiatives aiming to make a real difference in the community.
The first round of funding in Spring 2021 donated over £15,000 to 18 local Jersey ventures. This included charities such as Family Nursing & Home Care which was granted £600 to purchase new specialised Wendylett sheets for Islanders in its care.
Following the grant, Debbie Farley, Fundraising Manager at the charity said: "At Family Nursing & Home Care, we are committed to providing high quality, integrated nursing and home care in the community.
"With the help of the donation from the Co-op Community Fund, we were able to purchase several Wendylett sheets for our patients, which help reduce friction and make movement for the patient – and the carer – much easier. In the past, patients would normally have to self-fund for these sheets, but thanks to the Co-op, we can now offer these sheets for free. It means we can focus on helping our patients and their loved ones, especially during such a difficult time."
The second round of funding paid to charities in Autumn 2021 saw a further 16 projects receiving a share of over £14,000.

Projects supported on this round included Gorey Youth Project, Jersey Mencap, Friends of Mont à L'Abbe School and Jersey Child Care Trust (JCCT).
Jersey Child Care Trust is a local charity which supports families to access the support, information, services and learning they need for their children to have the best start. The charity received a total of £960 to support its Special Needs Inclusion Programme. The scheme, which since its launch has supported 350 children, helps preschool children with Special Educational Needs and Disabilities get the support they need to access mainstream nurseries and schools with their peers.
Alice Bennion, Programmes and Inclusion Manager at JCCT said: "All children have the right to a high quality learning environment. We know, through research and experience, that if children's needs are supported early, they will benefit in terms of inclusion, independence and development.
She added: "The Co-op Community Fund has enabled us to help more children with disabilities go to nursery in Jersey. Thanks to the generous donation, more children in Jersey will have access to the support they need to thrive, making a real difference to those who need it in our community.'
Following news of the total donation amounts, Carl Winn, head of community and sustainability for the Society shared his delight.
He said: "The response to our Community Fund has been simply incredible – especially in this its first year. We have seen an overwhelming number of applications – over 140 requests – from community and environmental projects in both Jersey and Guernsey. It is always a real challenge to narrow down which projects we can support, but we are delighted that we have seen a real difference already being made in our islands by those that have been supported by the Co-op Community Fund."
Donations were also made to local groups and charities in Guernsey totalling almost £10,000 to ten causes in the autumn round of funding, and £10,600 to 13 projects in the spring.
Applications for the Co-op Community Fund remain open all year-round with pay-outs being made to successful projects in spring and autumn. More details on the Society's community fund can be found at: www.channelislands.coop/communityfund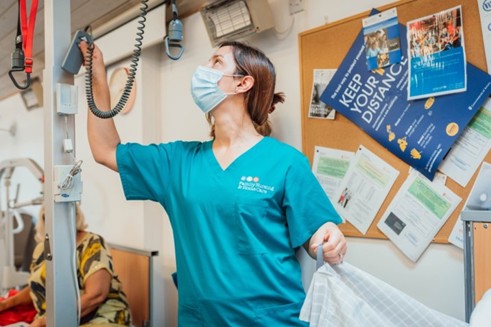 Photo: Family Nursing & Home Care staff undergo training using the Wendylett sheets
(Credit: Callum Thorne)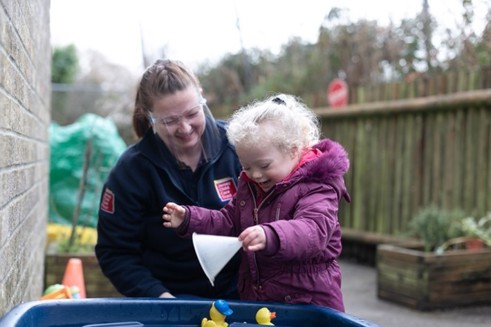 Photo: Jersey Child Care Trust works to make mainstream nurseries accessible
 to children of all abilities through their Special Needs Inclusion Project.
(Credit: Dasa Wharton Photography)