The Channel Islands Co-operative Society's longest running fund donates thousands to local good causes
30 March 2020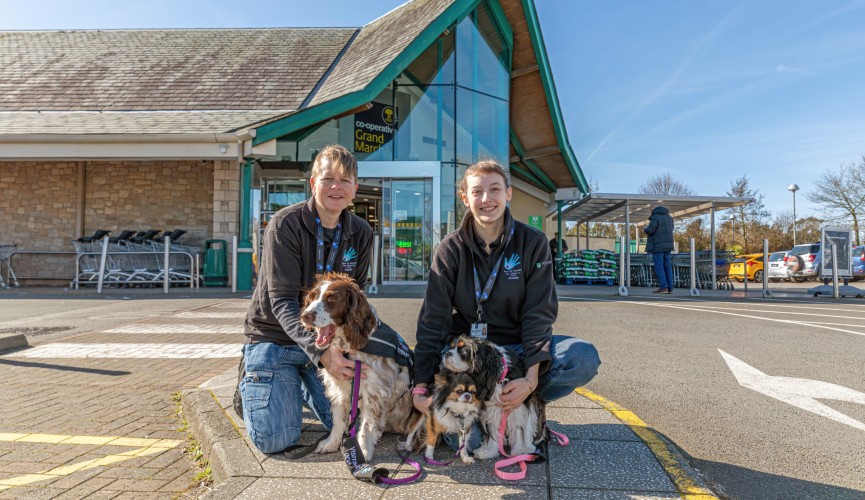 A football club for men with various forms of learning disabilities, a charity which helps islanders battling their mental health, and a residential home which supports those with dementia are among 13 good causes to benefit from The Channel Island Co-operative Society's longest running fund.
The Helping Hands fund was launched more than 20 years ago and to date has donated over £300,000 to worthwhile causes across the Bailiwick. This year the Society received over 100 applications from across the Channel Islands and donated more than £8,900 to 11 Guernsey charities and organisations.
Among those to benefit from the fund were Guernsey Dynamics Football Club, who will use the funds to pay for venue hire so men with varying forms of learning disabilities can play football. Paws for Support also benefited from the fund to provide stress relieving and mental health support to islanders working in a variety of workplaces. Le Platon Residential Home received funds towards the development of a purpose-built dementia wing.
The funding from the Co-op is awarded to good causes which promote social inclusion and diversity, health and wellbeing, supports younger generations, the elderly or vulnerable groups, support local producers or projects which protect our local environment.
Paws for Support were awarded £1,500, which they will use to raise awareness of the work they do within the local community. The charity have recently launched their new programme, Office Dogs, which directly supports those working in offices in need of some stress relief or support with their mental wellbeing.  
Sara Sarre, from Paws for Support, said: 'All the money we are lucky enough to receive goes into the running of the charity. Our dogs have regular training sessions before undertaking a comprehensive and ridged assessment – with retesting annually. The dogs wear lead slips and capes to make them visible in their roles and we now have training versions which were all made locally.
'Without all the generous donations we receive from within the Bailiwick we would not be able to provide such an extensive and comprehensive service. The charity is working to the highest possible standards, making sure all our polices and procedures create a robust and safe place for all, including the dogs. With the current climate of mental health and well-being having such a large impact on all aspects of life within the community, our dogs are part of the bigger picture to combat anxiety, stress and support all. The dogs teach us how to be forgiving, kind, compassionate and act without prejudice.
'The substantial donation from the Co-op's Helping Hands fund will enable the continued success of Paws For Support and assist in our rapid growth and the realisation of future projects.'
Mark Cox, acting chief executive officer for the Society, said: 'We are delighted to have been donating money to local charities and organisations across the Channel Islands through our Helping Hands fund for so many years.
'Every year we receive so many applications and it is always so hard to choose the successful projects. We hope the money donated this year will help a number of good causes in Guernsey go on to make a real difference to the community. We are proud that the Helping Hands fund enables so many small groups to continue the vital work they do within our local communities.'
All those to receive funding in Guernsey were Arts for Impact, Bowel Cancer Guernsey, Carers Coming Together, Guernsey Dynamics Football, Guernsey Mobility Lets Go, Guernsey Voluntary Service, Hautes Capelles PTA, Le Platon Residential Home, Paws for Support and The Health Improvement Commission for Guernsey and Alderney.