Our Charing Cross store opened on Thursday 19th April 2018 and is one of our most energy-efficient and environmentally friendly stores to date.
Conveniently located on the high street within the busy town of St Helier, Locale Charing Cross is perfect for popping in for some breakfast, lunch, snacks or for the essentials you need just before home.
It also marks part of the historic district of St Helier and we're proud to have helped towards the restoration of the local National Trust buildings in the area and 'River of Light' installation outside the store.
Store Facilities
ATM Cash Machine
Bakery
Beers, Wines & Spirits
Flowers
Fruit & Vegetables
Hot Food and Drinks To Go
Meat & Poultry
Newspapers & Magazines
Public Access Defibrillator
Quick-out Self Scan
Rest & Recharge zone
St Saviour and St Helier parish recycling bags available
Find us
Co-operative Locale, Charing Cross, St Helier, JE2 3RP
Telephone: 01534879822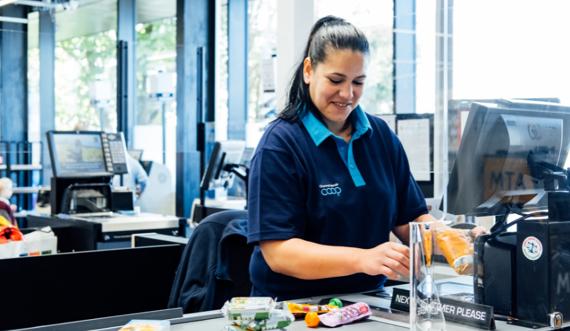 Careers
Ready to make a real difference in a career with your Channel Islands Coop?
See more