Food donation appeal helps those in need this Christmas
22 December 2017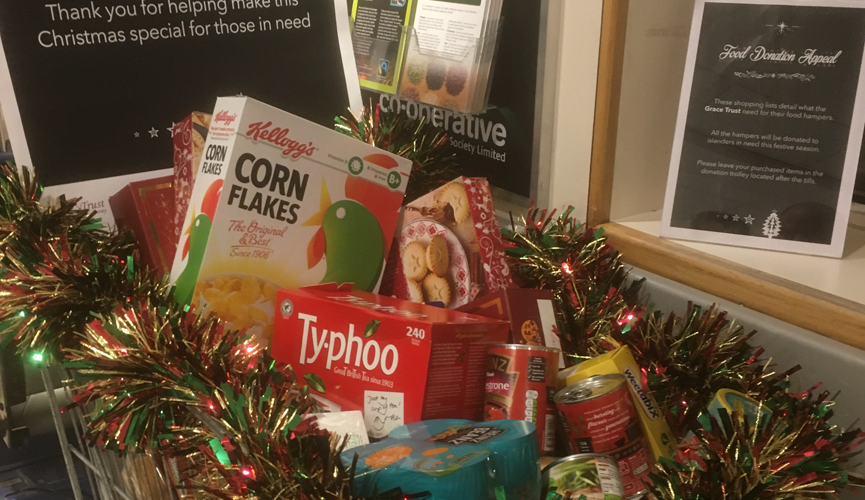 ISLANDERS have been generously donating food to support those in need this Christmas. The Channel Islands Co-operative Society teamed up with local charity Grace Trust to collect and donate tinned goods that will be packaged into food parcels and delivered to families over the festive season.
In total, 322 items of food were collected during the food donation appeal, which was held in Grand Marché St Helier and St Peter at the beginning of December.
'This year, islanders have been outstandingly generous with their food donations. Grace Trust is absolutely integral to our local communities and it's been great to work with the charity to help support those in need during what can be a very difficult time of year,' said Colin Macleod, The Channel Island Co-operative Society's chief executive officer.
Shopping lists, based on items suggested by the charity, were provided to shoppers at store entrances. The list included items such as pasta, rice, chopped tomatoes, soup, tinned meat and vegetables, tea and coffee. Shelf labels were also placed next to relevant products.
Grace Trust supports islanders and their families all year round by providing personal and practical help. Over Christmas and well into the New Year, Grace Trust will provide food parcels to those in need.
Deputy manager of Grace Trust, Vini Jones expressed his sincere gratitude for all the food donations received. 
'We were so pleased to team up with the Society at a time when many folk really need all the assistance they can get. It is great to see the local community recognising this through all that has been freely given and the Co-op willing to act as a channel of goodwill towards those in need. Thank you from everyone at Grace Trust on behalf of those who are struggling in our community,' said Mr Jones.