Scout group to develop a community wildlife playground thanks to The Channel Islands Co-operative Society
19 October 2017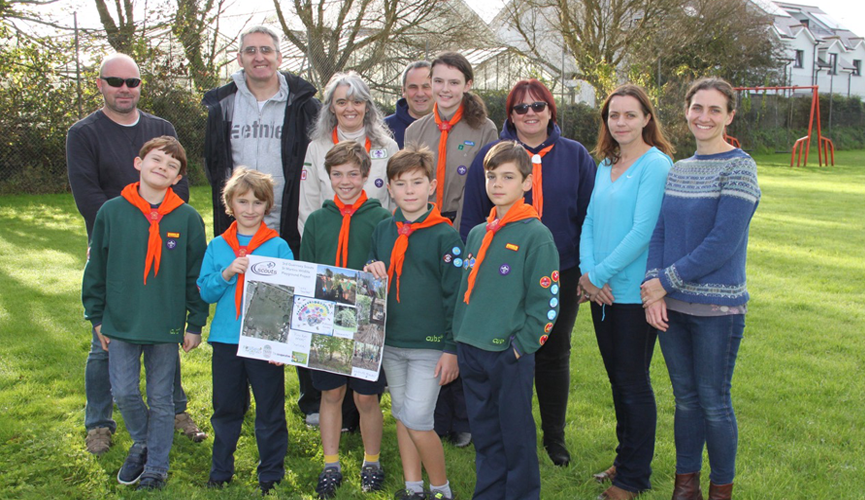 THE 3rd Guernsey Scout Group will soon have space for their outdoor activities, thanks to a donation by The Channel Islands Co-operative Society for a wildlife playground.
The project, which will also be used by the community, has received £1,500 from the Society's Eco-Fund. The Society led the way in recycling in 2008 by levying a 5p charge on one-trip carrier bags. The proceeds from those sales go into The Co-operative Eco-Fund and are then distributed to environmental projects across the islands.
'I'm thrilled the 3rd Guernsey Scout Group will be developing a new wildlife playground thanks to the help of the Society's Eco-Fund. Not only will this benefit the young people by furthering their experience and their outdoor activities but it will also be a great shared space for the rest of the community. I'm looking forward to seeing the playground once it's completed and all the future wildlife project opportunities it will present,' said the Society's chief marketing officer Greg Yeoman.
The group intends to make St Martin's community wildlife playground an area for local people to enjoy whilst at the same time providing an opportunity for the group's members to contribute and learn about the environment.
'The Barn where we're based has very little land so this will be hugely beneficial to have a site within walking distance where the group can do their outdoor activities. It will also provide a rare community space for play and potentially other social aspects in St Martin's,' said 3rd Guernsey cub leader Karen Marshall.
'The principle benefit of this project is the opportunity for our 75-strong group of Beavers, Cubs and Scouts to be involved with the creation of a wildlife-friendly play and community area, and for them to develop practical scouting skills as well as create a space that the wider community can use and enjoy.
'This would be a unique opportunity within St Martin's to inspire our young cubs and older scouts to become environmental thinkers who understand the value of Guernsey's natural environment, and for them to experience the pleasure that can be gained from working together and exploring the outdoors in a natural setting.'
The site is on Rue des Escaliers near Les Jehannet estate, which is home to many families. The Little Tree Project will co-ordinate the site, working directly with the scouts and residents to plan, plant and develop the area.
The project will enhance the biodiversity of the area and has the potential to be expanded once the playground has been completed. It will enable the children to learn about the animal species that live and use these habitats and what can be done to encourage them further. The scouts will be involved in planting trees, harvesting vegetables and maintaining the area across the year.