The Channel Islands Co-operative Society helps plant and restore habitats for endangered birds and wildlife
14 February 2018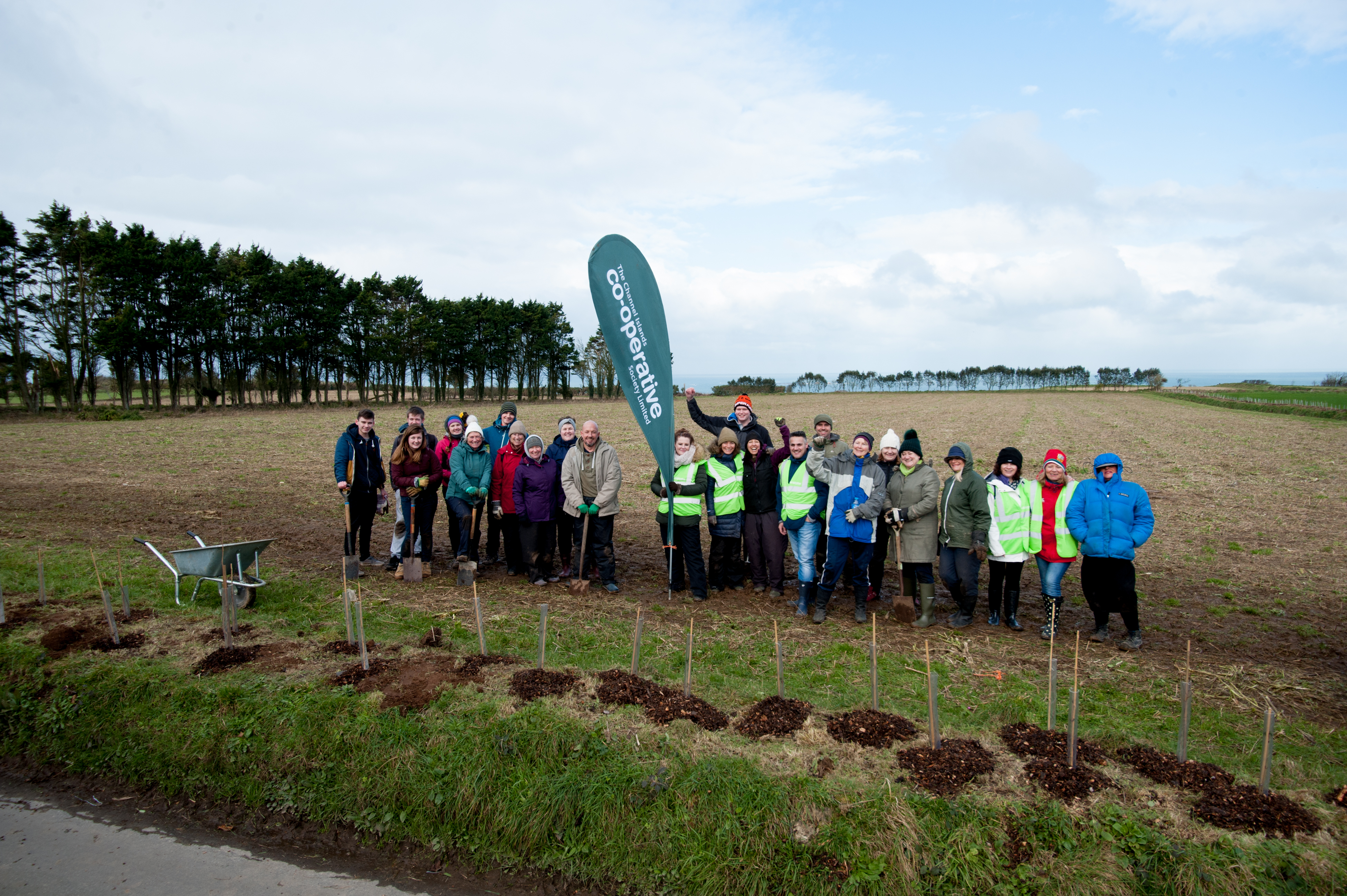 COLLEAGUES and members of The Channel Islands Co-operative Society volunteered to help conservationist group, Birds On The Edge, to plant and restore hedges, to aid endangered birds and other local wildlife.
Last year, the Society's Eco-Fund donated £2,000 to Birds On The Edge, to buy enough trees to plant and restore the hedges, which will provide a home and food for endangered birds, insects and most of Jersey's wild creatures.
The Society's contribution has enabled Birds On The Edge to purchase a total of 2,800 trees, which will plant slightly overly a kilometre of hedges. Members and colleagues of the Society planted approximately 250 metres of saplings, which is a quarter of the project's total target.
'We had 30 volunteers in total, which was a mixture of members and colleagues of the Society. The day was a great success. We managed to plant over 500 saplings in just under three hours. It was a real team effort and a great show of community spirit. Birds On The Edge is a fantastic project, rebuilding natural habitats for our endangered birds and other wildlife. It's such important work and we are thrilled to have been able to actively contribute to the cause in this way,' said the Society's Community Officer, Tanya Dorrity.
'We are so grateful to the Society for their donation from the Eco-Fund to the project and to their colleagues and members for going the extra mile by helping plant the saplings. It's great to see members of the community coming together in this way to support Birds On The Edge. 
'Further hedges will be planted in a joint effort with local farmers and landowners, and will comprise of a variety of native trees and shrub species. The purpose is to create linear living structures which will provide many advantages to our local wildlife, many of which are under threat due to the loss of habitats,' said Cristina Sellares, project officer for Birds On The Edge.
The advantages of planting hedges will provide shelter from predators and bad weather and material to build nests for endangered birds, as well as food in the form of buds and berries. The hedges will also provide food for pollinating insects, with flowers from various species of plants.
(Photo: The Channel Islands Co-operative Society colleagues and members volunteer day with Birds On The Edge).